Recently I bought a new NDG7475 laser diode off of eBay along with a 1.8A SXD Super X-Drive Laser Driver M140 driver.
Once hooked up, the diode doesn't turn on, some times it does but the output is dim and goes out pretty fast. I returned the driver and bought a new one, which did a similar thing.
The driver is made for 7-12V input, here's my setup: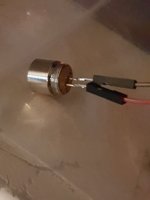 The driver even produced a tiny bit of smoke.
I'm 100% sure all polarity is correct, there was no static either, I was grounded all the time. What could this be? Am I doing something wrong?