It arrived today! So in went an Orbitronic 18650 Protected battery. It started in 1 mW mode. I was able to switch it to half and full power easily with tail switch half presses. This switching requires a protected 18650 within a certain range of length. I've written elsewhere about that- so I won't re-reiterate it here!
A nice bright blue beam! This replaces my 1 Watt 450 nm "Ebay Gatling". I wanted longer run time-and a more visible beam. Got it! The description is 24X 140 mm Copper-Nickel Alloy host, 30 mm Copper Heat sink @ 260 g without the battery. This works as additional heat sinking capability and the duty cycle is listed as unlimited. As expected the beam spot is rectangular and some dark wood started smoking immediately when the spot got below 1cm in length. As expected-when focused, I was able to write and draw on wood easily-even on a rounded stick of 2 inch diameter. No balloon popping or matches as of yet and I'm sure it would cut electrical tape. I have a 3X beam expander that I've yet to try.
I took a few beam shots outside-after setting focus close-so the beam would be BROAD at impact distance. There are some Xcubes from KingCube in the picture-and I found a use for the metal case I got with the Gatling.
One question-where is the odd screw attachment I see in the website pics? I've 3 of these Challenger 2's-but no odd attachments.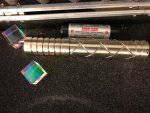 Here's the 30 mm Copper Heatsink- there are gaskets between each section
Tailcap-all well made
Some beams