Joined

Sep 1, 2020
Messages

93
Points

8
After a long dormancy and moving, I finally got to my laser box. After melting a few small zinc discs with my projector arrays, I broke out my red arrays. I got thinkin, broke out the soldering iron, and got to work...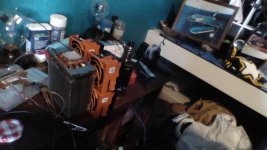 I apologize for the shitty camera quality as currently my only electronic device is a shitty chromebook, but hey,
Here's what I've done so far:
Slapped a red array onto a bigass server heatsink with some thermal paste and glue.
Soldered the contacts in that array so I only have one positive and one negative input
Prepared a few crazy powerful fans for cooling
(Day dreamed)
Plans?:
3D Print out a casing to mount the fans and array
Construct drivers for the array and the fans
Print a sort of handheld casing, rig a trigger mechanism, and have a wicked cool, (and maybe one of the most powerful portable) red laser guns!
I'll keep y'all updated on this experiment of mine, and will love to hear input!
Whatcha think of this idea?
Ideas on casings, and setup
Any other misc. items!!
Excited for progress~