Joined

Nov 30, 2018
Messages

6
Points

1
Hello from Austria , and sorry for my english.
i search for help on a project.
I like to puls a 523 nm Laser to transmitt a ID ( one startbyte 3 times ID Byte and one Stopbyte )
A easy way by to use same protocol as a IR remote control . Carrier freq. 38hz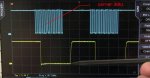 Switch on and off for differed timing is a 1 or 0 bit .
I am plan to using a Arduino Uno R3 to build the 38kz carrier and the 1 and 0 bit or bytes , but how can i switch the laser so fast and precise on and off or better what kind of laser or lasermodul ar the best for this. In case that i like to see the beam on daylight it soud by a 532nm green one.
Thanks for help.
PS: Hello Santaclaus, this ar my wishes for Christmas " Freedom on would and ideas for my project" LOL