Joined

May 14, 2022
Messages

126
Points

43
This month is the 60th anniversary of the introduction of the first laser with a visible and continuous beam, the Perkin-Elmer / Spectra-Physics model 110 He-Ne. Though the ruby laser (invented in 1960 and first sold in early 1961) had a visible beam, it was pulsed. He-Ne lasers were available that year too, but with an infrared output. Lasers in general were essentially experimental devices until Dane Rigdon and Alan White got He-Ne to lase at 6328 Angstroms in '62.
Spectra-Physics was already in production of their first product, the model 100 IR He-Ne, and were therefore first out with a visible beam version. They had a deal with Perkin-Elmer to be partners for the first 75 lasers made (or 3 years, whichever came first). This is one of them. The laser was RF-excited, and powered by a Lambda model 71 dual-voltage power supply with an inline RF level control. While the model 100 had mirrors attached to the ends of the plasma tube, the model 110 used a resonator structure to support the mirrors. This particular laser was modified by the addition of a gas fill valve by a previous owner, which has since been removed.
The continuous beam of visible light is what really kickstarted the laser industry. For example, alignment applications for industry and construction needed such a beam to make them practical. Interferometry applications like holography as well. The "new product introduction" below is from Electronics World Magazine, December, 1962. Below that is a picture of Dane Rigdon.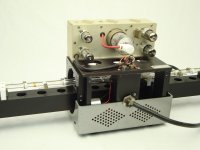 Last edited: