Joined

Aug 20, 2008
Messages

711
Likes

23
Points

0
Overview
I recently noticed that ebay seller "Zonestealth" had some multispectrum goggles for sale. At $40 I figured it was worth the gamble even if it was only effective against one or two wavelengths. I also stumbled across their site and I noticed that they were offering free shipping as a grand opening perk. I immediately placed an order (last Thursday) and received an email from a "Kenny Lo" within 2 hours informing me that he would have them shipped Friday. As per my experience with DX, anywhere from 1-4 weeks for shipping (HK to Canada) is usually the norm. So I go about my business as usual, not expecting the goggles for a few weeks and when I went to check the mail today, I was dumbfounded; the goggles had arrived within less than 4 days!!!
EDIT(Forgot the link):
http://www.laser2go.com/MW.htm
As for the goggles themselves, they appear to be very well made. The rubber pieces pieces snap on/off easily to better accommodate people with eyeglasses. Unfortunately, the "earpiece" of the goggles aren't adjustable. They also come with a "hardshell" case along with a soft drawstring pouch.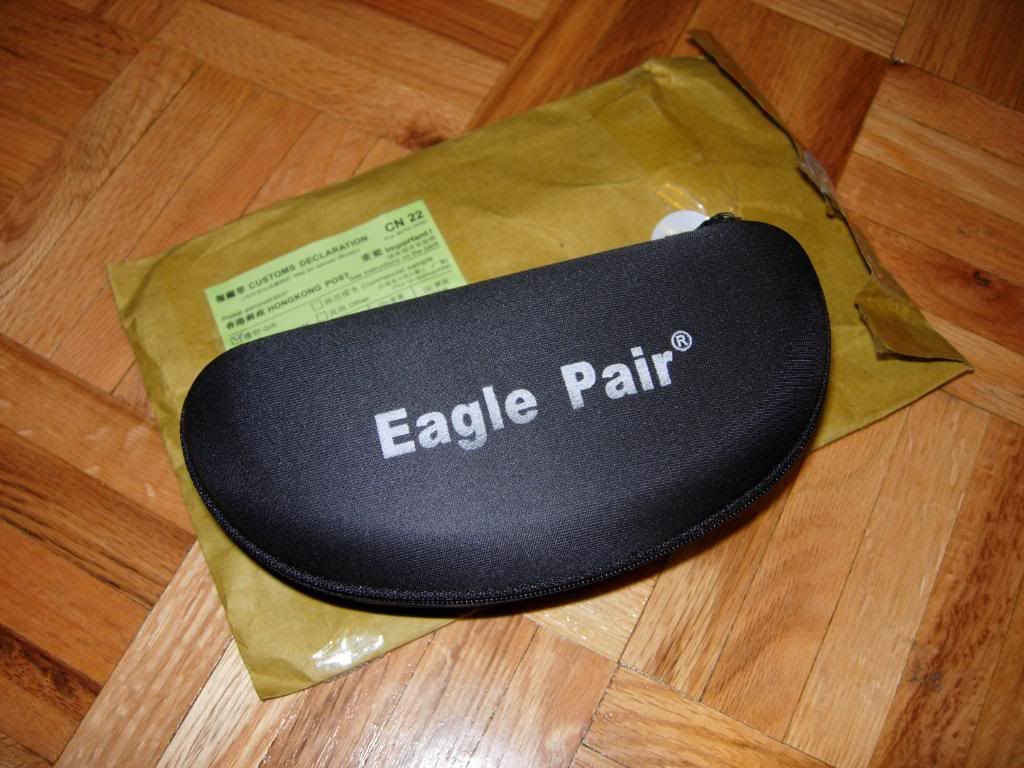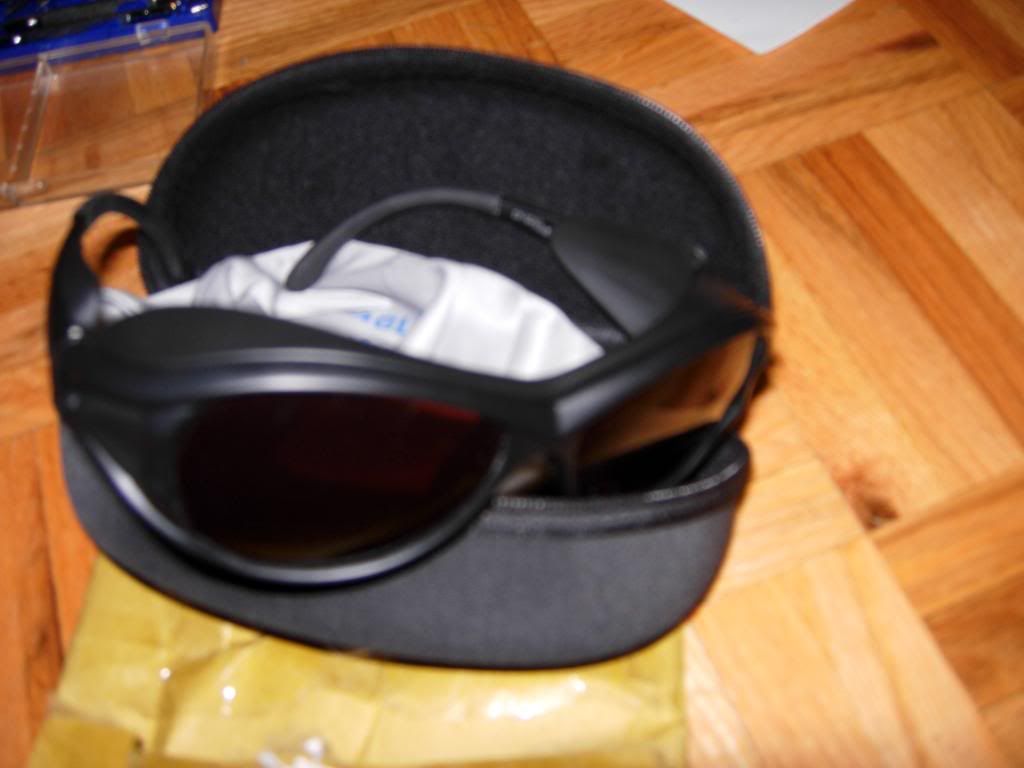 As per the effectiveness of the goggles, I have tested them against 405nm, 532nm, 488nm, 808nm and 1064nm. Please be aware that these googles
ARE NOT
rated for the red spectrum.
At 405nm, these goggles are very effective at attenuating the dot. I tested mine running at 110ma and it was virtually invisible unless shone upon a white surface. Attached below are some pictures of the 405nm tests:
Here is a picture of the dot from a PHR-803t running at 110ma:
Here's a picture of the goggles blocking beam. As you can see, there isn't even enough light to create a dot on the baseboard behind: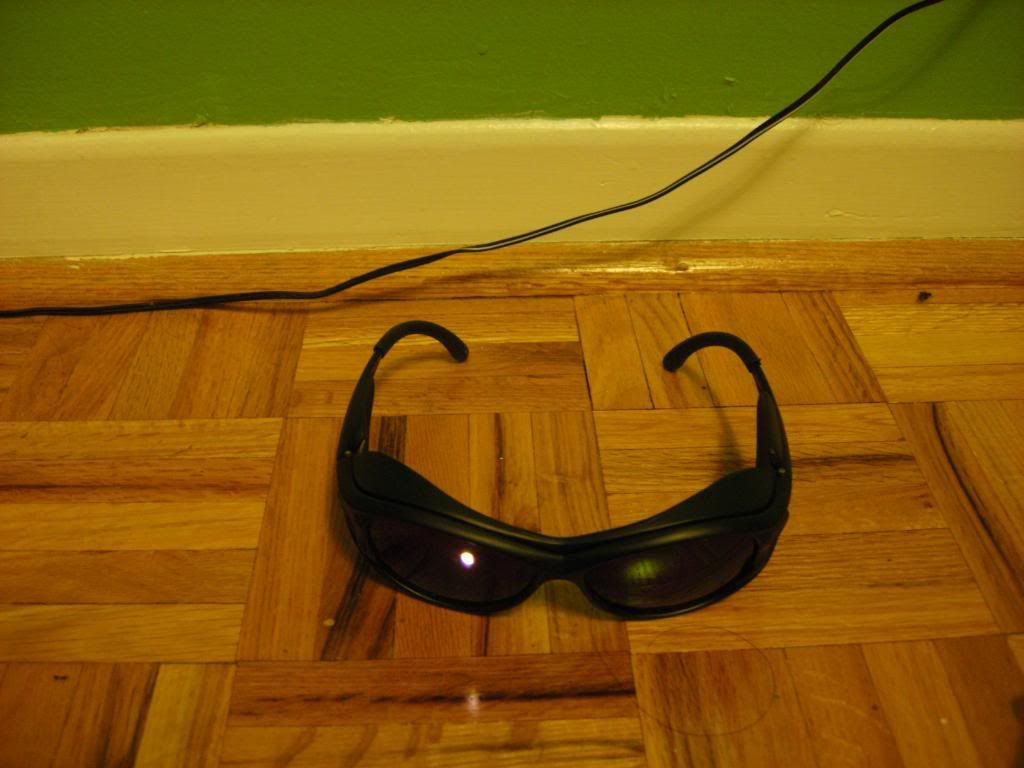 Here's a view straight from the laser(It appears much dimmer than the picture shows):
At 532nm, the dot is about the same brightness as shown above in the 405nm test. I can't find an easy way without jeopardizing my new camera to take pictures of this test. It's more or less the same as the 405nm test.
At 808nm, the characteristic "dim red light" is completely blocked. I tested these goggles by placing a bare, uncollimated 808nm diode in front of the lens and attempted to light up a combination crystal. The crystal set failed to light, which would indicate that the 808nm was effectively blocked. Pictures of this test are unavailable for the same reasons given above.
At 1064nm, the beam was put through an expander to avoid burning the protective lens. I attempted to light up a KTP crystal in a similar fashion as the 808nm test, but again, was unable to do so.
Bottomline
Pros:
- $40 shipped
- Multi-spectrum
- Fit well
Cons:
- VLT is rather low(very dim)
- Un-certified
My recommendation:
Buy it now!!! Very good value! The free shipping is for a limited time only. At $40 for multispectrums there's no excuse for not being able to afford protective eyewear. Multispectrum with IR is a definite plus for those who do DPSS work/alignment.
As per the LOW VLT, here is a picture of my hallway which is very brightly lit: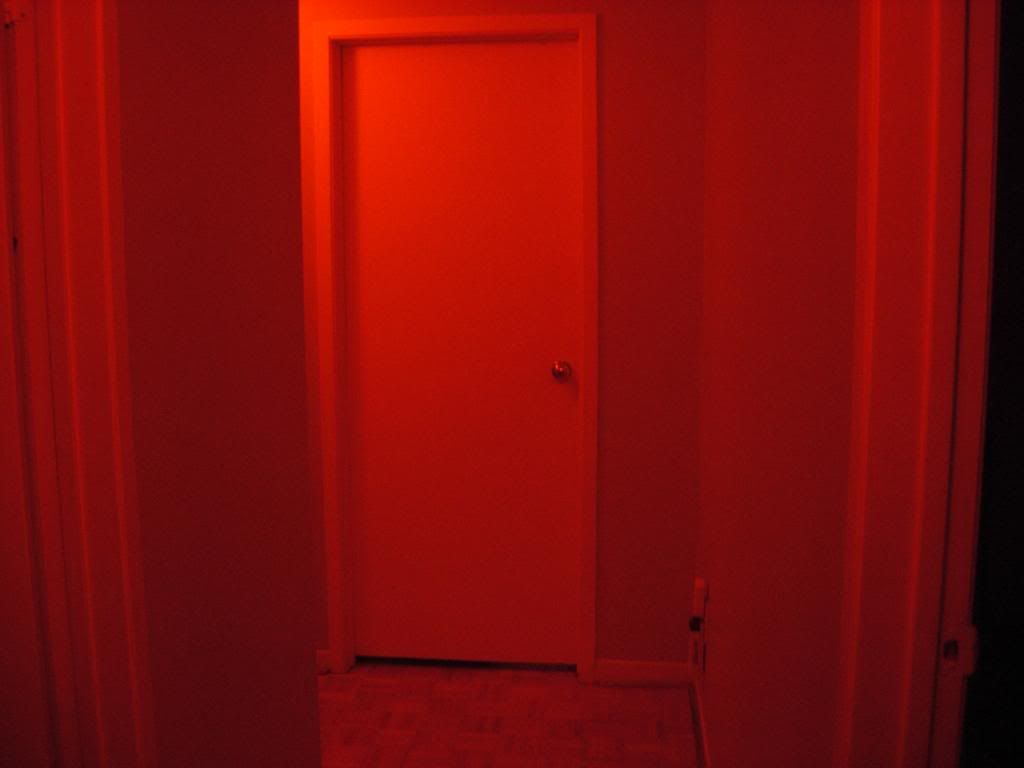 The camera seems to be making it appear brighter than normal but I can assure you that it is much dimmer.
Anyways, hope this review helps.