Joined

Apr 6, 2010
Messages

262
Points

28
Visible Diode Lasers - NEW 5A (1.1" x 1.6" )Diode Driver
Visible Diode Lasers
NEW -
Only 1.1" x 1.6" 4-Layer PCB
5A Buck Driver for ALL laser diodes. Keeping it simple, 5A Max, settable threshold & Diode Voltage. Inputs: Analog & TTL Digital.
• Input Voltage range is 6 to 15 volts. Driver is Most Efficient close to Laser Diode Drop voltage
• Analog Modulation, settable threshold to max current, 0-5VDC Linear
• TTL (Digital) Modulation to 2MHz
• Laser Diode Current control to 5A
• The digital and analog inputs are pulled to ground with 10K resistors. no input needed.
• When the button is pushed it completely overrides any input and puts the laser in max current mode, adjustable with the current limit pot.
• The voltage out of the regulator is adjusted with the laser VR1. It can be measured on the laser output pin, J4 to ground.
• Threshold current is the minimum current that will flow through the laser with analog and digital inputs low or disconnected. Its use is to allow the laser to start lasing extremely fast.
Samples starting at $75
In Use on 2.5W Custom System (running at 2.2A, drawing 900mA)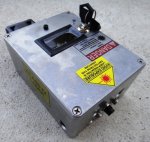 E-mail me for a
10% LPF member
discount on all new laser systems.
Mitch
Last edited: