Joined

Aug 10, 2010
Messages

42
Points

0
Hello everyone. This is my first review, so be nice!
My Dragon Lasers Spartan 400mw blue arrived today after a 3+week wait. Most of that time was spent in customs in New York. If you order something from DL, it might be worth it to ask if you can upgrade to UPS or Fedex or something. Mine was shipped USPS via some Chinese carrier. When I ordered my Wicked Evolution Pro 130mw+ (my only other serious laser), it took like 3 days with UPS.
Anyways, it arrived in a smallish cardboard box covered with Chinese characters, tape, and Chinese stamps. I mean
covered
. It definitely looked sketchy, haha. The laser and goggles were neatly wrapped, and safe. Nothing else came with it. No instructions, warranty, receipt, etc...
The build quality of the laser is amazing. It is super hefty, and very satisfying to hold, although not as satisfyingly "pointy" as the Evo Pro, if that makes sense. The battery threads are very smooth, and the batteries (not included) dont rattle. The clicky button is as clicky and positive as they come. I forgot to take pictures of it, but Im sure most of you know what it looks like. You can see it a little in my beam shots below.
I have never seen a 445(or 447 as the website indicates) laser before, so when I turned it on, I was amazed at the color. To my eyes at least, it looks like a very deep and rich blue... almost purple. The wash it creates on walls during the day definitely looks purplish. It looks nothing like the electric blue I have seen in pictures or videos, even my own that I just took. I dont know if its just me, so maybe someone can chime in.
The second thing I noticed was the beam diameter. The Evo Pro has a beam that has to be around a mm. But this is as least 5 times the diameter at the aperture. Its huge. This is where my main question lays. Why is this? Is it possible to have a 445 with a needle thin beam? If so, this leaves me a little disappointed, because a super narrow beam has always fascinated me. [
Update. I have found that the thick beam is just the nature of these types of lasers, so it is no longer disappointing.
] Otherwise, the beam is visible in a lit room, although only when looking down the beam, and even then, its dim. In a dark room, its quite noticeable from all directions. Looks very cool. I dont really know how to calculate the divergence, but over 47 feet, it was only as large as the first part of my pointer finger, as youll see below.
When shooting the pictures, the laser got pretty warm... about 4 minutes of continuous use.
When it comes to burning, it wont burn much. It was able to smoke dark fabric and leather, but the dot size spreads a lot of that energy out. On skin, it hurts bad... and fast. Even at 35 feet, it feels pretty warm. At 50, I can feel a hot sensation on my face (eyes tightly closed behind goggles of course). With a magnifying glass however, the game instantly changes. I managed to start white newspaper on fire. It burned straight through my remote control battery cover in about 5 seconds. It burns waaay better than the Evo Pro.
Update
I have now used this laser extensively at night, and I love it even more. Using it around my parents property was mesmerizing. The beam is very noticeable and feels like a light saber. I cant get over how beautiful the color of the dot and dot wash are. I can easily illuminate a cell tower that stands more than a mile away. Looking at the dot on the cell tower through binoculars, it is not very large. The divergence seems great.
Overall I think this is very cool. Im glad I got it. It was a toss up between this and the 1w, but I liked the idea of the dot profile, because I like pointing, and having a nice beam.
Rating:
Across my attic along with the WL Evo Pro 130mw+ (the outer lens cover on the Evo is smudged, hence the nasty scatter)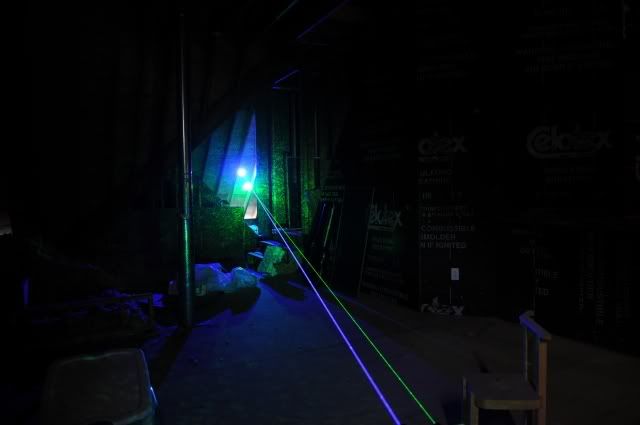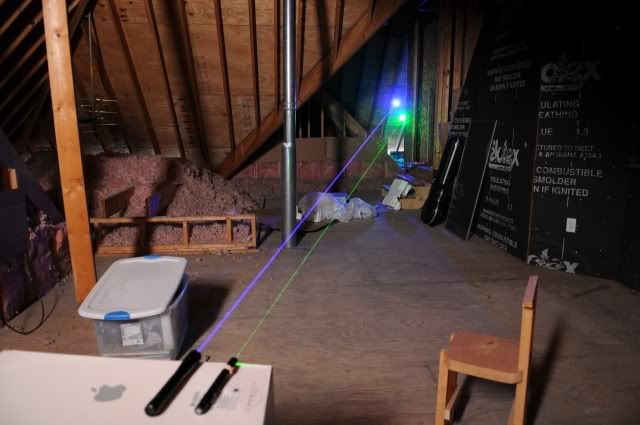 Dot at 47 feet with my finger for scale.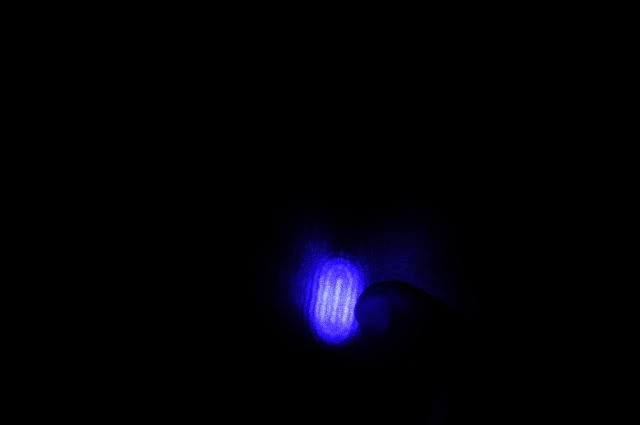 Last edited: