Joined

Oct 24, 2006
Messages

2,032
Points

0
Dunno if this all managed to make it onto these forums, so I'm just posting the following here off my post on LC as I put a bit of time and money into it:
NOTE: Click on pictures for larger versions.
Today the Core had to visit good ol' Dr. Leadlight for some surgery (thanks to JLai for finding this pic for Gadg a while back  
):
First Mr. Core gets a checkup on a 3V power supply to see how he's doing. A nice 4mW output isn't bad - but Dr. Leadlight thinks he can do better (the crappy $3 yellow multimeter claims a 200mA draw)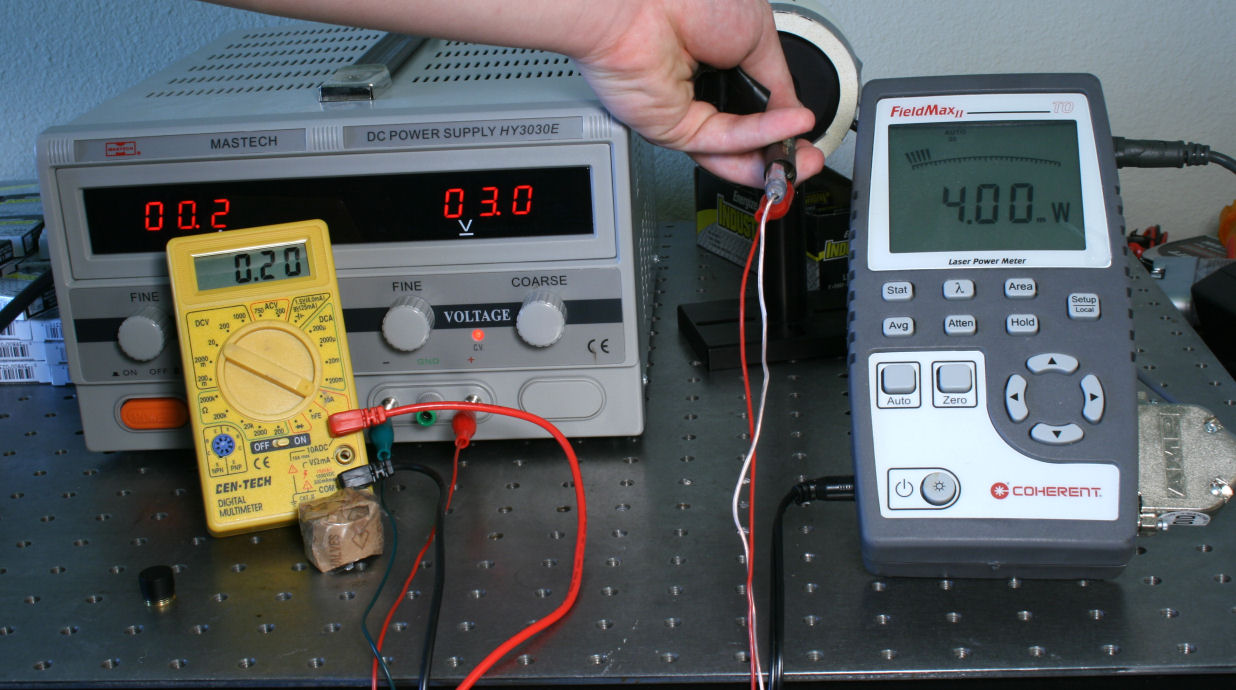 Mr. Core faces some of the crudest tools of the trade to get his aperture cap removed: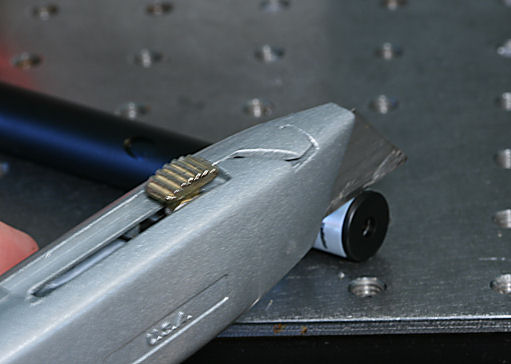 Success! Here we have the Core module - which looks almost identical to the leadlight 110 at this point:
Here is it disassembled a little further:

Mr. Core wait anxiously under Dr. Desoldering Iron. He's quite scared - he knows about all the good lasers that have been lost to Dr. Desoldering Iron.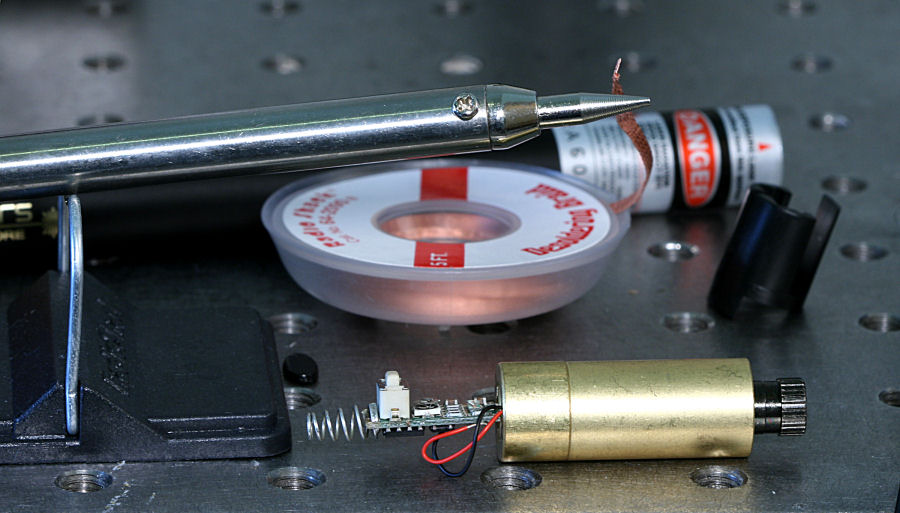 Dr. Desoldering Iron separates Mr. Core's diode from his circuit board:
Mr. Core has 3 legs, but he has nontheless learned to get by using just 1:
And Mr. Core comes out of surgery with Wal-Mart's cheapest speaker wire attached so it can be externally powered: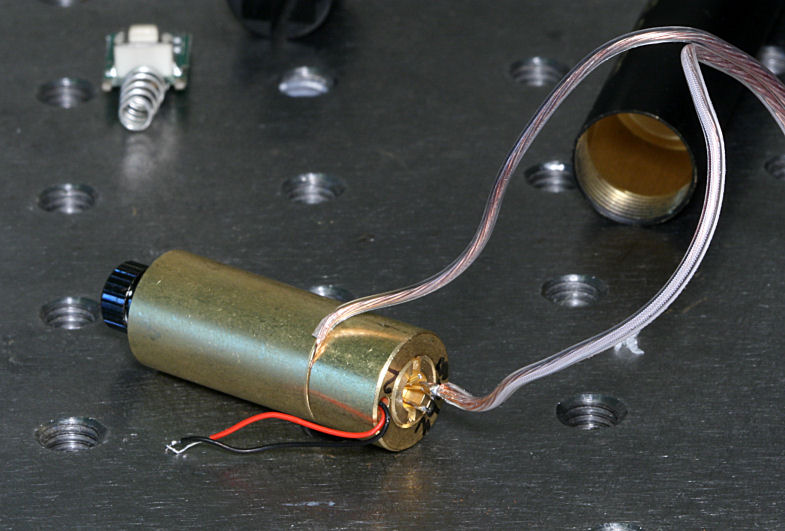 Now for the moment of truth. Has the heat from the soldering iron killed the diode? Have I pulled a psuedo and hooked it up reverse-polarity again? Nope! Its a success! Mr. Core is still working and as green as ever:
However it seems at ~1.9V driving ~170mA, Mr. Core is only managing 1.298mW.
Diagnosis: More Power! (Not you Craig!
)
Result: At ~2.0V and 270mA we can get an output that peaks upwards of 8.50, but it quickly drops down to 5mW levels.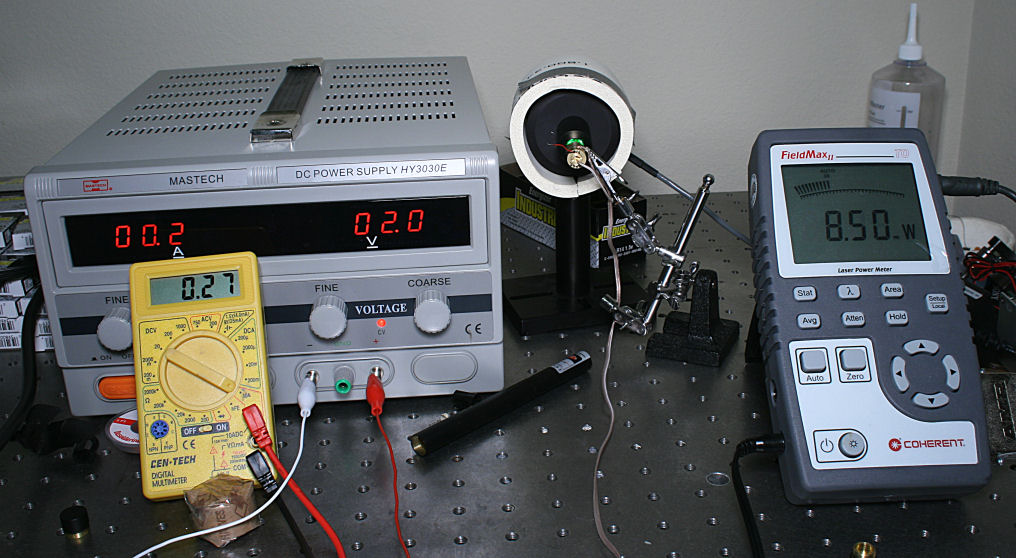 And now at ~2.1V and 350mA we can peak in the low 9mWs, but it only lasts for a second or two before falling to <3mW levels...
Unfortunately it doesn't look like this module can be pushed any further without dying an untimely death.... but why? It looks like a Leadlight but apparently doesn't walk and talk like a leadlight - this deserves investigation.
-----------------------------------------
Here we have one of Mr. Core's brothers side by side with a beat up Leadlight 110 black from AtlasNova - the pen clip was accidentally knocked out.
And now we start to see it. Despite amazing similarities to the point that one could just be a later version of the other, we do see some differences between the two (Core on the left, Leadlight 110 on the right):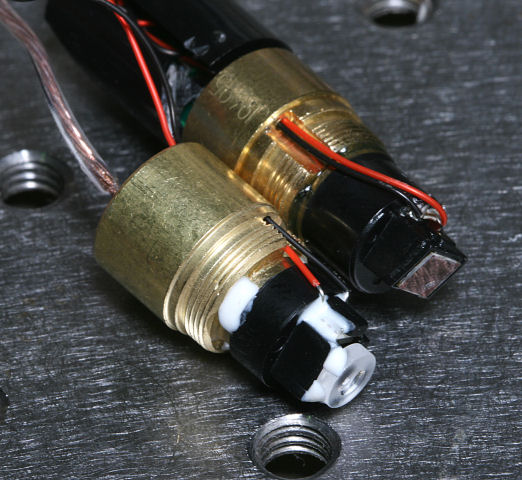 Probably doesn't affect function much (if at all), but the APC sensor is positioned differently and the diverging lens is under the APC sensor on the Core (Core on the left, Leadlight 110 on the right):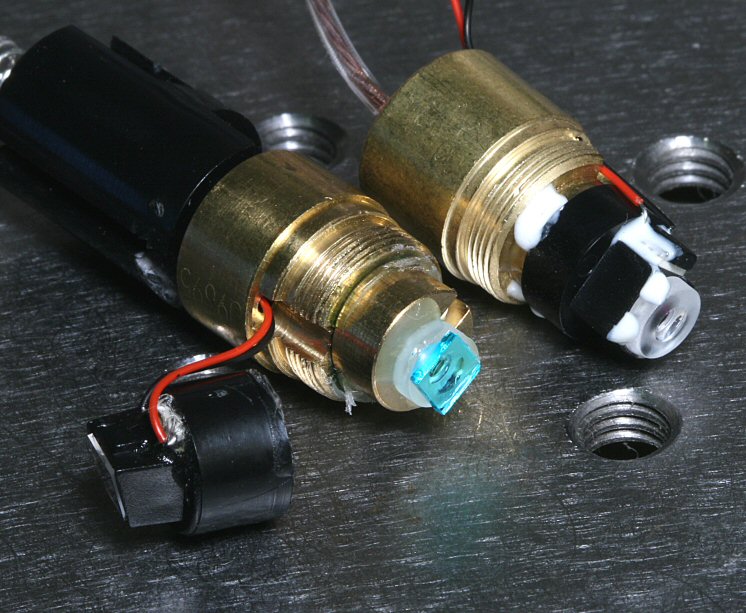 AHA! As suspected. And now we get an explanation for both the price and design difference between the Core and the Leadlight - as well as an explanation why I could barely push the Core over 5mW (Core on the left, Leadlight 110 on the right):
As you can see, there is a BIG difference in crystal size (Core on the left, Leadlight 110 on the right):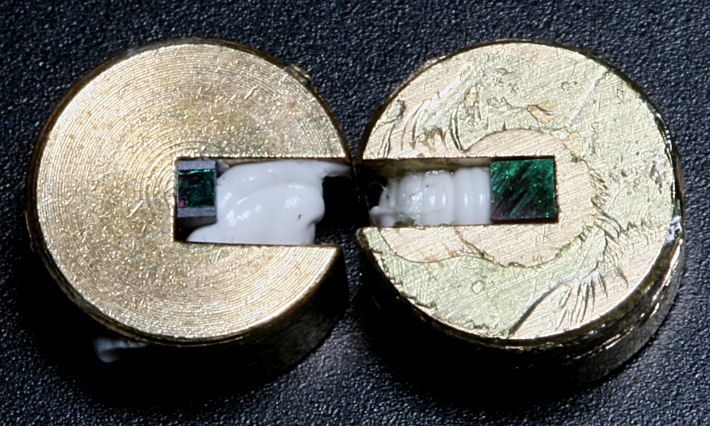 These are just rough measurements, but the Core's MCA appears to be ~0.9mm square by ~2.5mm long whereas the Leadlight 110 has a ~1.7mm square by ~4.0mm MCA. I have no idea how the quality of the two compare, and a volumetric comparison by no means indicates efficiency, but that puts the Leadlight crystal assembly at nearly
6 times
the size of the Core's, by volume.  :shock:
Also, I can't really test it out, but I'd be betting that the pump is not the same 200mW 808nm the Leadlights are purported to have.
--------------------------------------
So what does this all mean?
Well in conclusion/summary, the Core appears to be a scaled down Leadlight 110 basically. If you want a nice, solid 5mW green pen at an amazing price - the Core would be a great laser for you. If you're looking to go crazy and try modding your laser to shreds, stick to a good Leadlight 105 as the Core just won't take you very far.
All in all though, if you want more than 5mW, buy a >5mW pointer. Modding does not guarantee you anything except a chance for disaster. For $40, I'm definitely glad I purchased the Core (4 of them in fact).