Joined

Dec 30, 2011
Messages

152
Likes

12
Points

0
Here is a wonderful New Host and now "Flagship Product" introduced by Gary at Survival Lasers a few days ago on his website
Survival Laser Home
and here on LPF.
I was given the honor to be the first customer to receive and review this new host sent to me 2/28/2012 and I got it today 3/2/2012.
It resembles the C-6 Host, but yet NOT the C-6 host in many different and wonderful ways including it's Stainless Steel, length and Weight.
This new Stainless Steel host's name is the SSL2HA.
Not only is it a sexy Stainless Steel body (My Favorite), it also boasts a Copper heatsink that is longer than the C-6 Hosts is and weights a very hefty 2+ ounces. 58G to be exact! WOW!!
The SSL2HA is not light on weight itself as it weights in at 8.30 Ounces with Copper Heatsink installed.
In comparison, the C-6 I weighted this morning was 4.73 total Ounces.
The SSL2HA host beats the C-6 host in weight by 3.57 ounces. Part of that is due to it's massive Heatsink!
The SSL2HA host is almost double the weight of the C-6 Host. Missing it by only 1.16 Ounces.
So, it's safe to say that it in NO way is the C-6 and is an excellent new host.
It requires two RCR123A Batteries or with the optional or included extension tube, depending on the option's that you go with, (the higher end parts bundle options will include the extension tube), two larger 18650 batteries to achieve longer total run times.
Of course you can always buy the 18650 extension tube as it too is an available accessory.
Options for this new flagship model are :
A 405-G-1 lens assembly or AixiZ lens
A Laser warning label
A Silicone lens cap
A Blue anodized extended focusing ring
A syringe of Arctic Silver™ Ceramique 2 high-performance thermal compound
2 rechargeable RCR123A batteries or more of course!
A dual RCR123A battery charger
A laser holster
A set of Eagle Pair OD4+ 190-540nm goggles (your choice of standard or slip over styles) Best on the market IMHO!
and
an 18650 battery extension tube allowing use of two 18650 Batteries in the unit for much longer operating time as stated above
As stated by Gary on his website...if you buy one of the bundle options:
"These packages include the laser host components, a diode and driver module, AR coated glass lens (405-G-1 high efficiency for SL-II), lens focusing ring, external lens spring (except SL-II bundles), lens cap, laser warning label and complete illustrated assembly and operation instructions and safety precautions. Parts bundles w/accessories include a set of Eagle Pair® OD4+ laser safety goggles, rechargeable batteries and a charger, and a holster. No soldering is required with any of our laser parts bundles".
Here is a picture of the new Laser Host with it's massive heatsink:
http://img.fw1.biz/resize/58770/sl-2_ss_host_heat _sink.jpg/250/360/0/
As you can see the SSL2HA is very beautiful and with a killer 2+ ouce heatsink it is able to run a Laser at 1.6W to 2W easily for your builds, should you not buy one of the parts bundles.
As always the parts bundle options are the best value, especially for LPF members!!!
Suggested operating cycle is 1 minute on to 2 minutes off.
I have no doubt however that you could run it longer than 1 minute with it's massive heatsink, copper Diode module and Ceramic Thermal Compound options (if not bought in the parts bundle options), and stainless steel body all playing a part in it's cooling!
I ran the laser during these tests for 2 minutes at a time over the recomened time limit and the body barely got warm.
The SSL2HA is being offered in a few different parts bundles or you will have the option of buying the separate parts to build your own.
:
Gary says that the build your own models of SSL2HA's will NOT be branded Survival Laser and indeed mine did not come branded.
Time for my build pictures and beam shots!!!!
:
Note:
I don't have an LPM but with the current set at 1.62A by Moh and a regular Aixiz lens, I would guess the output at under 1620mW or 1.620W.
The G-1 or G-2 lenses will get you much closer to the actual Current setting, so it would be at 1650mW or 1.650mW, however with a more efficient Diode it could be a higher output and of course with a lower efficient diode a lower output.
I need an LPM!!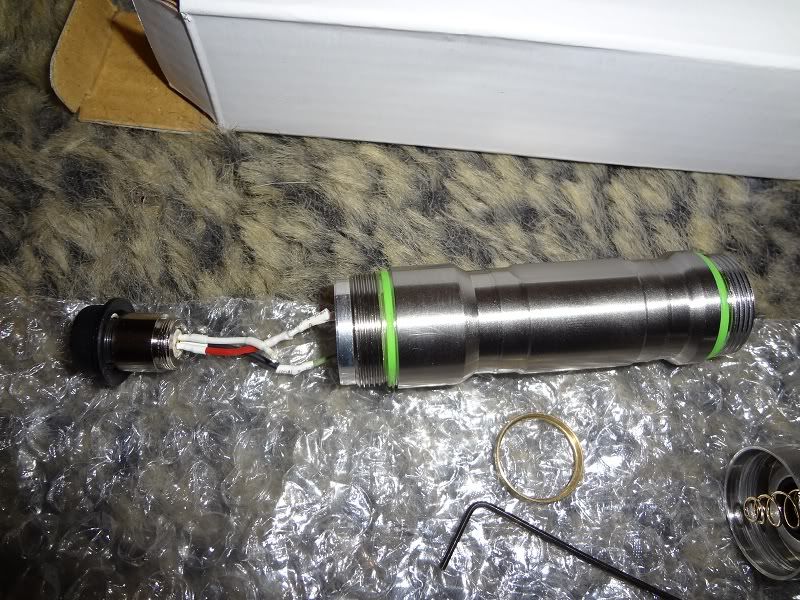 Below is the SS2-LHA with JayRob's Ezfocuser......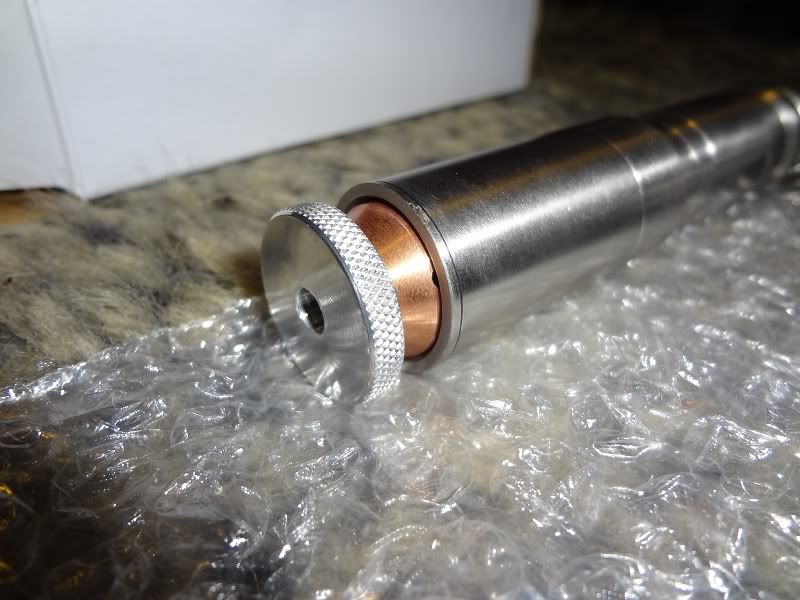 Blue Clicky instead of Green Clicky.. Sorry Gary!! lol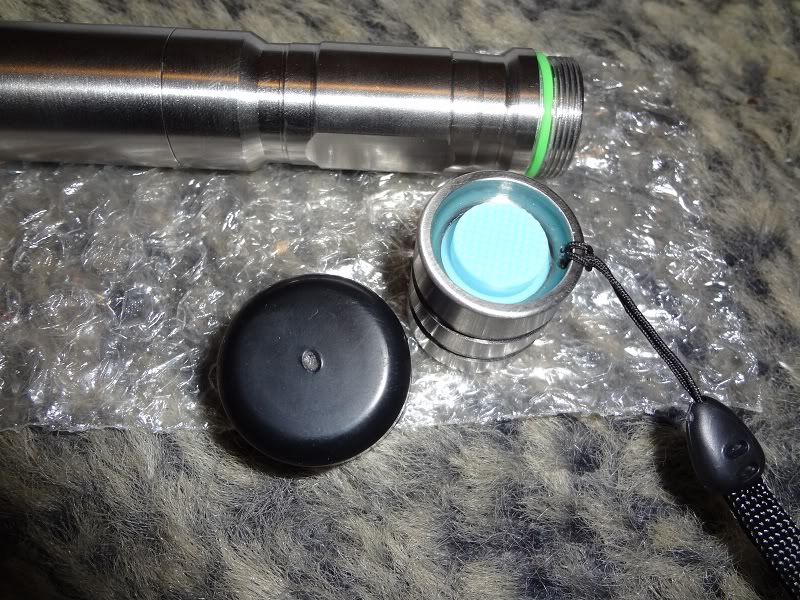 Assembled unit waiting for it's Laser Warning Label..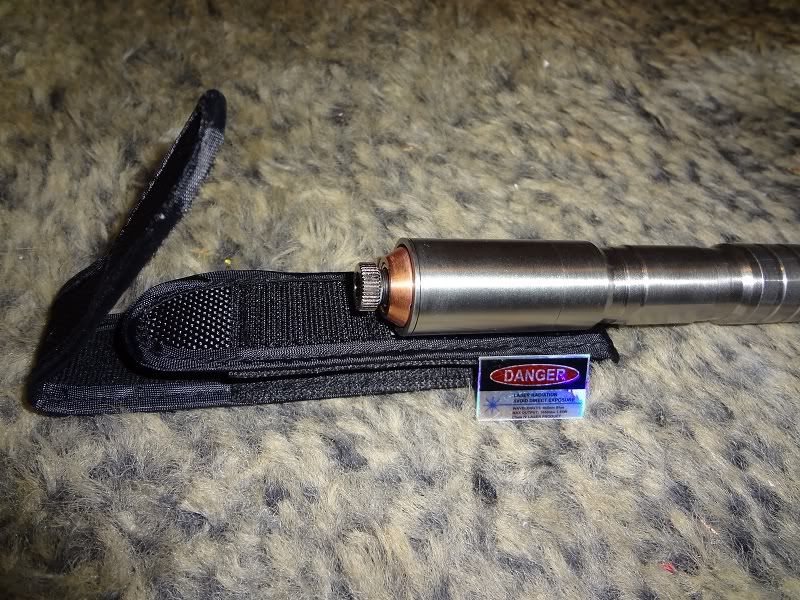 Laser warning Sticker installed....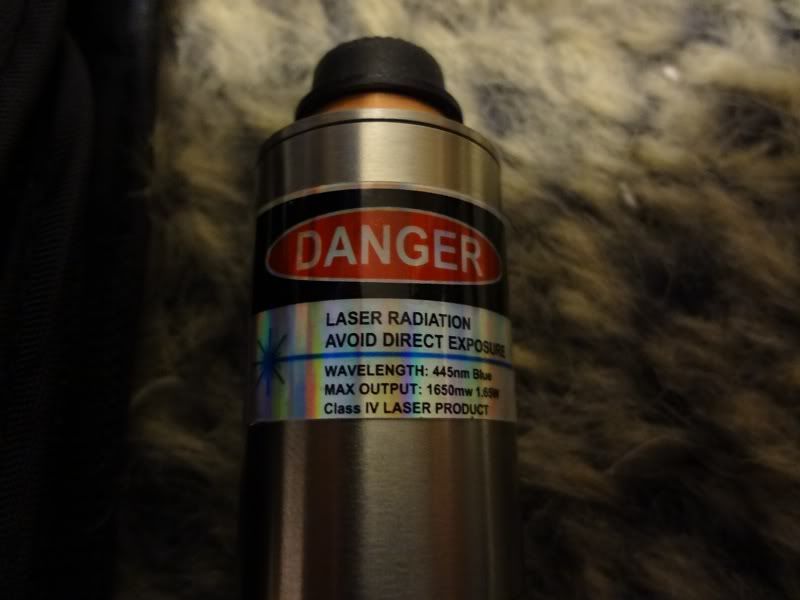 Side by Side with the C-6 Host.....
SS2-LHA Beamshots....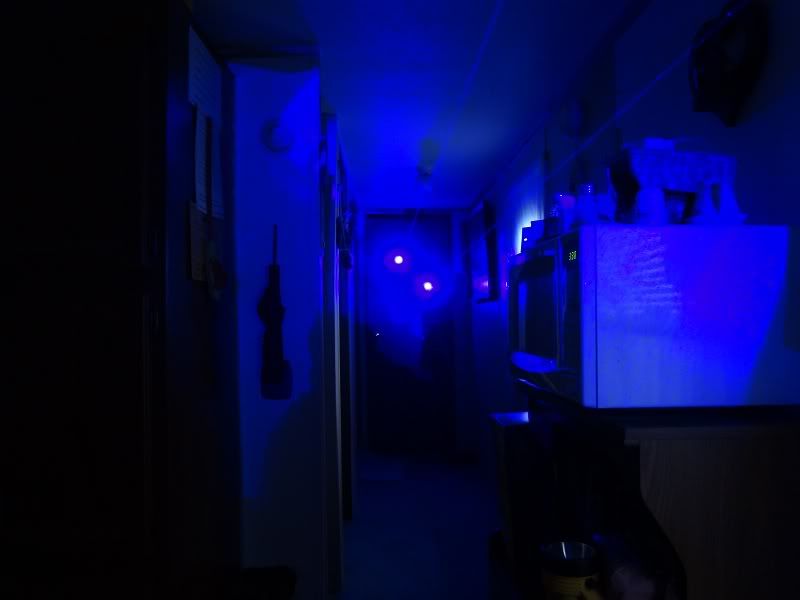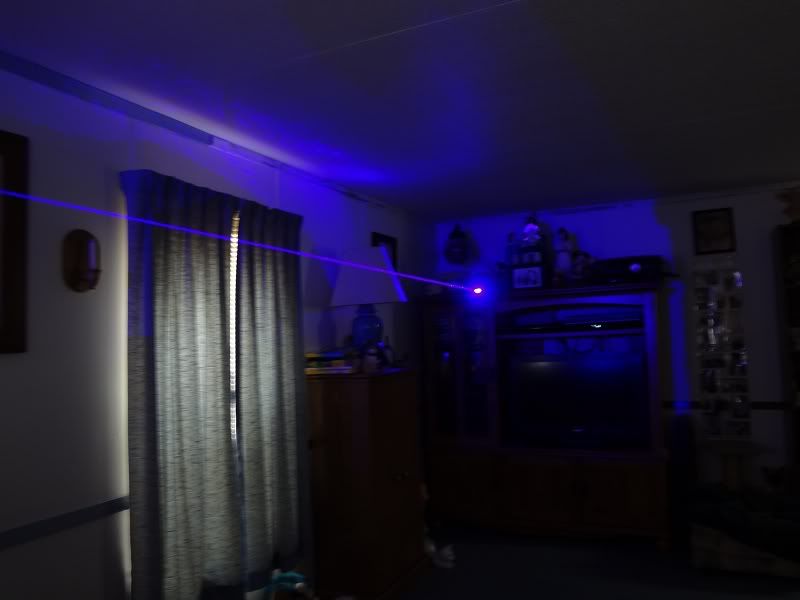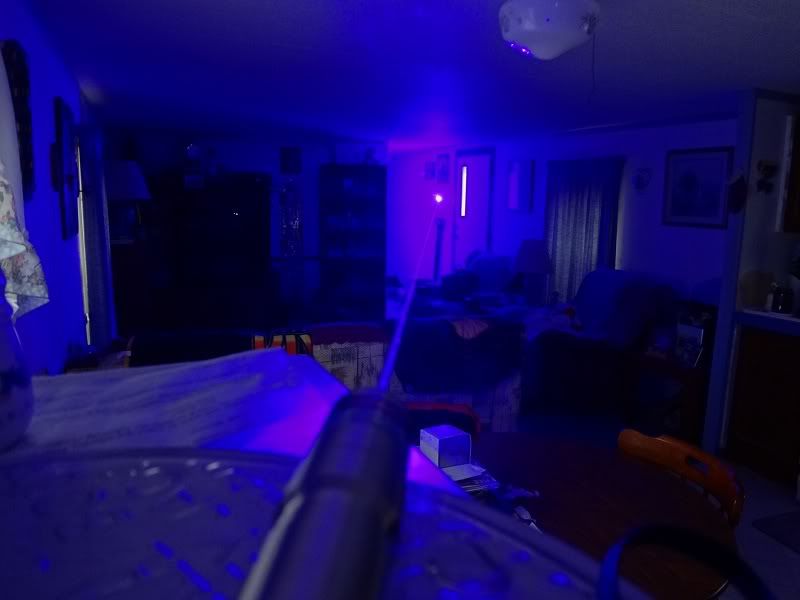 Here are a couple video's on my Photobucket site.....
20120302164631.mp4 video by JOHNAWESLEY - Photobucket
20120302170839.mp4 video by JOHNAWESLEY - Photobucket
A few pics of the Underneath of the Pill. The Driver is Moh's so he installed it enclosed with a nice blob of solder for the + connection to the CR123A Batteries.
I didn't have to use the Pill or Brass that Gary sent with the Host. So, I will have extras.
Moh's driver just screwed right into the SSH-L2A as though it was made for it. Nice!! To see Moh's work go to ...
http://www.mohgasm.com/JAD.html
Excellent work I might add.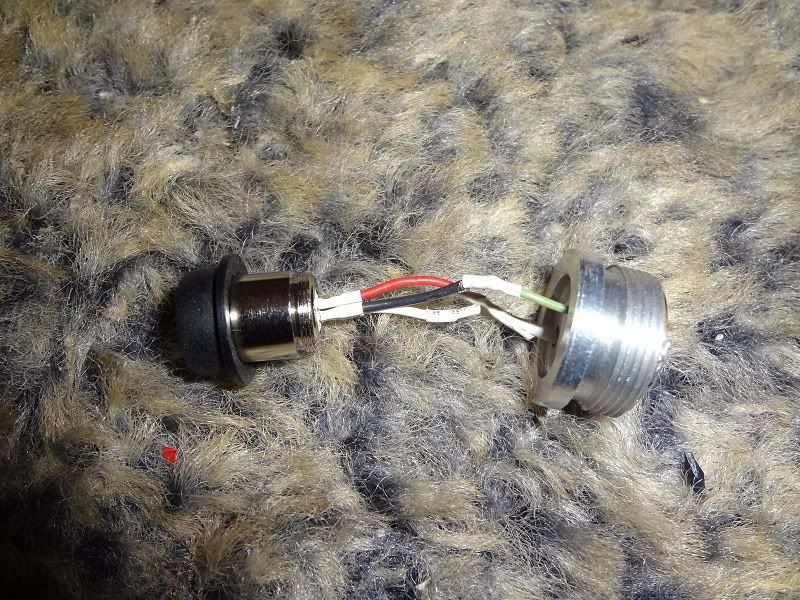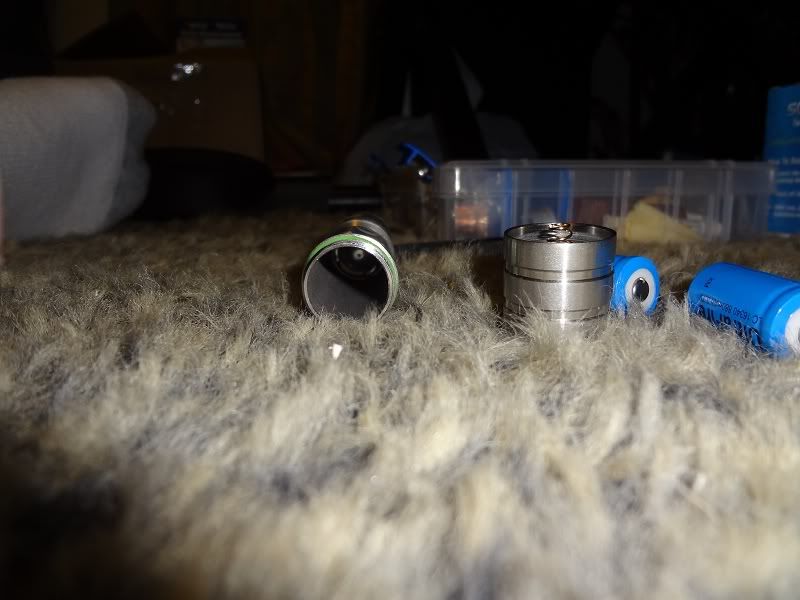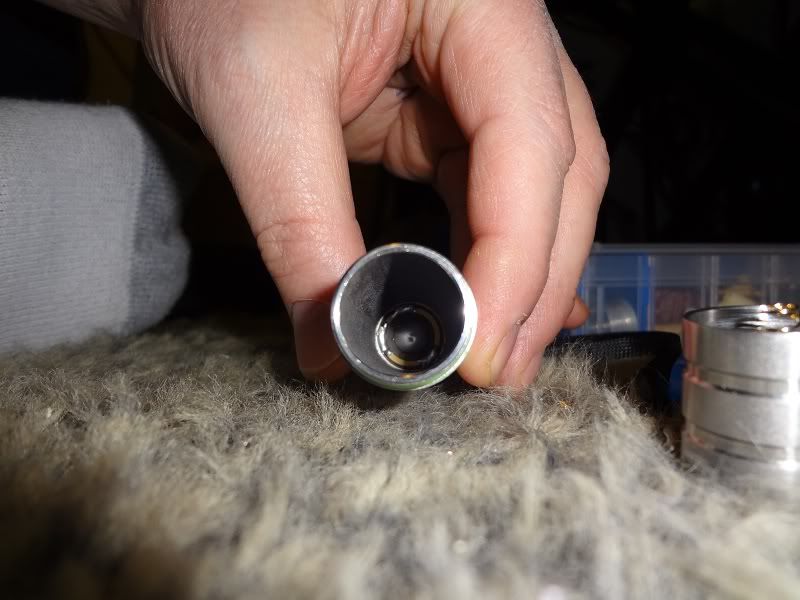 Now for the night shots I just took.....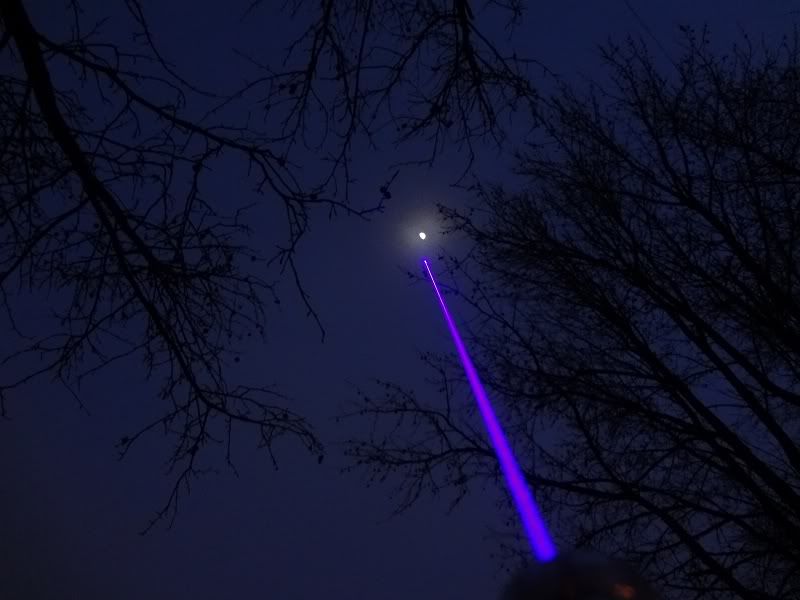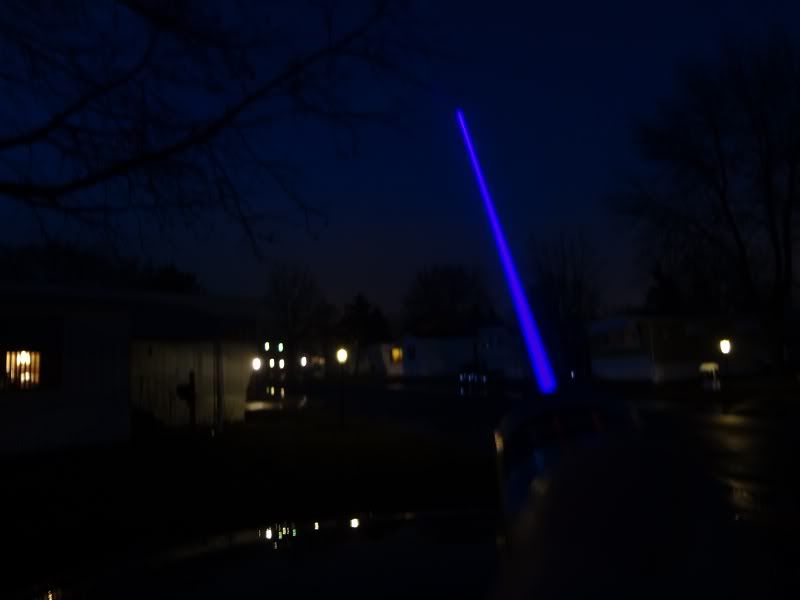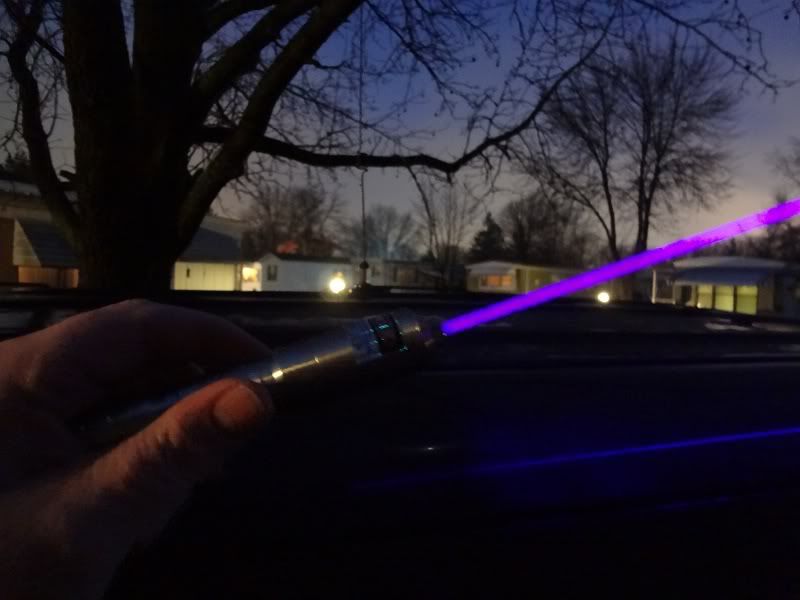 First of all at over 8.3 ounces with my Ezfocuser from JayRob this host is very heavy for it's size at slightly less than 5 inches, and I love the weight.
It's very very pleasing to the eyes as well and smooth as butter.
I am very pleased with my build and it went smoothly, as smooth as this host's slick body.
Construction was easy to understand and I love that the heatsink actually uses up the whole cavity of the top of the SSL2HA, and touches the drivers pill to distribute heat throughout the entire Host.. Good Job Gary!!
:
This host is now my personnal favorite and I will take it everywhere with me and as I said earlier I'm getting around 1.620mW or a little lower of output since I'm not using a G-1 or G-2 Lens.
This Lasers Is BRIGHT!
Always wear safety protection ALWAYS!! One mistake and you could be doing a lot more hearing than seeing.
I too have fallen into thinking that I can shine it at this or that and be OK, but that logic is not for the wise.
Always wear your Safety glasses. For the best pair I've ever used and the price is the best as well:
http://img.fw1.biz/resize/58770/eagle_pair_goggles.jpg/250/360/0/
Oh ya, it also comes with a Lanyard
: and a nice one at that. Plenty big to fit my large hands with no problems.
Get one of these lasers in Parts bundle form or buy the parts seperatly, you can't go wrong and it will quickly become one of your favorite hosts!
Gary's even working on different options for heatsinks and Focusers for this host.
Thanks again Gary for letting me review it for you, being the first customer to get one, and I wish you much success in the future!
:
When I saw this beautiful Stainless Steel Host, I had to get one as it's plain awesome no doubt!!
Last edited: