Do you want to find a Tactical Flashlight and with high brightness?XM-L2 emitter. High of 980 lumens – for 3 minutes – and low of 30 lumens. Interesting switch.
then it is SUNWAYMAN D40A!!
and it is a new model and use 15% off coupon code , then you can get it .
coupon code: SSZZCCSS
66$+ free shipping
Link :
SUNWAYMAN D40A CREE XM-L2 LED 980 LM Tactical Flashlight w/Tactical Tailcap Switch- Black (4xAA)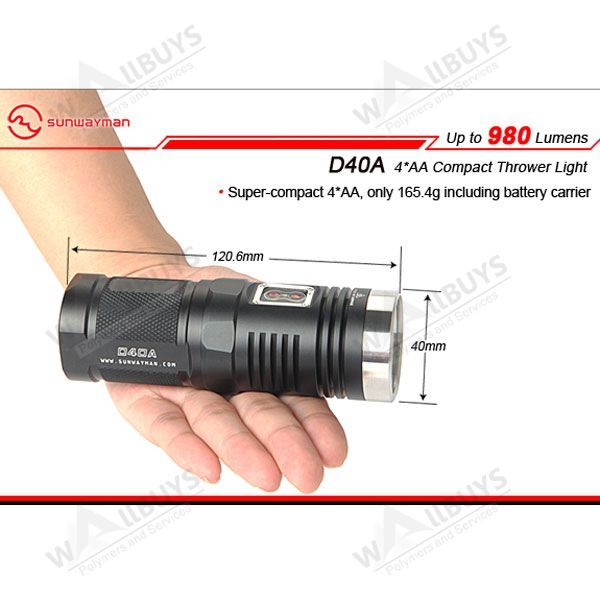 Description:
Name: SUNWAYMAN D40A CREE XM-L2 LED 980 LM Tactical Flashlight w/Tactical Tailcap Switch- Black (4xAA)
Brand: SUNWAYMAN
Models: D40A
Color: Black
Type: CREE XM-L2 LED
Brightness: 980lm
Battery: 4*AA batteries
Working voltage: 3~6V
Range: 315 m
Features:
With a lifetime of up to 50,000 hours
Brand-new Dual-button Side Switch System
Slightly depress the side switch buttons for output ranging from 30 to 980 lumens, Police Strobe, Aviation Signal, SOS, Strobe and Moon Mode:
Turbo: 980 Lumens
(To avoid overheating, the light will enter High mode automatically after 3mins continuous use)
High: 550 Lumens (1.7hrs)
Mid: 220 Lumens ( 4hrs )
Low: 30 Lumens (31hrs)
Constant current circuit, constant output
Standby Current: < 30μA
Intensity: 24800cd
High quality reflector with soft beam patter
Optimized deep metal reflector, great throw distance as well as perfect beam pattern
High quality aerospace-grade aluminum alloy, Stainless steel head retaining ring
Military specification Type III- hard anodized body
Waterproof, in accordance with IPX-8 standard
Ultra-clear tempered glass lens resists scratches and impacts
Tail stand capable- can be used as a candle
Accessories: Lanyard, O-ring, Holster
More goods new flashlights :
FandyFire PADME CREE XM-L U2 860LM 2000MA 4 Mode LED Flashlight- Deep Grey + Slivery(3 X 14500 / 3 X AA)
$60.00+ free shipping
FandyFire PADME CREE XM-L U2 860LM 2000MA 4 Mode LED Flashlight- Deep Grey + Slivery(3 X 14500 / 3 X AA)
PALIGHT H900 Cree XM-L U2 5 Mode 900 LM White LED Flashlight Torch - Black (1x18650/26650)
$30.57+ free shipping
PALIGHT H900 Cree XM-L U2 5 Mode 900 LM White LED Flashlight Torch - Black (1x18650/26650)
Sunwayman M11R CREE XM-L U3 300 LM LED Flashlight w/ Magnetic Control System- Silver (1xCR123A)
$126.00+free shipping
Sunwayman M11R CREE XM-L U3 300 LM LED Flashlight w/ Magnetic Control System- Silver (1xCR123A)
Sunwayman V11R CREE XM-L U3 LED 500 LM Hand-drawn LED Flashlight- Camouflage (1xCR123A)
$79.77+ free shipping
Sunwayman V11R CREE XM-L U3 LED 500 LM Hand-drawn LED Flashlight- Camouflage (1xCR123A)
流口水: