Joined

Sep 20, 2013
Messages

19,486
Points

113
This is the Sharp #GH04955A2G, 495nm laser diode. Unlike earlier versions of 480nm and 505nm, these have no micro-printing around the diode's window.
These new diodes are difficult to describe in terms of their color. To me they are right on the edge between blue and green. It is a spectacular color, IMHO.
My preliminary test results are for the first five I measured. They are at or below 495nm, but can increase in wavelength by 1nm to 2nm with heat.
I will post the wavelengths in order from lowest to highest so you can see at a glance where they tend to fall....at least, so far.
492.2nm at 75 mA
492.8nm at 75 mA
493.2nm at 100 mA
493.7nm at 100 mA
495.0nm at 75 mA
I plan on measuring the rest as soon as possible. Then I will concentrate on threshold current, efficiency, and optical power output.
So, I have measured the rest of the ten diodes I have. I also ran one up to 350 mA and left it there for ~30 seconds, until it got quite hot, to see how much these can drift with temperature. From 50 mA to 350 mA it drifted ~6nm. However, I don't see these getting anywhere near that hot or pushed at that current without proper heat sinking. I still think at 275 mA with good heat sinking they won't drift more than 2nm, especially from what I've seen with these diodes.
In the order of lowest to highest wavelength the rest are:
493.0nm
493.2nm
493.6nm
494.0nm
494.3nm
All I have left to do is press one into a copper module and put it into a handheld with a decent heat sink. Then I'll be able to take some beam shots. :wave:
For those of you that now have a diode, but don't know the pin out for it: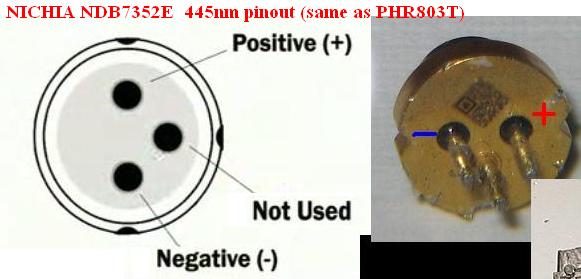 Last edited: