Today I got the laser I bought from scumbagatheist or how I would rather call him Brian.
Well fact is that I was searching for a 405nm at about 500mw of power. I put an add in the B/S/T section of the forum. I got contacted by a user stating that he has one and would sell it to me for $200, I ask what are the performance figures of the laser and he states that he has to check but that he was quite sure that it could give at least 500mw out. Well he contacts me later on that day and he says that he checked the laser but it was giving about 800mw of power so that $200 was not the price anymore. Well that made me turn my back on the purchase, for me there is no such thing as, "yeah I tested the laser and since it's performance is higher than expected than I shall raise the price", for me that is just not ethnical to any buyer. Anyway I tell him he can keep his laser (and think to myself that he can use it as a suppository if he likes to). Soon afterwards Brian contacts me and tells me he has a the laser I was looking for. Well I tell him that I want a cheap laser and I am not looking to spend too much money for the 405nm. So he asks me for $200 for the laser, battery and goggles. I agree and he sends me the specs of the laser that are the following:
The diode is a S06J from DTR. It comes with a 3-element lens.
The driver is a Ben Boost Mini V5 running quite smoothly @ 495mA. The driver is brand new as well.
The host is a Survival Lasers C-6 w/ red anodized heat sink.

Well the only part I didn't like much was the red heat sink, I mean you would buy that for your red laser but for your violet one I don't think so. Anyhow that is what he had and there were no changes possible, so I settled for the red heat sink.
He also tells me that he can't ship the laser in one piece due to some rules about selling lasers in the US, well that is not a problem for me.
So when I go out and receive the box what I find inside is, One host, assembled, one pair of protective goggles, that are some UVEX, that is a good option but they were obviously used and had all the lenses scratched. I usually dislike in using second hand goggles or sun glasses since if you sweat you usually don't wash them, so you just pass on the eventual germs, anyhow I will wash them well and keep them for my guests. Also there was one battery included that also didn't look new, but it works, and a small bubble wrap with inside the laser host and the driver, all nicely connected.
A bit disappointed in getting a pair of used goggles but still better than getting nothing.
Oh and a small hex key to, used to tighten the small hex screw in the heat skink, that was a nice detail.
So let's start with the pictures.... Here is how I got everything...



Here Is a detail on the battery


The driver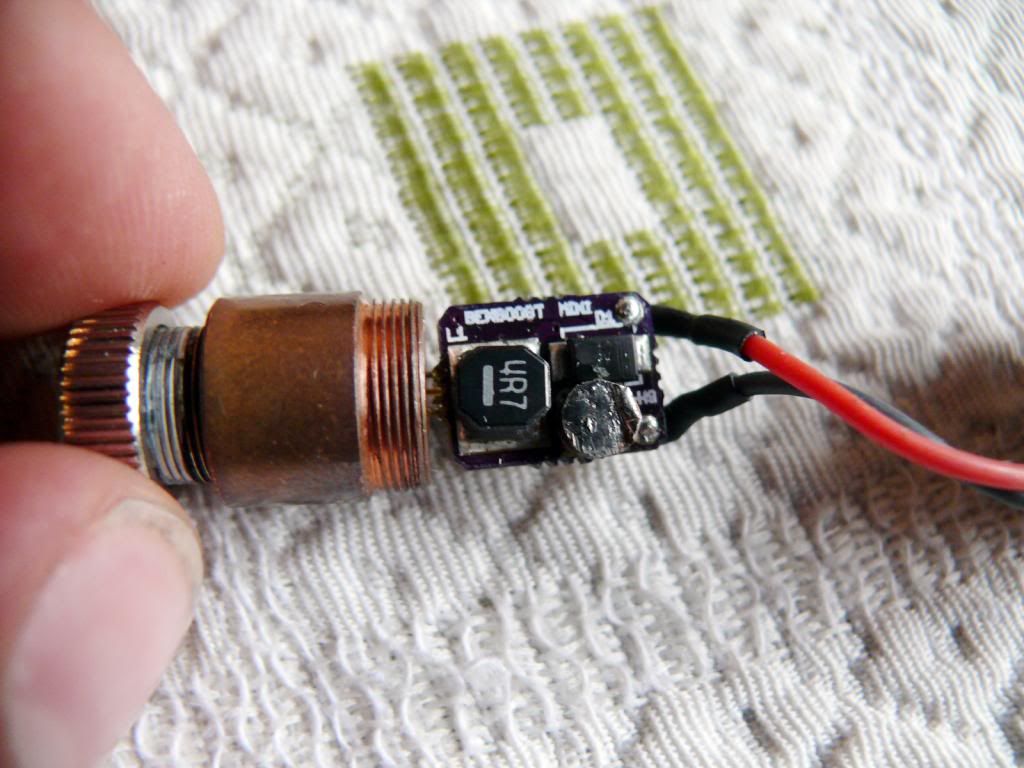 The pill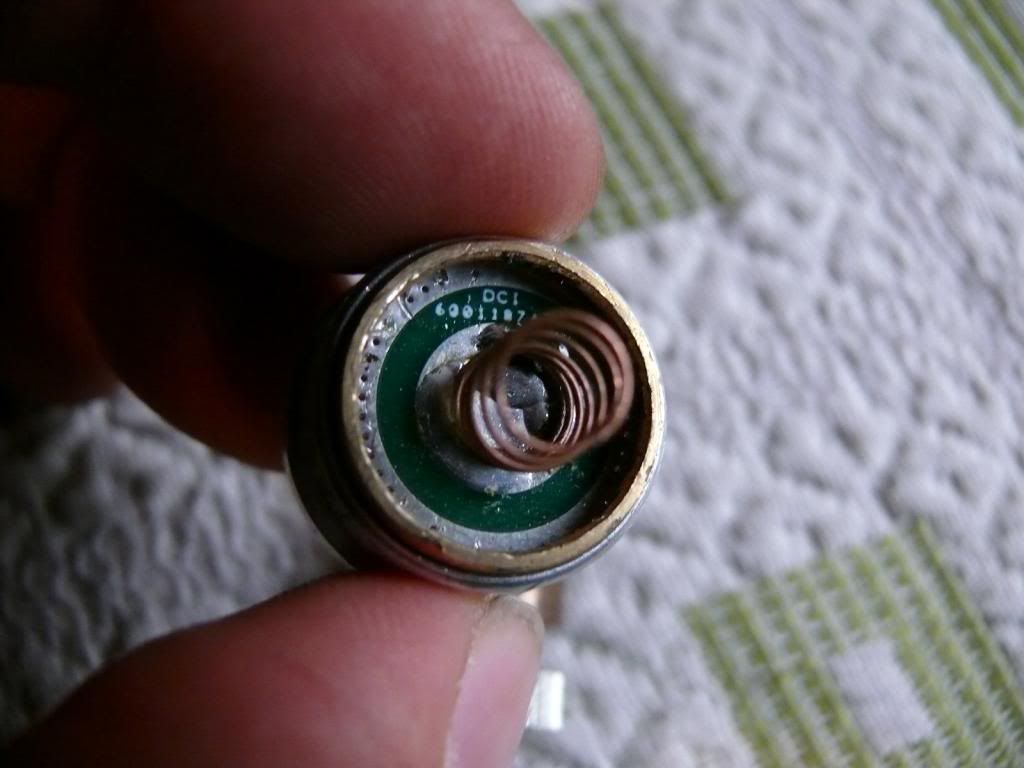 The completed laser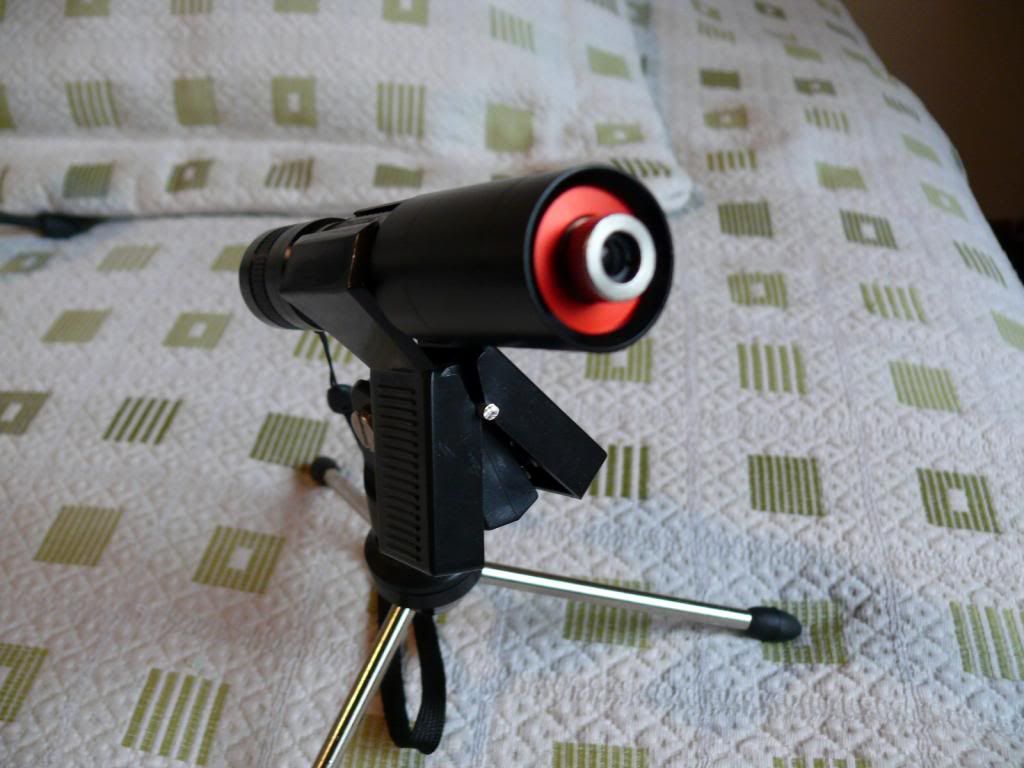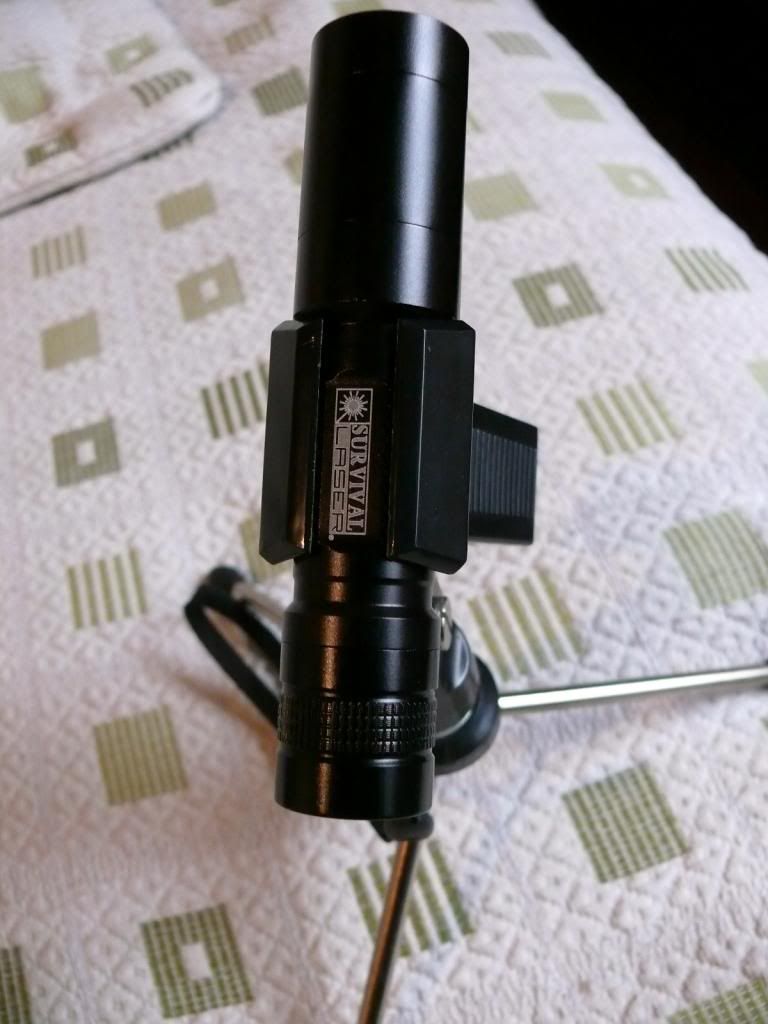 So the assembly, takes me about 2 min to have the laser working condition. The beam is nice, It looks quite powerful so it is time to put it to the test on the LPM.
I hook up the Laserbee II and this is the chart I get from the laser.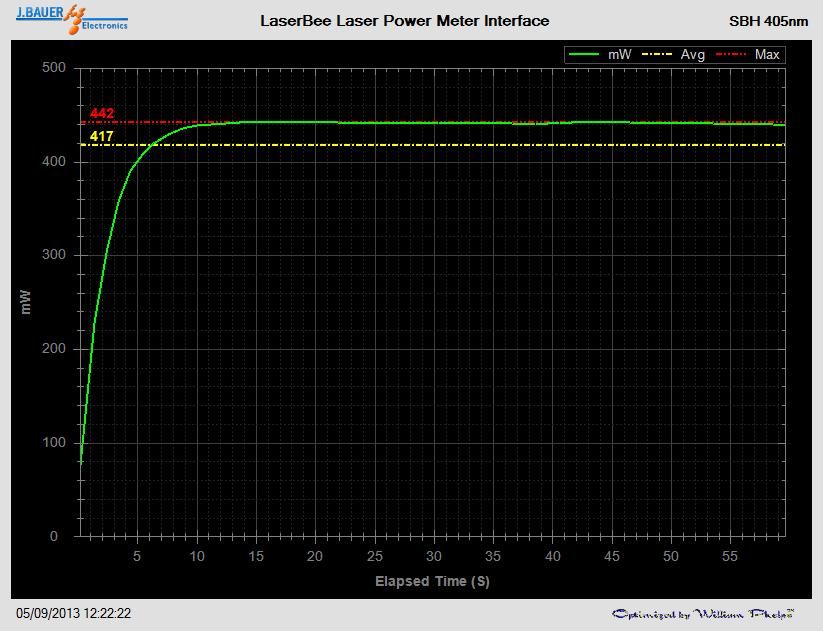 Not bad .... no bad at all... considering that I wanted 500mw and I got 452 I am quite satisfied (anyhow you wouldn't tell the difference by seeing it).
The amperage measured at the tail cap was of a little less than 500mA (my DMM is on it's way so I still have to use my old Triplet MM).

Here is beam shot.



Here is a picture of the dot, it's nice and round: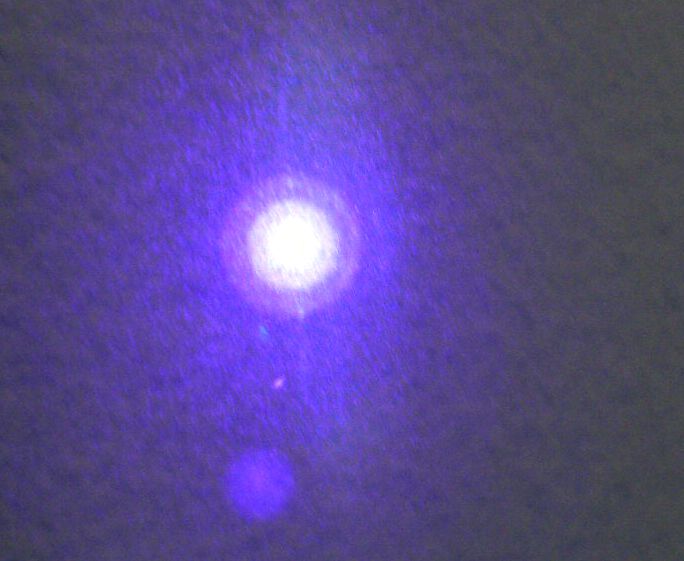 Seen through the goggles:



Conclusion:
The laser works as it should, it looks cool and it has the specs more or less like expected. Brian is a great guy to deal with and he shipped the laser quite fast, the fact that it was not assembled didn't mean much at all... Only complaint I would have would be that if you offer a battery and a pair of goggles to a buyer, and since you are starting to build lasers just for sale, other than for your own use, you have to ship them new.
I would recommend Brian (scumbagatheist) as a seller to anyone looking for a nice laser at a fair price...