Joined

Mar 11, 2013
Messages

1,955
Points

83
Time for another donation r4ffle. similar to before, I am changing a few things.
nothing is stopping you from donating to LPF, but to enter this r@ffle specifically, you must meet the following requirements. I've seen some posts and gotten PMs asking for exemptions for age, location, etc, but I am going to insist on the requirements, even though it pains me to do so, as I've nothing against anyone of a different nationality, and I believe it's possible for someone under 18 to be responsible, still...
1. Be at least 18 years of age.
2. Live in the United States
3. have a positive rep, no red bars. this will help insure that no one makes multiple profiles to enhance their chances as well as help ensure it does not end up in a stupid A**hole's possesion
4. Own a pair of safety glasses for use with 405nm light.
5. Must not have earned a place here:
http://laserpointerforums.com/f53/club-87980.html
Ok, now the fun part, providing you passed the entry qualifications, you may donate (to LPF) for a chance to win this 405nm KIT to "build" your own laser. I sure don't provide pre-made completed lasers exceeding 5mW, no way.
Here is what it would look like assembled, it is the purple one at top, did not feel like taking a new pic of just it: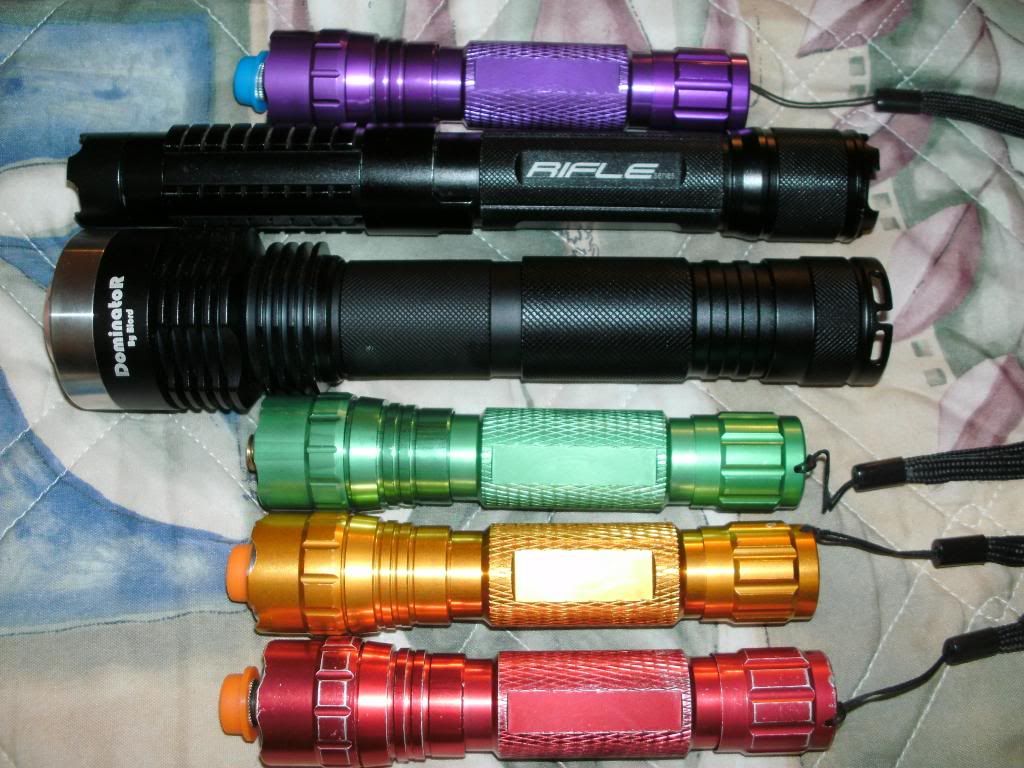 It metered in at 508mW when I got it from Blord, not sure if that was with a g lens or 3 element. I think it was with a 3 element, meaning it will be stronger with a g lens. I've been using it with a g lens, but it will come with a 3 element. sorry, I need the g lens. you could always pick up one of the o-like lenses, which would be almost like a g lens for the cost of a 3 element. I recommend this, this laser will be much better with one than with the 3 element.
changed my mind, feeling generous, batteries included. two AW 16340s, 750mAh rated each, much better than the bogus ****fires and their supposed 1200mAh i have some of those and the AWs outlast them every time.
real simple this time, last time seemed to cause some confusion even though I thought I explained well. Each ticket, which is in the form of a post, costs $2 in donations to LPF, this time I am allowing up to five tickets each, so to post five times, you must donate $10 to LPF. anyone can see who has donated, so there can be no fibbers.
naturally, you may donate more than $10, but only five tickets will be given. you needn't donate each $2 seperately, please do not do this. figure out how many you want, then donate the total amount. you also need not put all your posts in a row, unless you have an urge to quintuple post, you may wait and space them out to try and snag a post number you deem "lucky", just make sure they are all in by the end of the month. if you pay and wait and the posts go over 51, you can still get all the posts you paid for, but I doubt it will be a probem. don't post if you don't want to participate, that will throw a wrench in and make it more of a PITA. winner gets the unit and the satisfaction of donating to this awesome forum, losers get just the latter. this is going to last until the end of the month, or until there are 51 total posts. winner is picked using a RNG.
thanks peoples. Oh yeah, I'll allow donatiuons on/after 4/1/2014 to count for this, so if you donated before this was posted but after the 1st of april, you may still post.
Last edited: