Joined

May 4, 2007
Messages

5,630
Points

63
Recently I was asked to do a review of laser and was kind of shocked and awed to find that I've been chosen. Skepticism set in and I went through a long involved process to find out if the deal was legitimate. Needless to say it was. Today I was surprised to find a package waiting for me. Inside the package was a very large box. After opening it up I was shocked too behold an Evolution Pro wicked laser. The following is the review of said laser.
Now it needs mentioning that I've never owned a wicked laser. I've never seen one, I've never held one, and that never tested one. There's a lot of bad publicity over wicked lasers. They are claimed to be underrated, overpriced, and generally not worth the expenditure. Since I've had no experience with wicked lasers prior, I'm not predisposed to automatically assume that the laser I received is going to be a pile of junk. This review will be done only on the information available to me at the time of the review and will not be jaded by previous experience.
First off general impression of the laser is that it is very sleek and very stylish the box is enormous compared to the laser itself. Wicked lasers has a long history of producing very sleek and stylish looking lasers. As a manufacturer of a laser host, I know that looks while important is not the only factor in determining if the laser is good or not. I was a bit dissapointed that there were no instructions with the laser and didn't know for sure how the AA batteries were supposed to be inserted. Having years of experience with lasers and knowing that most green lasers require the batteries go in Neg first, I fired it up in this configuration and was rewarded with a beam of green light. The laser is powered off of two AA batteries. The raised button and power indicator are very sexy looking. The pocket clip is very strong looking and AR coated glass bezel on the tip and recently added dongle on the tailcap makes it a very unique looking laser. The elite Pro series laser according to wicked incorporates some of the safety features required by the FDA and the only safety feature I could find was a dongle in the tail that remains in place until you remove it and a power indicator LED. Laser community indicates that the laser is FDA compliance yet with only two safety feature this is a far cry from FDA compliant. Of the five features needed for FDA compliance a single dongle and power indicator LED, while nice-looking still doesn't qualify it for compliance. The key-lock aperture shutter and five second delay are still required for FDA compliance. Now don't get me wrong wicked has a long history (not that I've ever owned one prior to this) of no safety features whatsoever and this is a huge step towards being FDA compliant.
Inside the package as well as the laser itself was a power graph indicating the average and peak rating for the laser. The graph taken over 30 seconds indicates a peak of 157.9mW and an average of 146.9mW independent testing with the famed Kenometer (which utilizes a coherent thermopile) indicates that the graph is accurate for the most part. The tests indicated not an average of 146.9 but instead an average of about 153.7mW. Peak on the other hand was in a range of 170mW. This was of course dependent on the batteries use. Utilizing ordinary alkaline AA batteries the graph was closer and utilizing lithium Energizer E2's I was able to see a peak of about 180mW.
First one is with Energizer Lithium E2's
Second is with ordinary Alkaline Energizer Batteries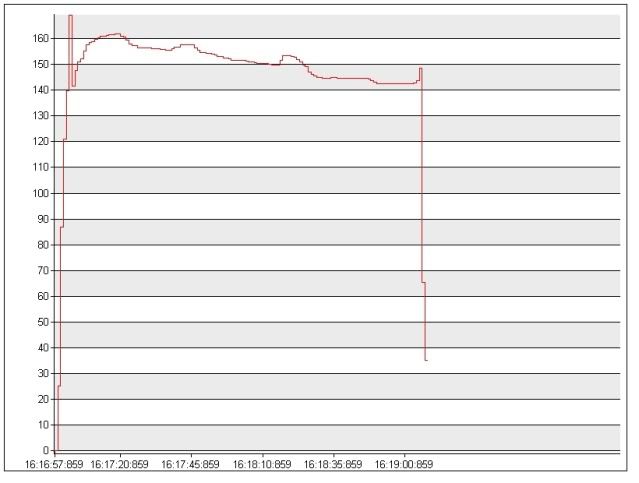 Using the mrad calculator at
http://www.pseudonomen.com/lasers/calculators/mRadCalculator.html
at a beam diameter of 1mm at aperture and 32mm at 84ft I calculate the divergence to roughly 1.18mRad
If I measure to the outside of all that green I get 48mm. However if I go for the more powerful dot in the center I get 31mm which works out to about 1.18mrad
At the time of his review the Evolution Pro series is not listed on wicked lasers web site. Price point comparison therefore cannot be done. The only other comparable Evolution model on wicked lasers web site is the Evolution plus 150 retail that $399. Since this is a newer model, I'm going to assume that there is a price increase or there will be a price decrease of the Evolution plus and this will take the price point of $399. Compared to other lasers of comparable power, is laser in my estimation is still a little overpriced, but for wicked fans this would be a great addition to any collection. I'm very happy overall with the performance of this laser and while it's not the most powerful laser I've ever seen, it is a very nice stable laser with tests of almost 3 minutes and stability not dropping over 10mW, this is a good nice solid laser. If you have an extra $400 laying around with nothing else to purchase this isn't a bad investment. I look forward to seeing what else wicked produces in the Pro line.
I will be including beamshots and other pictures of the laser later tonight as I get an opportunity in the dark to get some decent shots.
Updated with beamshots. Not that they are all that great with this crappy camera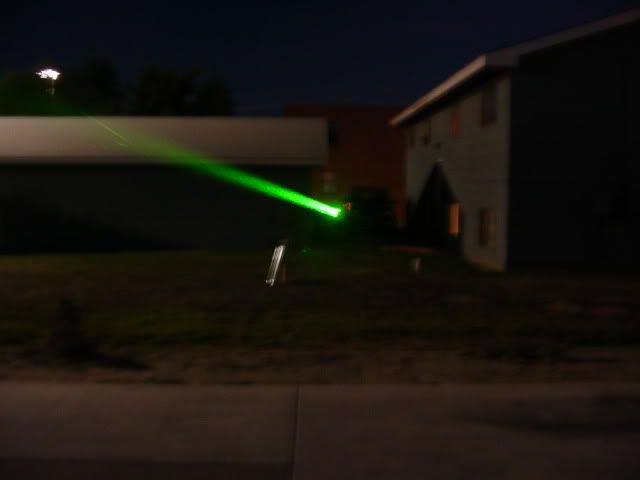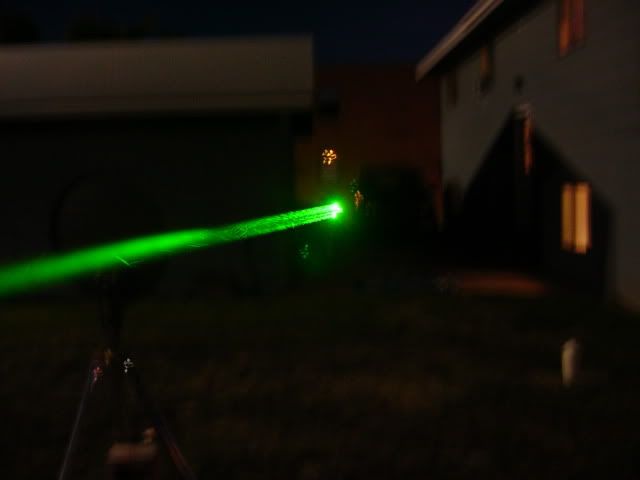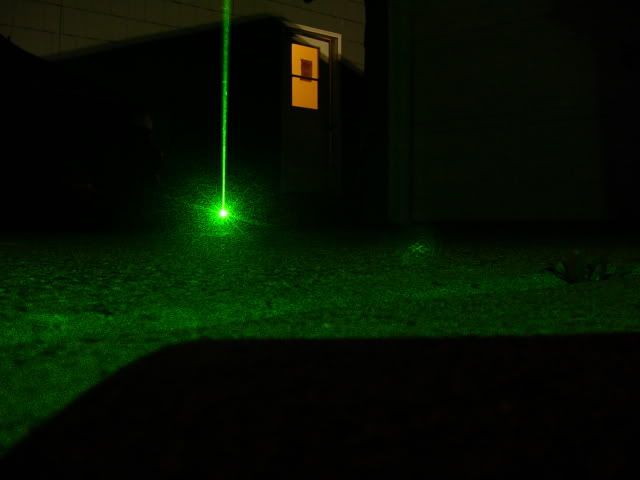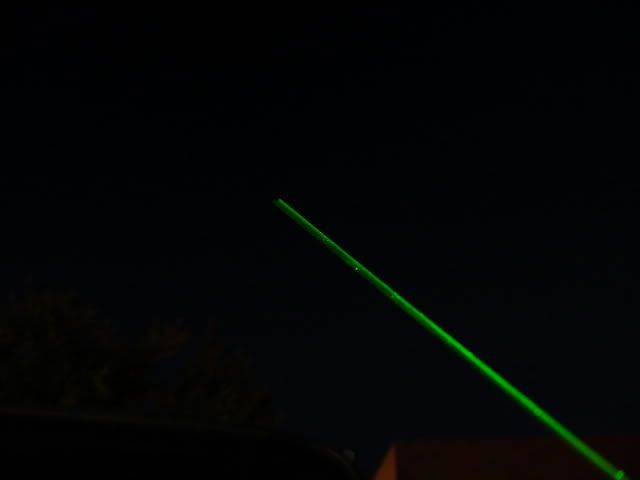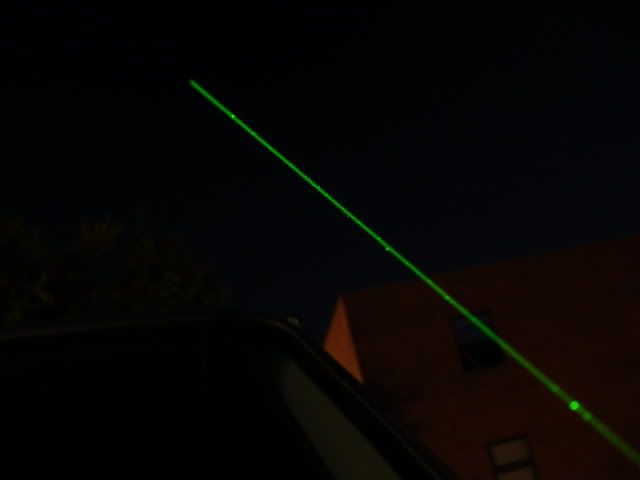 At this point I need to report a negative finding I've found about this particular unit, or more accurately about it's box. There is a pretty significant gap between the lid and the laser itself 13.55mm to be exact. The laser itself is 18.4mm, which leaves almost a 5mm gap. There is no foam on the top and the box when inverted allows the laser to pop outta it's groove and bang against the box. Now it is mostly padded in there and the box is not designed as a protective case persay, however if your usign the case to protect your laser as you carry it around all that bouncing around could potentially damage it. This is a pretty big no-no for me. Now I've got a protective case and can move it to that case to make sure she's protected, but I don't feel that I should have to. I'm the only one at this point that has experienced this particular issue and I may be the only one. Not to mention it IS an easy fix by adding something to the bottom under the foam to elevate it just a little bit, but honestly, I shouldn't have to...
Last edited: