Deleted member 16589
Guest
Ever since I saw a blue laser in a catalog I have wanted one but at $800 the price
was to insane but when I first stumbled on this site I found cheaper ones.
So after months of research I finally found one that I was both satisfied with and had a affordable price for my budget
It was 10mW for only $220 I couldn't resist
REVIEW
After I purchased it I could hardly wait for it to arrive. It took only 5 days to arrive in Virginia but do to bad weather it was not delivered for another day
so when I finally got it I immediately opened it and plugged it in.
I was absolutely amazed at the brilliant blue dot it produced.
Transverse mode
When first turned on it goes through several Transverse modes as it warms up it starts out as TEM10 and after 18 seconds turns to TEM20 before slowly merging together to become TEM00
click here for picture
http://en.wikipedia.org/wiki/File:Hermite-gaussian.png
Mi Impression
:drool::drool::drool::drool:
When I first plugged it in the dot was huge so I had to focus it myself which did not take long.
After it warms up it produces a brilliant beautiful blue beam
SPECS
Picture courtesy of lasever
Picture courtesy of Lasever
Also if you want the black PSU shown in my pictures you have to ask for it if you don't you will get the metal one
Model No.----------------------------LSR473NL-xxx
Wavelength--------------------------473 nm
Spatial Mod--------------------------TEM00
Output Power------------------------5...200 mW
Residual IR (1064, 808, 946nm etc)---<0.01%
Operation Mode----------------------CW or Modulation
Linewidth ---------------------------<0.1 nm
Polarization--------------------------Linear
Beam Spot Shape--------------------Circular, aspect ratio<1.1:1
Pointing Stability---------------------<0.05 mrad
Beam Diameter(1/e 2) ----------------2 mm
Beam Divergence---------------------0.5 mrad
Power Stability-----------------------<±5% per 2 hrs
Temperature Stabilizing---------------TEC
Warm Up Time-----------------------<5 minutes
Beam Quality (M 2)-------------------<1.2
Optimum Operating Temperature ------20~30 o c
Storage Temperature-----------------10~50 o C
MTTF--------------------------------10,000 hrs
Dimensions---------------------------100(L)x40(W)x50(H) mm
(fan adds 10/20mm to height)
Weight-------------------------------400g
Power Supply ------------------------LSR-PS-I
PROS
•glass lenses
•Well built
•bright beam
•Price is $220 +$50 shipping
•Lasever excepts PayPal
•10mW
•Adjustable focus
•Cheaper than 5mW hand held pointers of same wavelength
•Can be run non stop will not over heat, but if for some reason it does overheat it will automatically turn off
overall
•Value:15/10 (Its better than I expected)
•Stability 10/10
•Quality 10/10 (extremely well built and precise)
CONS
ABSOLUTELY NONE
PICTURES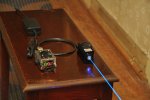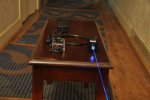 Last edited by a moderator: