I got this laser a month ago but because I have been buried with work I have not
got a change to do a review until now.
I always wanted a true blue laser pointer, but for the price I couldn't easily afford one.
One day I was looking at prices for blue laser pointers when I found this one for $149.99
Amazon.com: Blue Laser Pointer 5mW @ 445nm: Electronics
I went ahead and bought one. It shipped out from UK,
10 days later I had it in my hand here in California.
As you would expect from CNI this is a nice high quality laser.
The host feels nice and solid in your hand.
Beautiful gloss black paint job with gold accents.
The momentary button takes more pressure to depress than your typical laser pointer.
It has a removable lens cap with a Neutral Density filter glued to it.
It takes 2 CR2 batteries. (Case Positive)
At night the beam is faintly visible.
-Wavelength: 447nm
-Output Power: 4.5mW with ND Filter (9.5mW with ND filter removed)
-Divergence: 1.5 mrad
-Mode: Tem20
-Beam Style: CW
-Batteries: 2x CR2
-Current: 205mA
-Size: 149mm x 16.50mm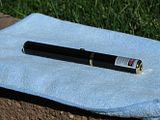 Edit: 2-21-11
I recently got a Laserbee 2 LPM.
Here is a Graph I made.
8.2 mW Average Power
14mW Peak Power
Last edited: