Joined

Aug 25, 2010
Messages

5,947
Points

83
Okay,
EDIT: I want it to be clear that I did not build this, but purchased it built from Cheech226.
So I put a Trade Feedback thread as a quick way to just share the great experience I had buying from Cheech226, but I wanted to just do a nice simple review of what I got; mainly to have more pics, but also so I have all the data in one place so I can link it in my sig and show off this sexy laser that I just cannot stop holding :crackup:
First, a little detail about the unit itself. It is a 405nm laser in a RL-118 SS host that was sourced from Jayrob via "Hot" option. The driver is set to 500mA, and as you can see from the LPM test below, it is right at 530mW or so at startup, making this my very first Class IV laser :drool: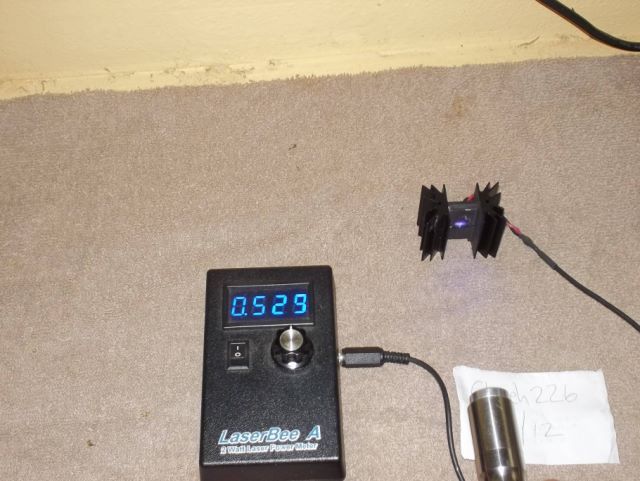 And here is a Pic of what I would be getting with a 405-G-1 lens from Jayrob....WANT!
Now, some pics of the host....you can always go to Jayrob's Build Kit for it to see pics of the host, but indulge me a bit will ya?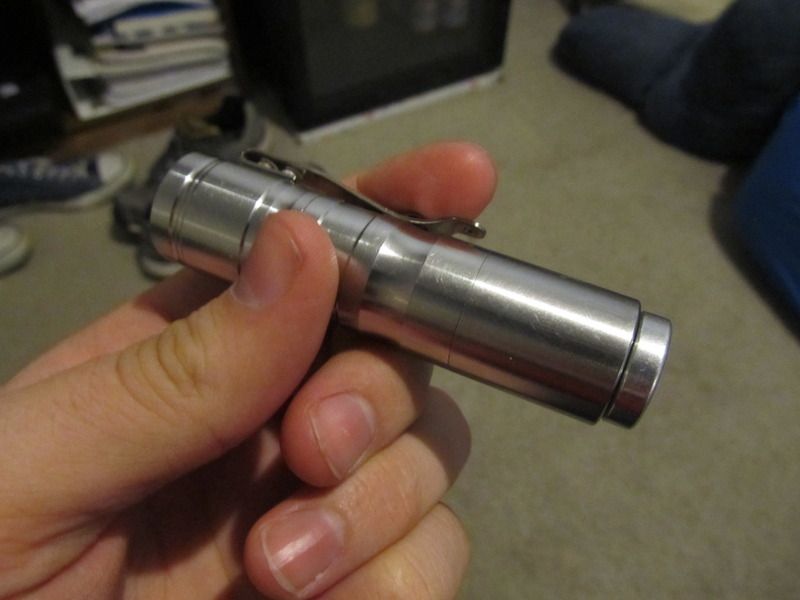 As you can see from that last picture, it fits well in the hand(a bit like a cigar haha :crackup: ) My favorite part of this Host, other than the sleek exterior and shiny attributes, has to be the sheer weight of it! This thing has a very pleasing amount of mass, it doesn't feel like a cheap flashlight host AT ALL.
Now, how long do you think I could resist before shoving the batteries in and taking this thang for a test drive? :thinking: Answer? No time at all!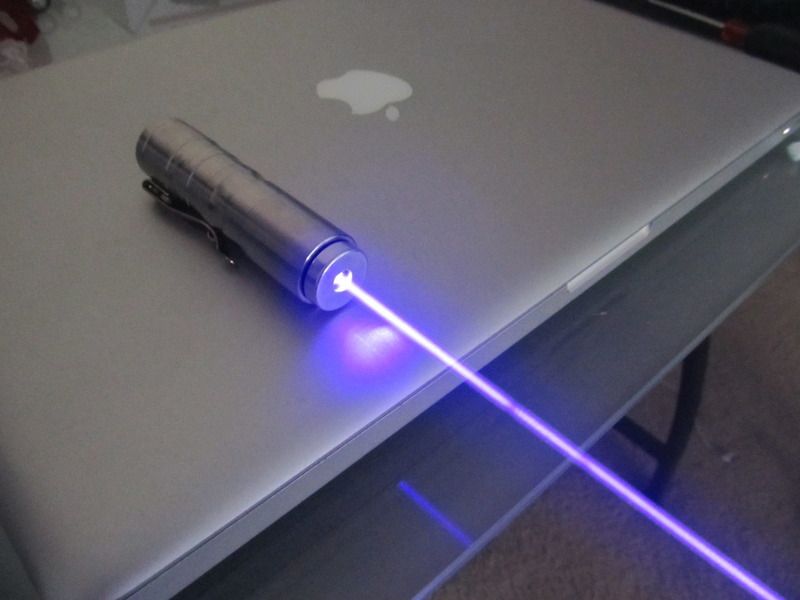 This beam is so lovely! Now my girlfriend wants a "purple one", I feel like I may have gotten myself in trouble here.....lol. Now, I can't forget about my Diffraction grating!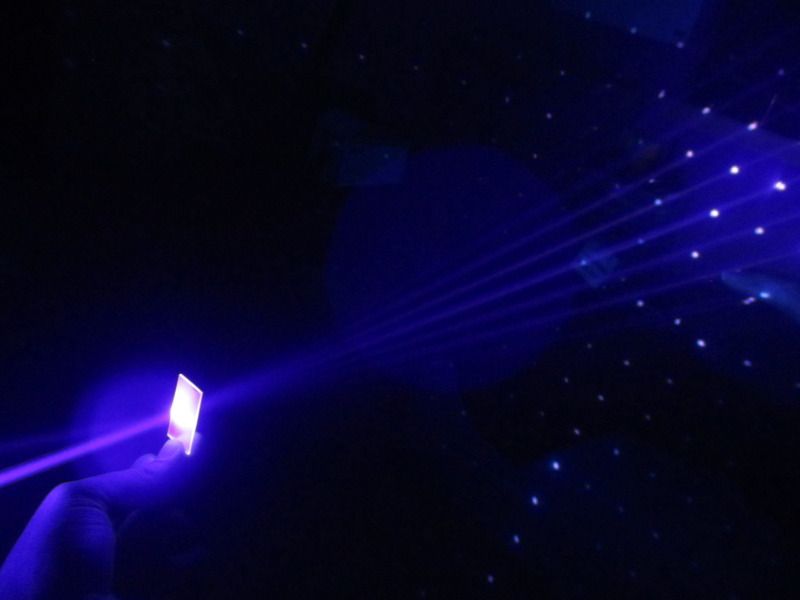 OR MY URANIUM MARBLE!!!!
And of course my other lasers wanted a group shot....don't worry, they had no way of rolling. One is flat, one has a clip, and the other was secured between them.
My 50mW Rayfoss isn't there cuz he's just not cool that way...also I only have 2 CR123A's.
And last but not least a small burning vid! Now...Cheech226 warned me to be very careful, as the beam is stronger than it looks...when the beam was about the size of a quarter(I defocused the beam to aim at the marble in my hand) I put the beam on my hand.....Lo and behold a little burning sensation made its way up to my brain and I realized "Holy Sh** this laser is serious bidniss!", which is why the pic I have has the laser going sideways at the marble instead of angled downward. Also, I used my leather(and scarred from lasers) wallet to focus this thing at a distance of about 15-20 feet, and before I realized it, it had started burning a literal hole through my wallet, and the edges of it were cherry'd orange. Needless to say I am impressed! +1 to science :beer:
And here is a quick video of it running and lighting matches nigh on instantaneously!
Overall, I am exceedingly happy with this laser, and it was well worth the cost IMHO. (If anybody wants to get rid of a 405-G-1 lens toss me a PM haha)
Thanks again to Cheech226 for the sale and being very prompt, hope yall enjoyed reading and looking as much as I enjoyed writing and posting.
-Isaac
Last edited: