Joined

Aug 25, 2010
Messages

5,947
Points

83
REVIEW OF GLP-593.5
Purchased from JCranmer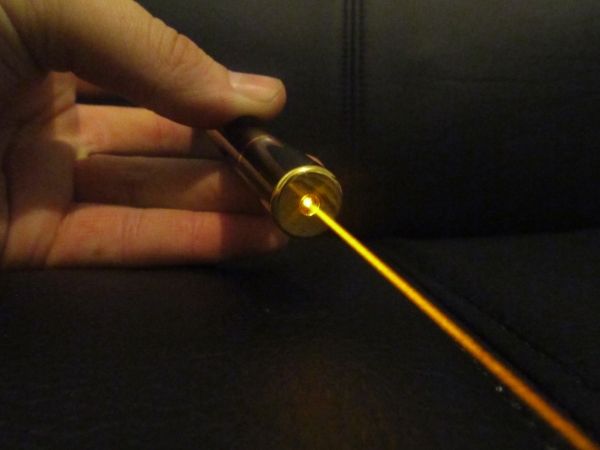 A few days ago JCranmer put up a FS thread with a GLP-594 laser from CNI.
I immediately told him I was interested, and after a day or two of going back and forth in my head
I decided to pull the trigger.
For those who may not know, I have never owned an exotic wavelength before.
Up until now, I have had 405, 445, 532, 635, and 660. Last week I purchased
a PL520 Diode but have yet to build it. So this is my first! What follows will be a brief
objective review of both the sale and laser itself, followed by my impressions of the laser
and my advice to those thinking about getting a rare, exotic wavelength.
OBJECTIVE REVIEW!!!
1. The Sale w/ JCranmer
PM's:
All queries regarding this laser were addressed in a timely manner
and with an appropriate amount of detail. Replies never took more
than a few hours, and his responses never seemed hurried.
Shipping:
I sent PP Funds late at night on Friday the 19th, and James shipped
the laser the very next day! You cannot get any better than that. He also PM'd me to let me know
that the item was on its way and updated Paypal with Tracking information. All before I got
home on Saturday!
All in All:
10/10 for JCranmer. I would DEFINITELY purchase from him again!
2. The Laser
:drool:
MECHANICS:
First of all I want to briefly cover how 593.5nm lasers work,
as it will be important when viewing the rest of this section.
593.5nm Lasers are much like 532nm lasers in that they are DPSS, or Diode Pumped Solid State, Lasers.
532nm Lasers use an 808nm Diode to Pump a Crystal, causing it to lase at 1064nm, the photons from which
are passed through a KTP Crystal which frequency doubles(wavelength halves) the
1064nm laser light into 532nm laser light.
593.5nm lasers use a similar method, but instead of pumping a crystal to produce
only 1064nm laser light, these produce NOT ONLY 1064nm laser light, but also a line at 1342nm.
These two lines pass through non-linear optics and are combined, then doubled to 593.5nm.
(If anybody sees any errors please let me know so I can fix them).
So one interesting thing I have seen when using this laser is that on startup the laser starts
in the green spectrum and then moves up to yellow fairly quickly. Having read about 593.5nm
lasers while waiting for the shipment, my guess is that the 1064nm light is being doubled before
the other line at 1342nm starts lasing. Here is a video of what I see:
DIVERGENCE:
The divergence on this laser is pretty average for a DPSS laser(I think?)
Aperture Beam Diameter: 1.5mm
Beam Diameter @ 8 meters: 12mm
Divergence: 1.3 mRad
MODE HOPPING:
I have yet to see any mode hopping, but that
doesn't mean that it is not there. I will be keeping a close eye on this laser during use and
report back any mode whoring it engages in. (pardon le french).
The Host:
The host is very sturdy and weighs well in the hand.
The material is clearly metal of some sort, and the finish is a glossy black with gold accents.
The button is responsive and clicks when you depress it. From a tactile point of you this is a big plus.
Cheaper lasers tend to have a mushy button, while this one reacts much like a mechanical keyboard.
PICTURES!!!!!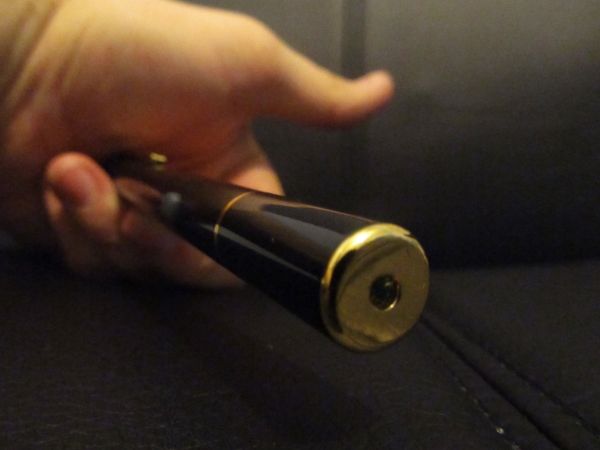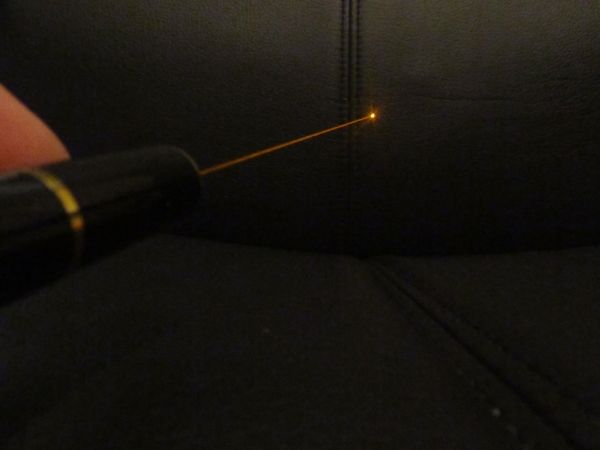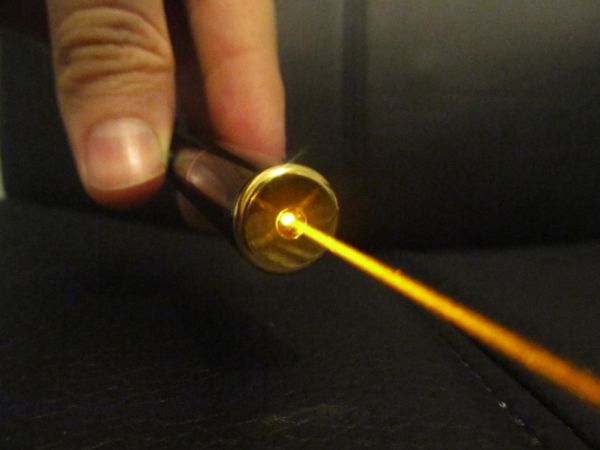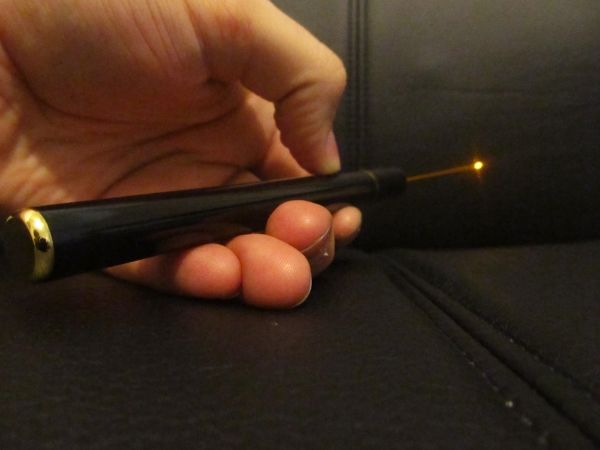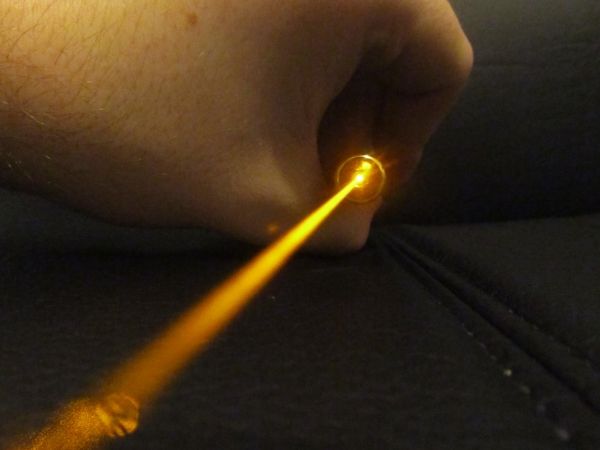 Well, that is all the pictures for now, but here is a video:
MY IMPRESSIONS OF THE LASER
I am very impressed by the warm color of this wavelength. It is really like a liquid, fiery gold light
in real life and I feel that the camera did an excellent job capturing the beauty of this wavelength.
I find the technology used to be very interesting, and I think it will always hold a spot
on my shelf as one of my best lasers. Now that I have a 594nm laser, I really want to look
into getting a 589nm, a 473nm, and a 488nm.....yeah about that job! Lol :thinking:
Suggestions:
If you are like me, and have only ever had the common wavelengths
I would highly suggest branching out and filling out your wavelength collection.
There is something beautiful about the technology that goes into these complex lasers that
really sets them above other lasers. Even if you don't make a lot of money you can sometimes
find great deals, just keep your eyes open and you will probably see more deals than you think you will.
CLOSING NOTES:
I hope you all enjoyed my review of the GLP-594 and enjoyed the media included.
If you liked what you saw or if you have any critiques for me, be it media presentation, scientific
fact corrections, or
just general notes, please leave me a comment and I will respond appropriately.
Thanks for looking!!!! :thanks:
-Isaac​
Last edited: