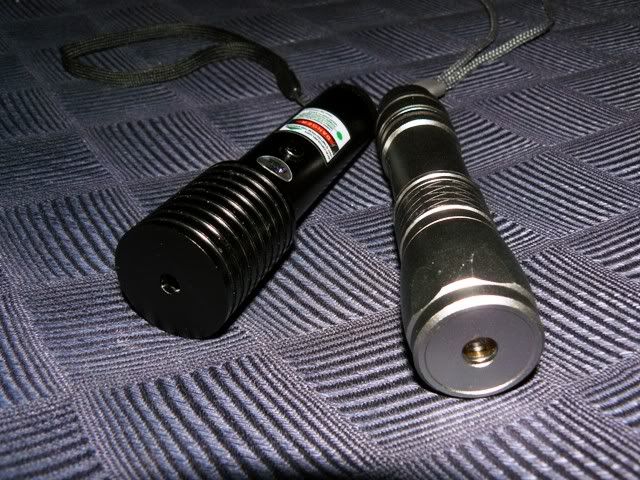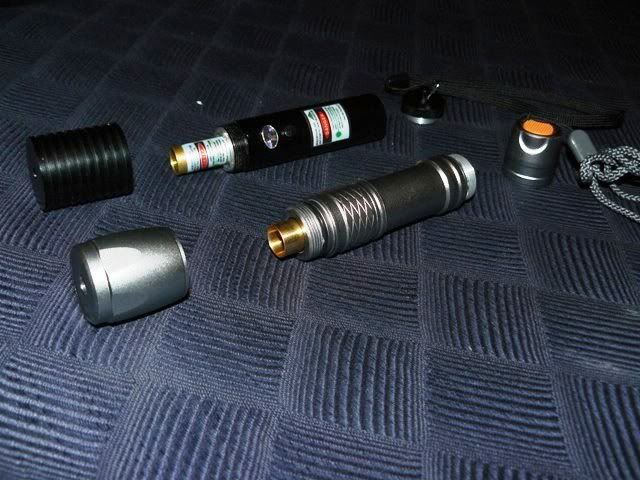 The hosts:
​
Rayfoss:
Solid and heavy:yh:
Waterproof:yh:
Reverse clicky switch:yh:
Extra lens hard to keep clean:yabbem:
Sticker fell off:yabbem:
Mini-RPl:
Heavy and sturdy:yh:
Momentary switch:yh:
Good Heatsinking:yh:
Both hosts use 1 cr123 battery. The Rayfoss host is nicer in my opinion. It just feels very high quality and looks better than the mini-RPL.
Now to the power/beam tests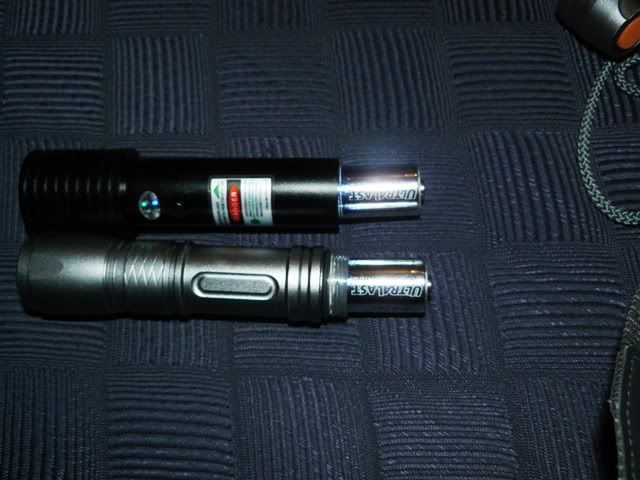 For these subjective tests the same batteries were used in each laser.
Graph provided by BrewCity Music(who i just got the laser from)
Beam Shots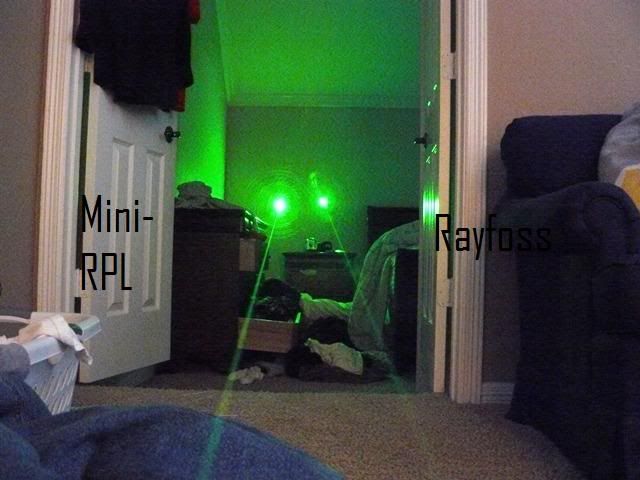 Both seem to be the same power. Even though the Mini-RPl is outputting about 100mw and the rayfoss is supposed to be in the 135-150mw region.
Dot/Divergence
Dots at about 5m away​
The divergence on the Mini-RPL is much better than the rayfoss laser. At a greater distance there is a much more pronounced differnce. Ive tried to adjust the focal point on the rayfoss but the lens seems to be stuck in place.
Final notes​
Service from Rayfoss was excellent, Faona is very responsive and it took about a week for the laser to arrive here. Also BrewCity Music is a great guy to deal with, he shipped via USPS priority mail and threw in some free defraction gratings.
Based on my comparisons vs the confirmed 100mw mini-RPL, my <150mw Rayfoss laser is not up to spec. It is just as bright as the mini-RPl and it has worse divergence. I might of received a bad unit, seeing how everyone else is giving their Rayfoss lasers great reviews. I am in no way, not recommending going to Rayfoss for good lasers, but i just wish mine had a little better divergence and a little more power.
-Jeff D
P.S. Night time beam shots coming later
Last edited: