Joined

Sep 16, 2007
Messages

3,443
Points

83
For those of you that prefer the "short and sweet" type of review, scroll down for a basic "points" and specifications break-down.
Pictures are scattered throughout. Video is in the "Performance and Beam Quality" section.
________________
Check out some of my
six-
color
beam
shots
!
Here:
http://laserpointerforums.com/f48/6-color-beam-shots-52664.html
This item is a replacement for a defective PGL-III-C 473nm 80mW.
The review for the defective unit is below.
As usual, I was very excited to finally receive my new laser.
I cut open the package with my favorite knife and extracted its contents...
Appearance & Build Quality:
The laser is built in a rigid, all black anodized aluminum shell. The heat-sinking mass is substantial and very effective for wicking the heat away from the heart of this laser. It features all 5 safety mechanisms including the aperture shutter, key switch, safety interlock/dongle, 5 second output delay, and LED activation indicator.
The laser is heavy and large, but not uncomfortable to hold. The weight is balanced with a battery installed and it feels solid. It is solid. There are no noticeable blemishes in the anodized surfaces. The laser looks very clean. It does not look like a toy. More like serious lab equipment.

Performance and Beam Quality:
The beam starts off in a pleasant TEM00. The diameter at the aperture is approximately 1.5mm. The power quickly climbs from a cold start to peak at around 150mW. The highest peak I have measured is 153mW. The power starts to settle in the 100-130mW range after 25-30 seconds as it warms up. At the 1 minute mark, this laser typically settles around 85mW. As the laser gets warmer the beam splits to TEM01 (undesireable) but divergence is still tight at about 1.0mRad (more accurate measurement to follow).
It is worth noting that either due to temperature or some other factor, the power drops steadily to ~50mW if left on for more than a couple minutes. I suspect temperature is the culprit. After cool down the laser will peak at 150mW again.
Edit: This is definitely due to temperature. Now, however, the laser seems to have "burned in" a little more and is now pumping out a peak in the 160's and remains above 130mW for a full 2 minute test cycle after warm up. On my skin (I have to test it with all my lasers) it definitely
feels
like 160mW of blue!
Overview:
I love the 473nm color much more than 445nm. The dot is very close in color but the beam is a very cool (almost cyan) blue in comparison. I wish the blue DPSS process was more efficient and more stable, but I can live with >100mW over 1 minute. This is a "winter laser," so I expect to get better performance as summer cools off and fall rolls around. I will likely be purchasing a 473nm pen in the near future around 20mW since this laser is a little too big to play with regularly.
The bottom line is: I love the color, it is a powerful blue, and the construction is solid. I approve.

Points:
Appearance:
7/10
Build Quality:
10/10
Portability:
5/10
Performance:
7/10
"Coolness":
10/10

Specifications:
473nm
80mW minimum rated output power
0.7mRad divergence
1.5mm beam diameter
TEM00-TEM01
Constant Wave Output
1.99A current draw from battery
5 Point Safety
Clickable thumbnails: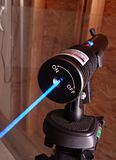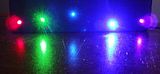 ____________________
Here is the review of the PGL-III-M that was returned for replacement:
This item was purchased from CNI via the CNI GB hosted by Glenn (scopeguy20).
I have previously had many good buying experiences with Glenn- buying sleds, goggles, and my PGL-III-C 532nm- and would like to let everyone what a great guy he is.

He does too much work for us so we can enjoy some fantastic laser equipment we would not be able to enjoy otherwise. +Rep him if you get the chance. Personally, I wouldn't mind if Glenn charged us a small fee to do what he does.


As usual, I was very excited to finally receive my new laser.
I cut open the package with my favorite knife and extracted its contents...

Appearance & Build Quality:

The laser is built in a rigid, all black anodized aluminum shell. It features a constant on/off clicky in the tailcap and a high-quality IR filter in the aperture. It slightly resembles a maglite. It does not weigh a ton, and is not too large, but rather a good mix of portability, functionality, and power (well, we'll get to that later...). With the battery installed, it is well balanced. I love that it uses an 18650. The knurled grip makes it easy to hold on to. It is not the most elegant laser, nor the smallest, but it is definitely capable of more than a key-chain pointer.

Performance and Beam Quality:

When I first installed the battery and turned on the laser, I was amazed by the bright blue beam and brilliant (and beautiful) blue spot.
On my Laserbee I, I got a peak of 110mW and an average around 85-95mW. The second test showed a 99mW peak. I was impressed. The beam was clearly visible indoors with natural lighting.
And then I noticed a high pitched whine from the laser (Damnit!).
I turned off the laser and then on again. It sounded like the whine was coming from the tailcap. If you have ever heard a FlexDrive squeal, that was the sound. The switch was making a very poor connection and the laser was flickering. I cleaned the threads in the tail-cap (they were a bit crunchy) and then powered it back up. The beam was no longer intermittently cutting out, and the whine was quieter, but it was still there.

On the meter again, I noticed the power was starting to drop.
Confused, I changed out batteries, tried different temperature ranges and let it cool off and warm up... no improvement. It seemed like every time I hit the switch, the peak would drop even lower. I could not determine the cause through "standard laser malfunction troubleshooting" so I concluded that the problem is either the driver or the diode/crystals.
This behavior reminds me of DPSS greens with a dying pump diode.
It now settles at 10-15mW with a peak around 18mW.
I measured a 1.6A current draw from a fully charged 18650. It seems a bit low for an 80mW rated blue. I notified Glenn and am now awaiting response from CNI. This will have to be an RMA.

On a more positive note, this laser has great divergence. I have not measured exactly yet, but compared to other lasers I own I would estimate it to be about 0.7mRad.

More details on mode operation, power, duty cycle, etc. will be added after I get this unit repaired/replaced.

Overview:
So far, I am not happy. Nobody likes to receive the defective one, but man, it really sucks when it happens to you.
Update:
I paid $175 for the return shipping today. Ouch.


Points:

Appearance:

8/10


Build Quality:

10/10


Portability:

5/10


Performance:

0/10


"Coolness":

10/10



Specifications:


[*]473nm
[*]80mW minimum rated output power
[*]0.7mRad divergence
[*]2mm beam diameter
[*]TEM00-TEM01
[*]Pulsed operation @ ~2000Hz
[*]1.6A current draw from battery
[*]No safety features

Last edited: