Joined

Mar 17, 2006
Messages

4,499
Points

113
I will start this off by saying that I am no wicked fanboy. I bought the pulsar because I wanted a high powered red pointer and optotronics/nova don't sell them.
I now present a fair review of the wicked pulsar 125.
Part 1 of review.
Packaging and shipping.
I ordered the laser on Saturday and it arrived at my house today(Tuesday). Not bad for shipping from china.
It came in a plain white box full of soft Styrofoam.
The laser itself was securely contained in a smaller black plastic box with foam inside. Here a picture comparing it to my lyra.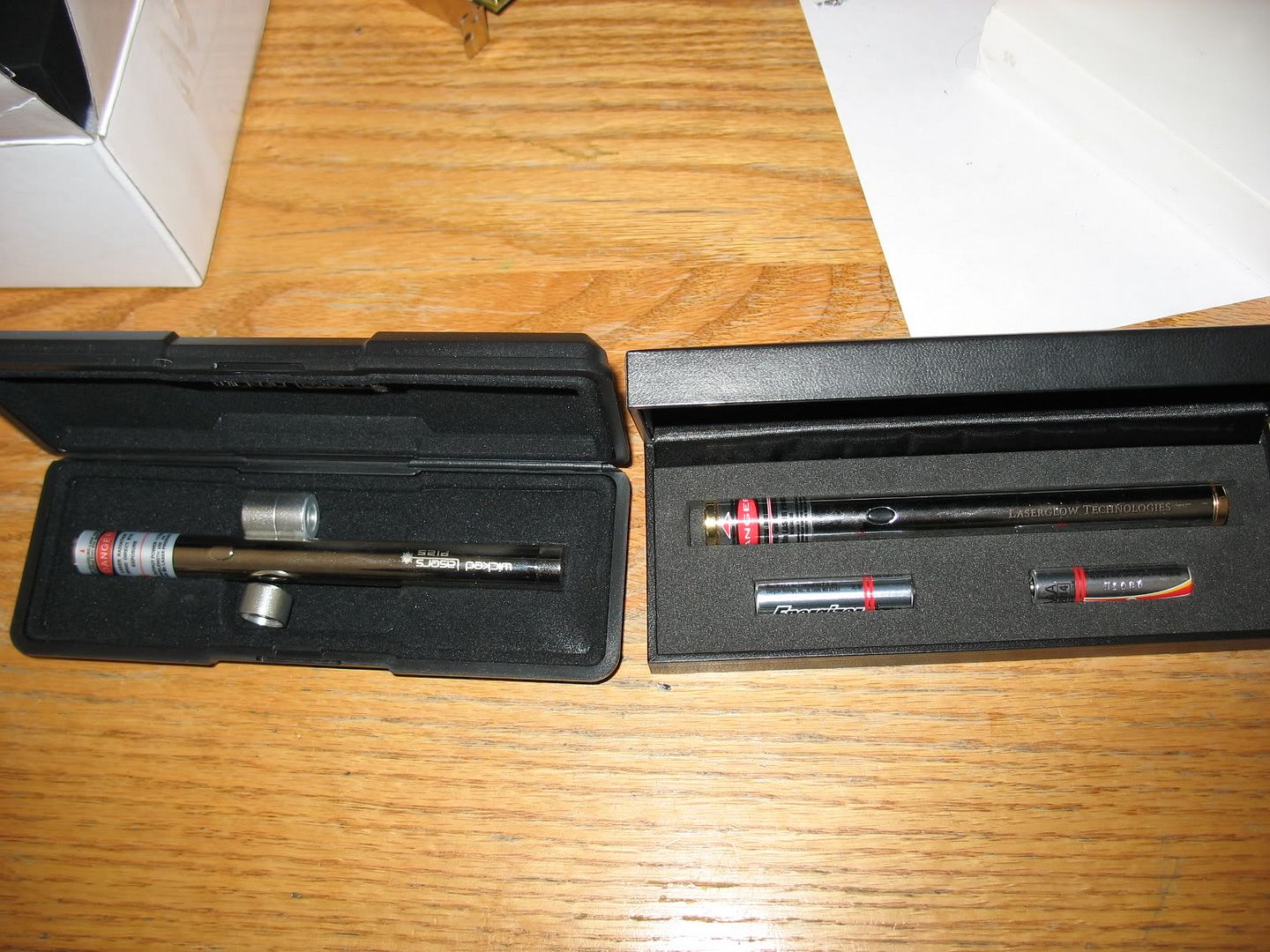 Part 2 of review.
Performance.......
After taking it out of the package and putting some alkaline AAAs in it I had some fun testing its burning abilities.
With the focusing cap it successfully lit matches, fuses and burned through black tape. Without the cap it has trouble burning stuff because of the 4 mm beam diameter. The beam divergence is actually very good. It has less beam divergence than my aries-35. It has no mode shifting issues or other obvious stability problems.
Visibly the dot is about as bright as the dot from my aries-35. The red beam is visible in the night sky and in other dark areas.
Part 3 of Review.
Overall score.
Pros=
1 fast shipping
2 no damage to laser on arrival
3 Laser appears to be high quality-No scratches/dents/push button works well/threads are good.
4 Works as advertised.
5 Good divergence and battery life.
Cons=
1 Can't use lithiums because wicked is too cheap to install a regulating circuit on the pulsars.
2 Needs the $30 lens set to reliably burn stuff.
3 Large beam diameter.
Overall grade=B.
Would be an A- if wicked lasers would be less cheap and install a regulating circuit.
And of course I have prepared some burning vids and a night sky shot for your viewing pleasure =)
Matches-Some took longer because I was still figuring out how to focus it for best results.
[media]http://www.youtube.com/watch?v=YHxW6CcUoEc[/media]
Lighting a fuse and burning through black electrical tape.
[media]http://www.youtube.com/watch?v=ZWKhnaRMbSY[/media]
Some sky pointing. My camera really sucks so this vid isn't the best.
[media]http://www.youtube.com/watch?v=WPT0PRGc12g[/media]