There is a lot of discussion going on about what color 445nm is.
For clarification, I'd like to start a thread comparing different wavelengths of "blue."
If you have pictures you'd like to share, please do.
I'll start:
To my eyes, 445nm appears as what I would call "indigo." It is deep blue with a tinge of violet. Diffuse reflections and the beam appear very close to violet. It also has the "haze" we have become accustomed to with our 405nm lasers, however it is less pronounced with the 445.
Click for larger size.
473nm ~100mW; 445nm 375mW; 405nm 450mW:
This time in direct sunlight; the 405nm spot is in the top left: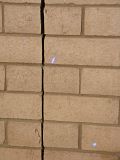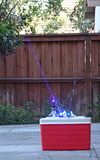 This time with 1W 445nm:
Last edited: