Joined

Sep 9, 2010
Messages

41
Points

0
Hi,
Recently, I got a 445nm laser 1W from lvyilaser.
I read on laser reviews board that the driver don't reach 1W but 500/700mw
Standart specification for pt4115 is max 1.2W with DC 8-30v .
Link :
http://www.micro-bridge.com/data/CRpowtech/PT4115E.pdf
I try to understand why the driver don't reach 1W . To change DC in from 6.2v to 8v do nothing, dc led is the same.
I looking the layout of lyvilaser driver and saw that 47μH placed differently !
Please take a look to layout of lvyilaser and standart layout for power led.
STANDART LED APPLICATION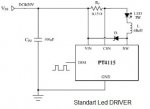 LVYILASER DRIVER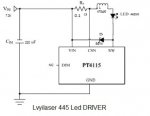 Thanks for your help.
Bernard
Last edited: