Joined

Jun 30, 2008
Messages

1,664
Likes

52
Points

0
Background and why i bought:
i was searching for a green laser pointer and wanted to have alot of green, not much IR leakage and power above 200mW, so i could settle for that power and buy no new green laser pointer for the next year(because i seriously need to upgrade my laser projector now)
After being 2 hours away from purchasing the 400mw green o-like pointer from bhwollen, someone else snatched it from me. I was kinda sad, but i'm never sad for a long time so i continued my search for some good 532nm brightness.
So my fello laser member DJNY wich is a really nice guy said i needed to take a look tot he group buy. well i never did a group buy before but the prices were fair. so after everyone saying "contact gray" i searched but could not find a member here called Gray. then DJNY explained he's registered here as forum user JETLASER. but i had already contacted jetlasers through their support page at jetlasers.net.
After seeing their normal prices were 5 dollar more then the group buy, i fugured i was going to buy the 400mW. but well the 500mW was only 50 bucks more....and i cant give 50 dollar to jetlasers later and get a new upgrade or something...so i thought i needed to do a LARGE purchase and go for the 500mW. so i did.
I asked alot of questions and stuff, and Gray(and someone else to i think) always replied fast and nicely to me. thats a big plus. i love quality service. other chinese guys always speak bearly english and give crappy answers(DINO for example?)
After paying on sunday, the laser was shipped to HONG KONG monday, and from there it was picked up by DHL. i dont know why they do this but i dont care alot.
DHL picked up the laser yesterday morning, and they delivered today.
A big plus for shipping and for DHL. (the shipping price was only 30 dollar for a mega-fast delivery :O)
So today i was all nerves and exited when i readed "parcel is with courier" on the tracking page. And then a DHL car arrived and stopped in front of my house and i rushed outside to get the package. I signed quickly and got back inside. (DHL tracking site says: delivered - 'signed by booz'. nice name they have given me
)
So i made some shots of the packaging...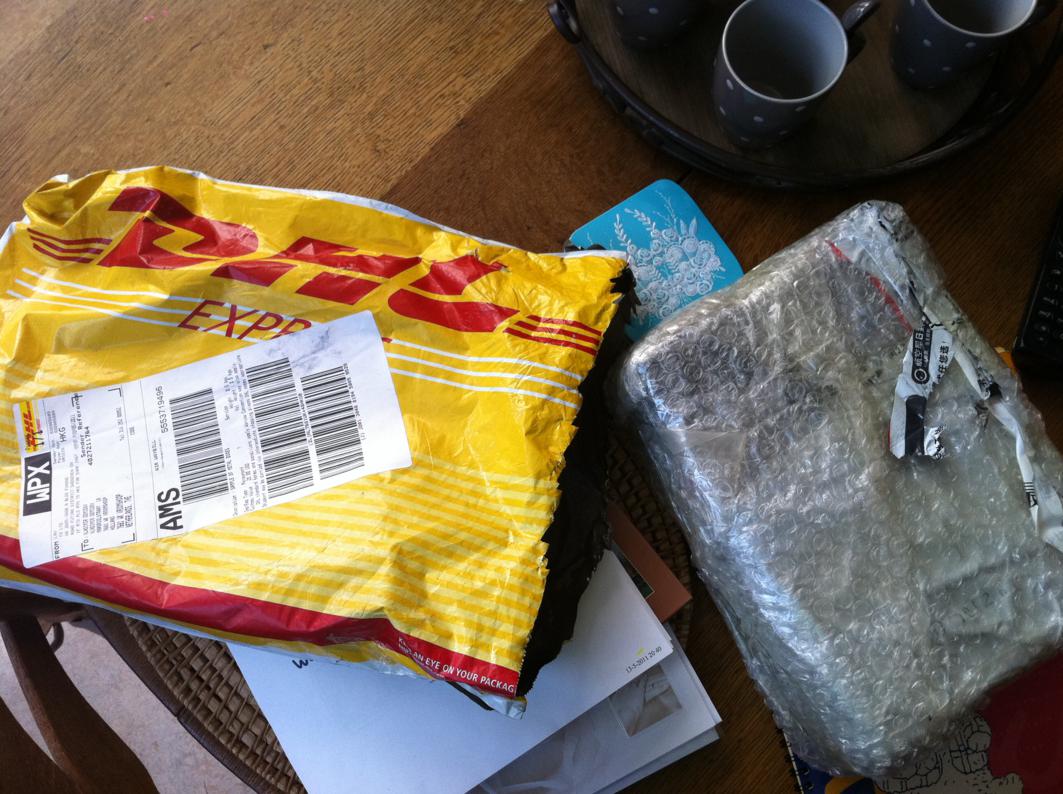 ofcource, i opened the package quickly... Im never really fancy with packages...but i will say it has a magnetic sealing. its a standard package and well....its going to get dusty on the basement....never to be looked at again...picture: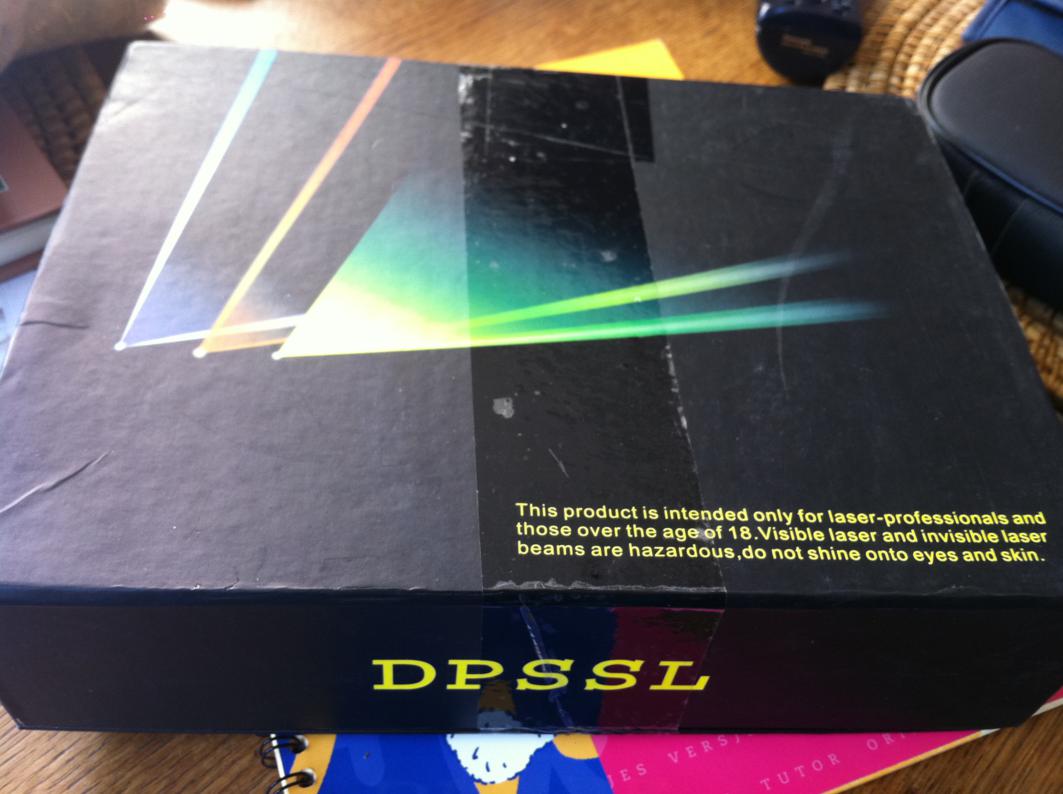 And then, like 5 seconds before i made the following picture, a big smile came upon my face. a dr. evil- like smile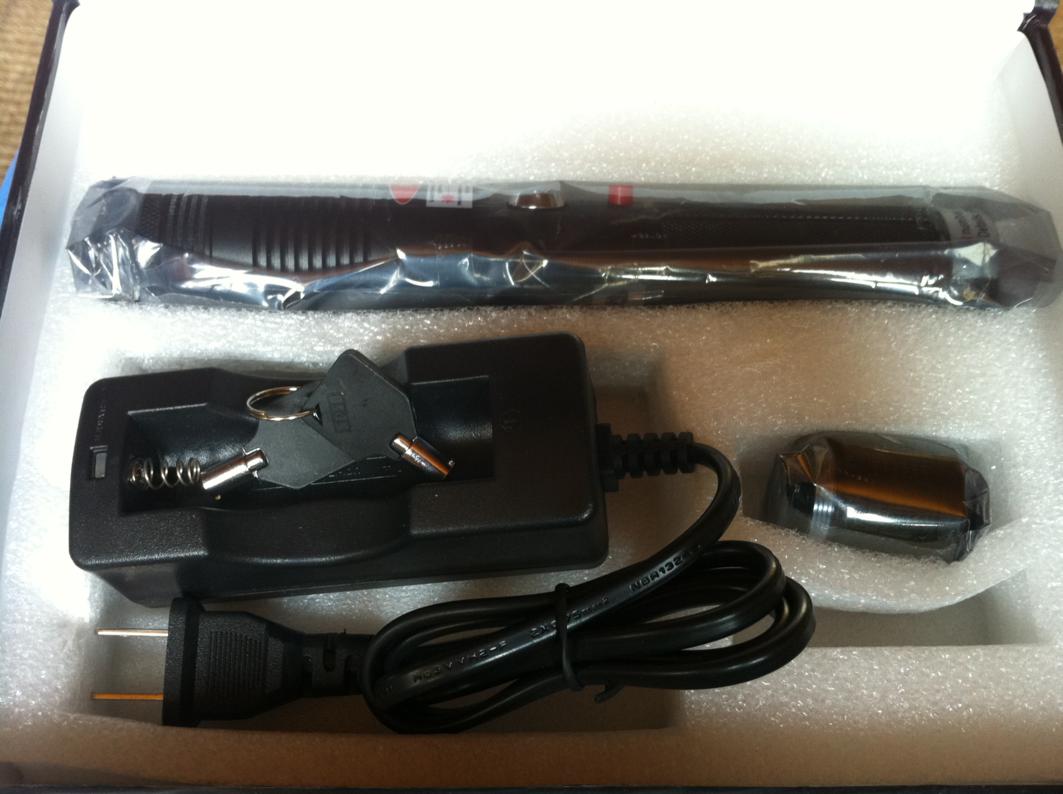 i really quickly inserted a quality protected battery and put the laser on, as you can imagine someone would do receiving a toy like this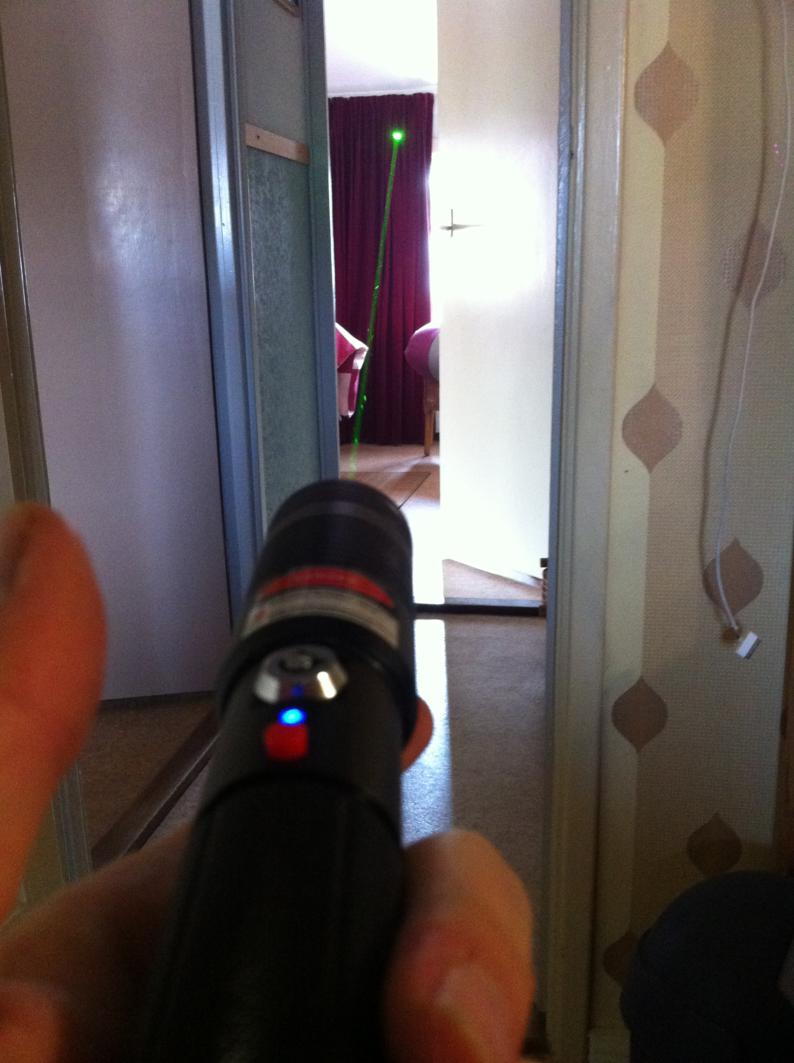 some people complained about the blue LED indicating on is to bright....i dont agree. i think its perfect.
so my brother called me for some fine-made cake so i came downstairs and showed my toy(im glad no one asked for its price)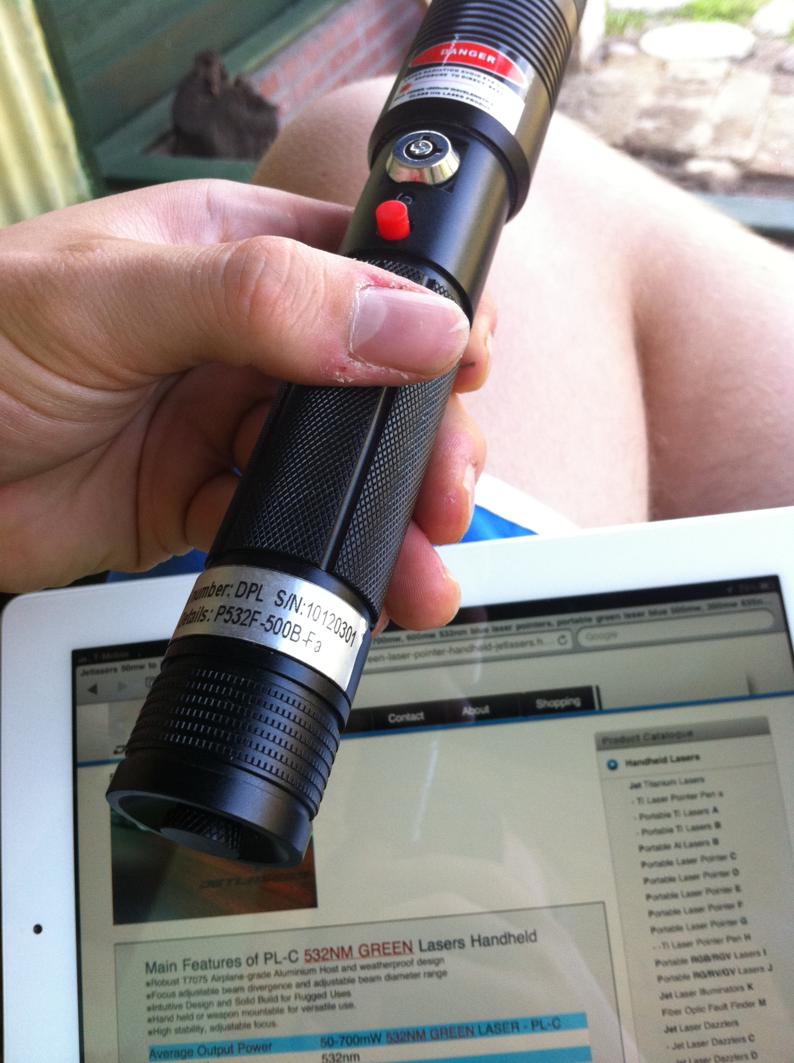 And here is a picture of the beam aparture sticker. the sticker part does not turn when opening or closing the beam aparture window.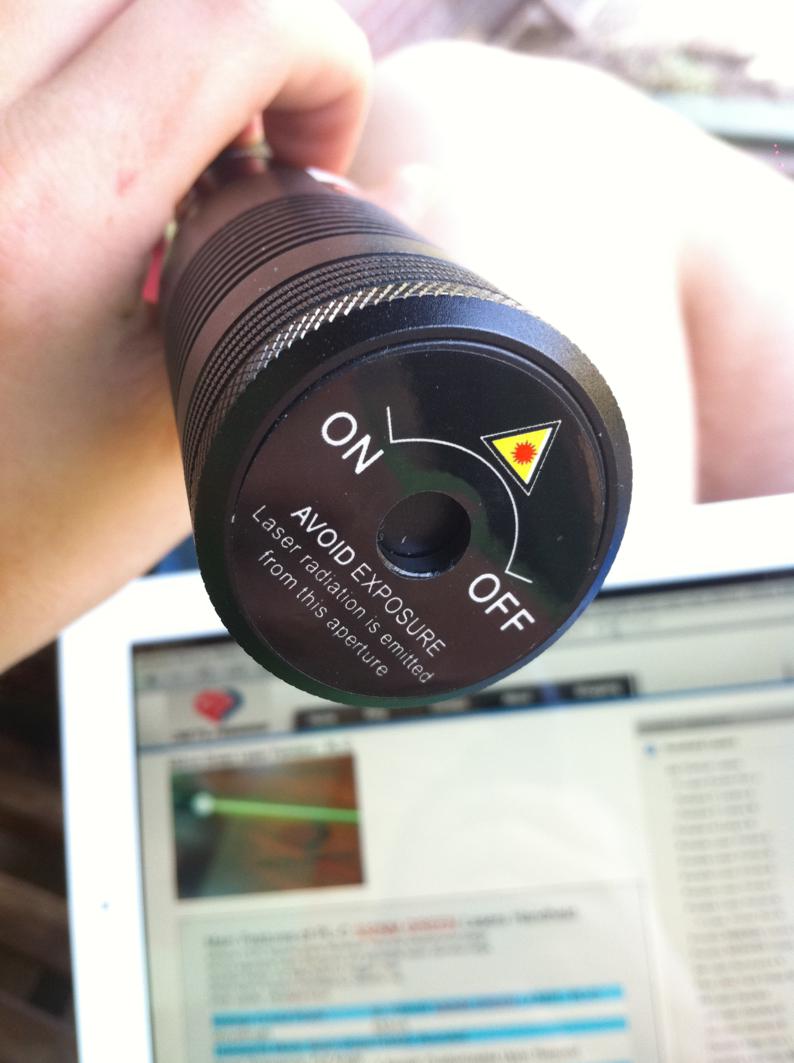 but when turned on, there is some leaking of green light. not the laser beam itself though, just not 100% closed.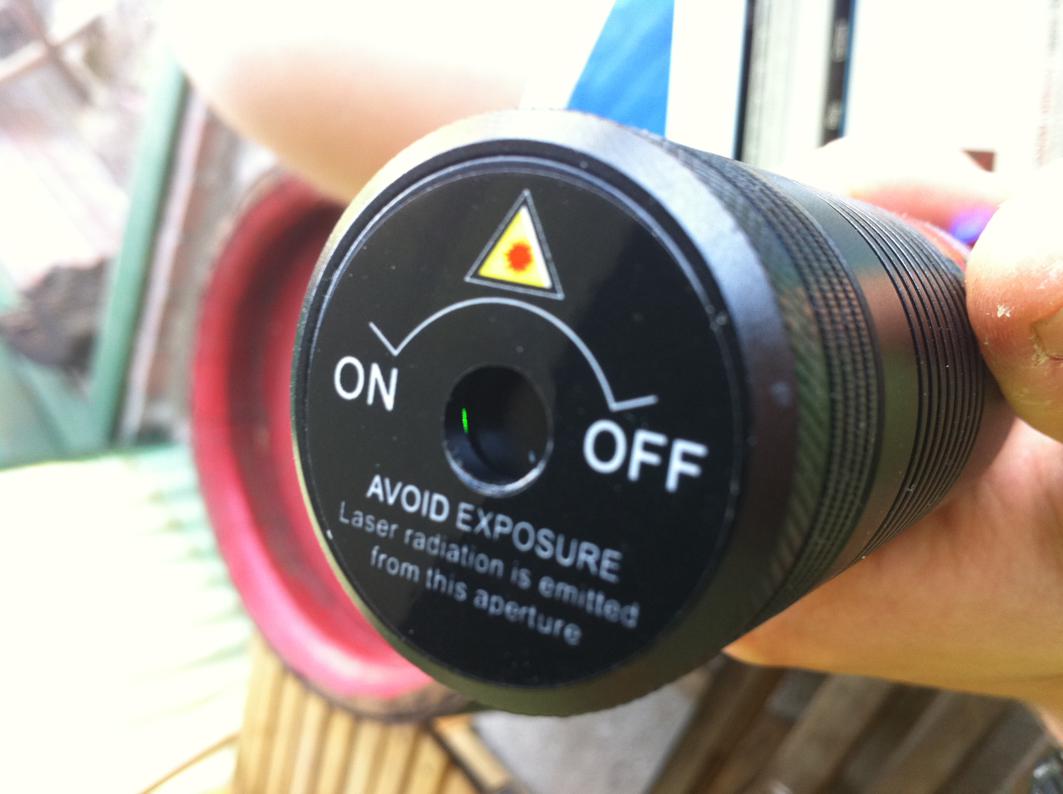 And here i'm playing a game. can you find the dot of the laser?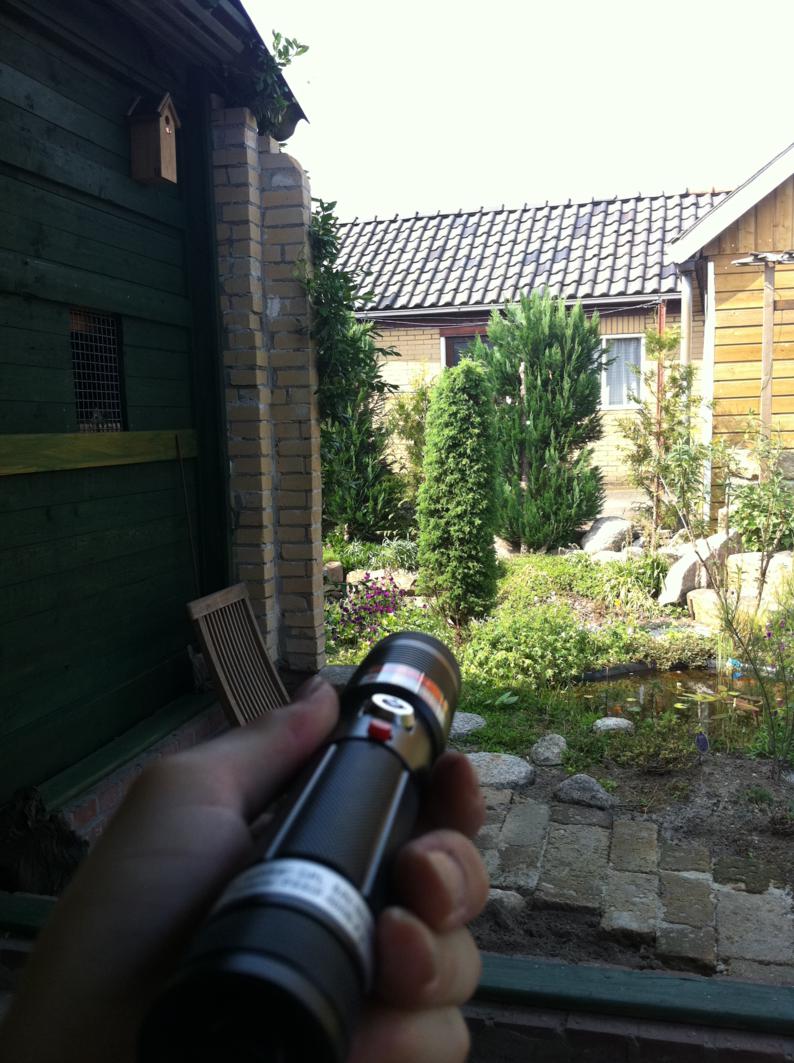 And here is a picture of the laser through my 532nm blocking glasses: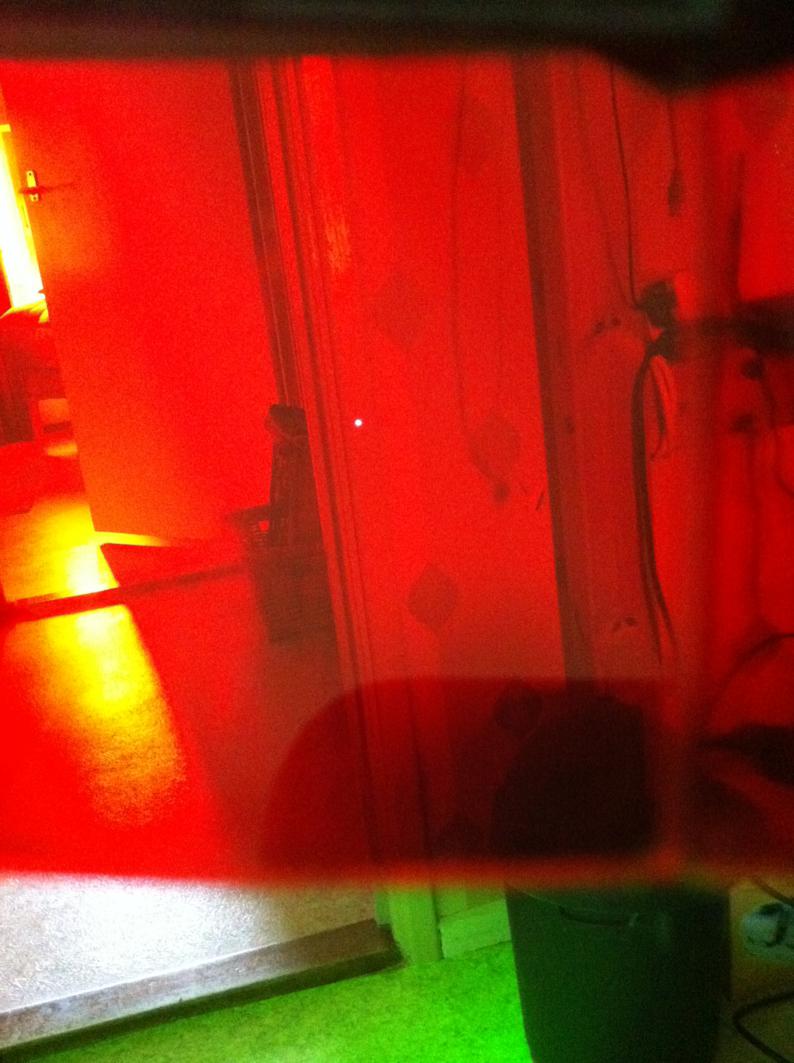 And desame shot without the glasses(you can actually see the beam for a tiny bit):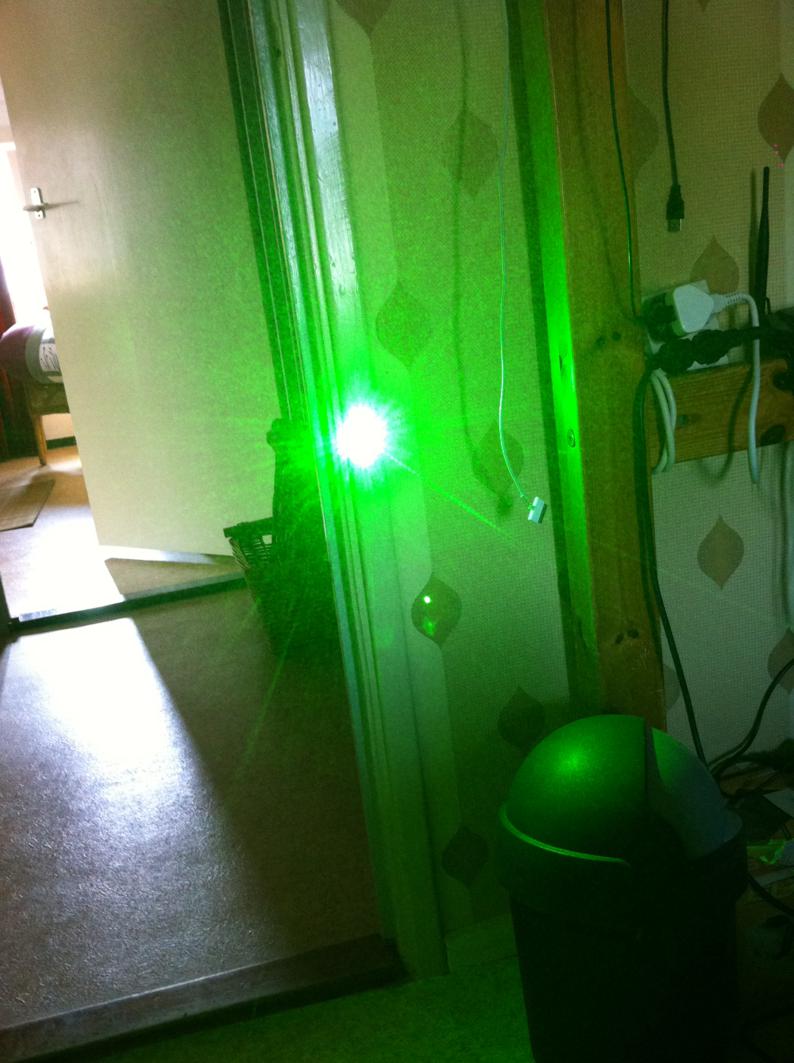 And here the best beamshot made so far....it has still need to become dark here...
but when its dark i'l be ready for the zombie apocalypse
The laser lies between my laptop and laser projector, with on top my AR Drone.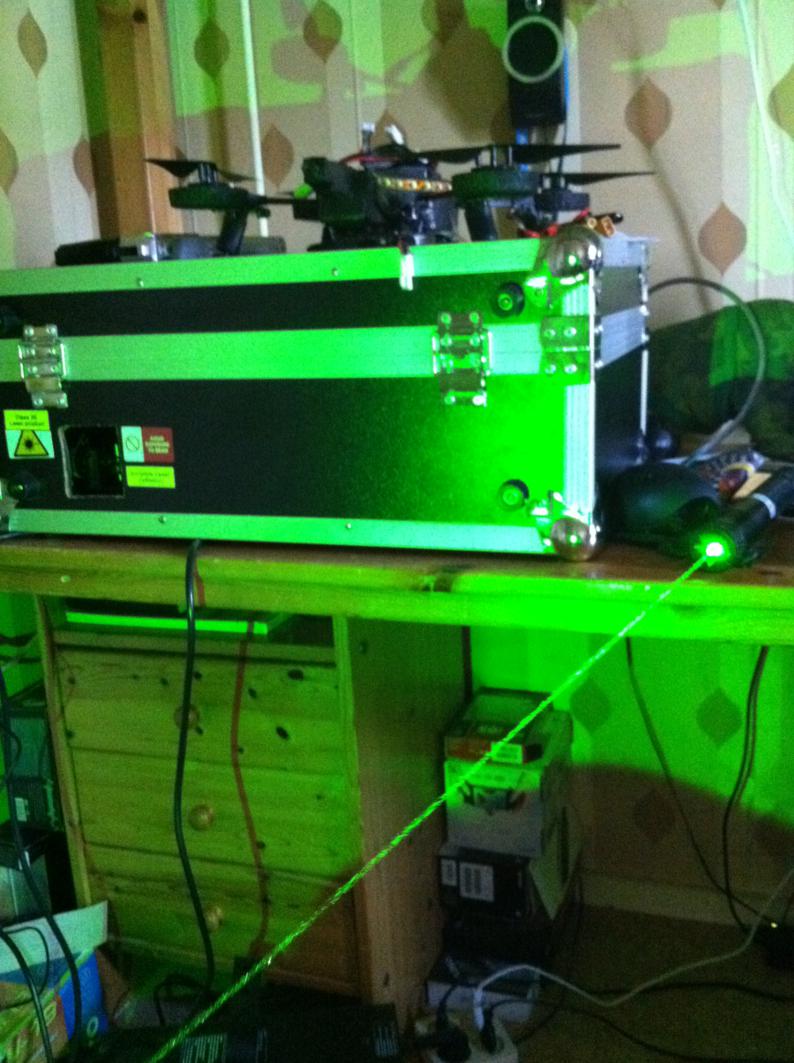 And here is a overall pro's and con's list:
Pro's:
Bright...i mean...really bright....i mean....667mW peak...thats.... B R I G H T.
Really nice design and feels very sturdy.
Good savety features...like a lock and bottom pen.(wich also has its con) and the laser aparture closure.
Burns very well. comes close to my 1.4W 445nm.
Con's:
-The biggest is the bottom closure. It is bigger then the bottom of the laser, so you cant savely put it on its tail cap standing with its laser head facing up. It sticks out for like 0,3cm. This is really to bad because i do not have a clamp and i dont like working with clamps. But on the other side, it works with standard 3,5mm plugs just like used for audio devices. so i guess it is possible to make my own.
-It leaks a tiny bit of green when the aparture is closed. this is a really tiny-ass con, but still, it is one.
-A duty cycle of 2 minutes on, 20 seconds off. but recommended is one minute on, 20 seconds off. Any longer and Gray said he was sure it would damage the diode.
Other thoughts:
-470 dollar including shipping....much for my wallet, but worth the laser.
-the peak and mW's were not measured by me. i need to buy a LPM soon.
-Impossible to look at the dot with your bare eyes when shining in a room(dont do this yourself) im not going to do this much but i just wanted to see its power
personally i find this a plus but not everyone will have that opinion.
Verdict: Get yourself the cash, dont think about it, and go purchase this now
Last edited: