Joined

May 12, 2009
Messages

1,403
Points

0
The Palide​
Hello all, im here today to review an amazing little host kit that my very good friend,
Mohrenburg
designed himself, he also makes the heatsinks himself. It is truly a very cost efficient, high quality, durable build!
first off, heres a few photos of the Palide with a 300mW red LOC and a Meredith lens for reds from Jayrob "lens, diode, and driver not included"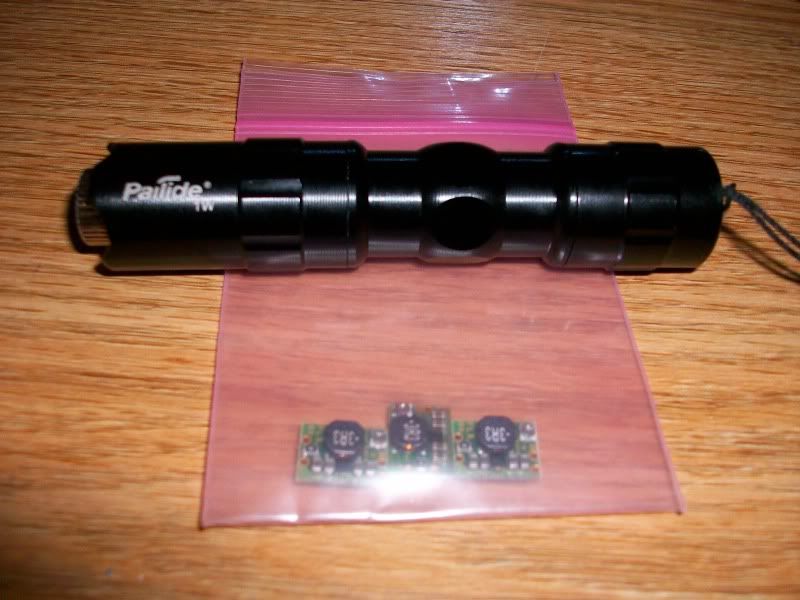 This is how the Kit assembles once the main module has been fitted with the heatsink and driver
The diode/heatsink assembly simply slides into the head of the host for a nice tight NON THREADED fit, meaning there is NO twisting and turning involved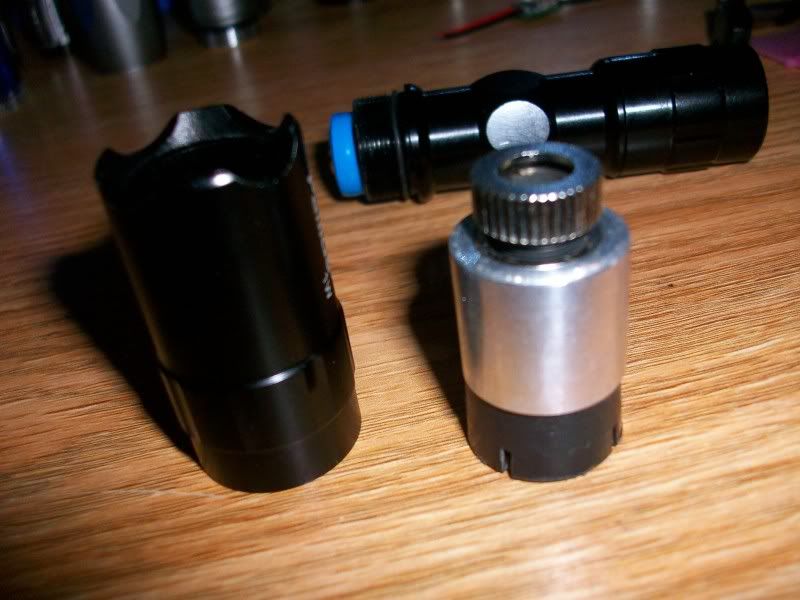 In this image you can see the small black pill on the bottom, that is where the flexdrive will rest, then the module is placed in the heatsink, and conections are made from diode to driver, then the heatsink/module rest atop the black pill to be slid into place. then simply insert the battery, and screw the host together!!! One of the easier kits that maintain size standards.
Here is a photo next to a pocket mini for size comparison!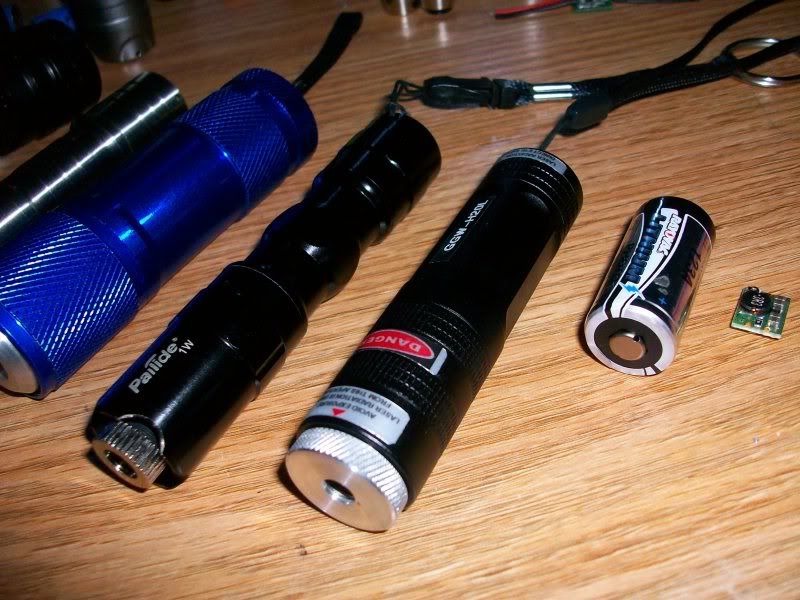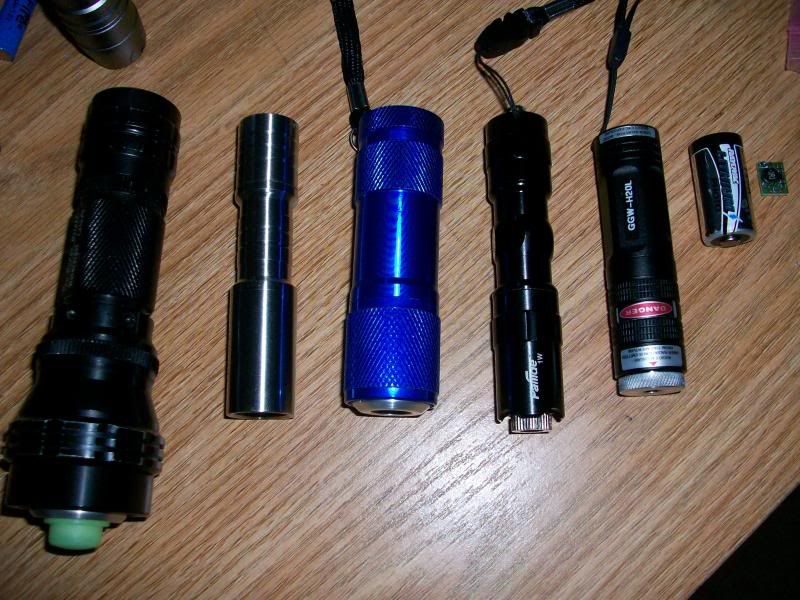 This host Is the same diameter (3/4in) than a pocket mini!!!! WOW! and it is roughly half an inch longer. Feels VERY sturdy and heavy in your hand. Excelent clicky tailbutton, very firm and has a great connection. This is a 3 peice host wich will make for easy international shipping
Heres a few Beam Shots!!!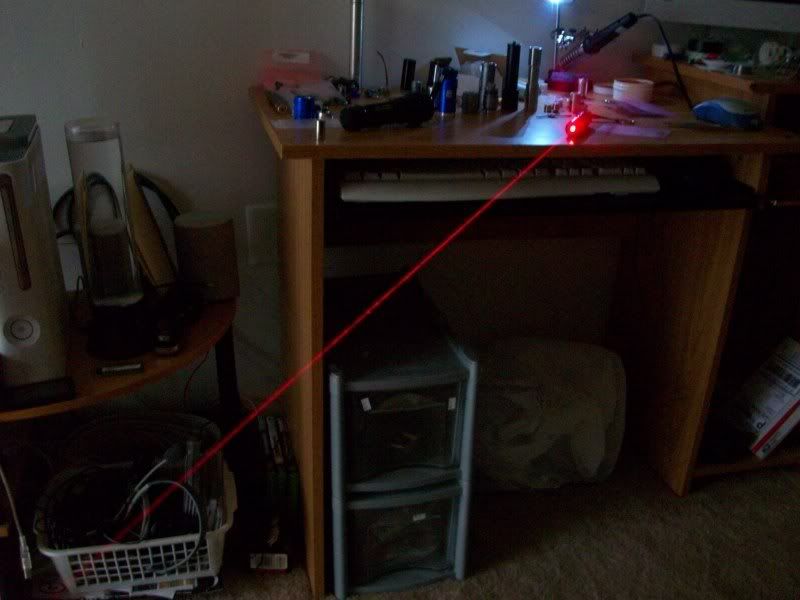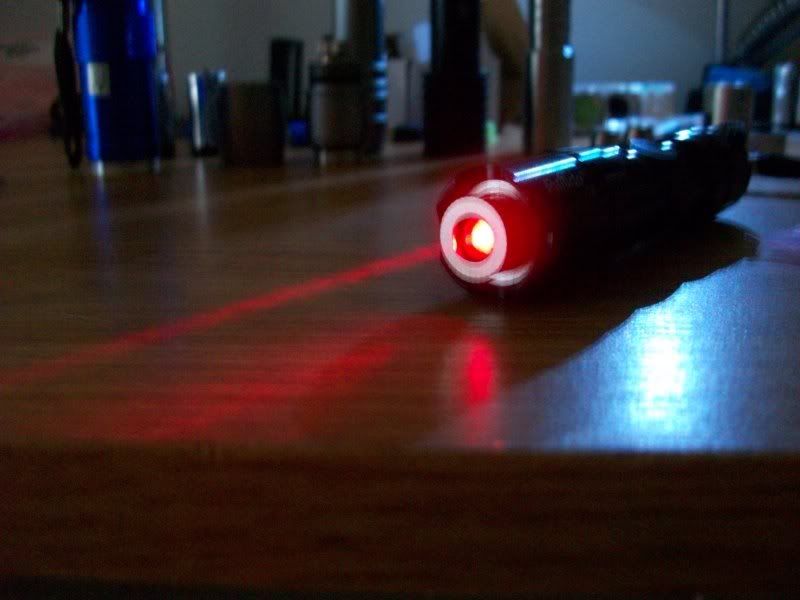 These photos were taken with no smoke in the room, and with my blinds open. Also the heatsinking is superb!!! i've left my 300mW red Palide on for over 20 minuets on accident, and it wasnt even hot to the touch! wich means heat is dissapating effectively.
All in all i rate this host 9.5 out of 10 for Price, Ease of use, And build quality.
and at the price he's selling the kits for... What a deal! Thx for this awsome product Mohrenberg!! I love it, and recommend to everyone!! even if its your first time, this host is very tiny, and easy to use!
They can be ordered from Mohrenberg, and you can reach him Via Private Message, or in
THIS
thread.
-----------------------------------------------
Specification
Color: Black.
Length: 3 3/4 inches.
Diamter: 3/4 inch.
Power Source: 14500 battery (AA sized 3.6v)
Driver: Micro Flex Drive V4
Heatsink: Machined aluminum made custom for host with 6-32x3/32 single set screw.
-----------------------------------------------
The kit include the following:
Black Pailide host.
Gift box/storage case
one rechargeable 14500 battery
One Micro Flex Drive V4 Preset to desired current.
Machined Aluminum heatsink for host.
------------------------------------------------
These kits come assembled with the driver,battery,and heatsink in place, with pos and neg leads coming from the driver for you.
Dark
Last edited: