Joined

May 21, 2009
Messages

135
Points

0
Optotronics 150 Premium Pen vs. O-like 120-150 Pen
This is a tale of two pen lasers. The first one is an O-like Model OLGLP120A 120+mw green pen laser the other is an Optotronics Premium +150mW Green Laser Pointer.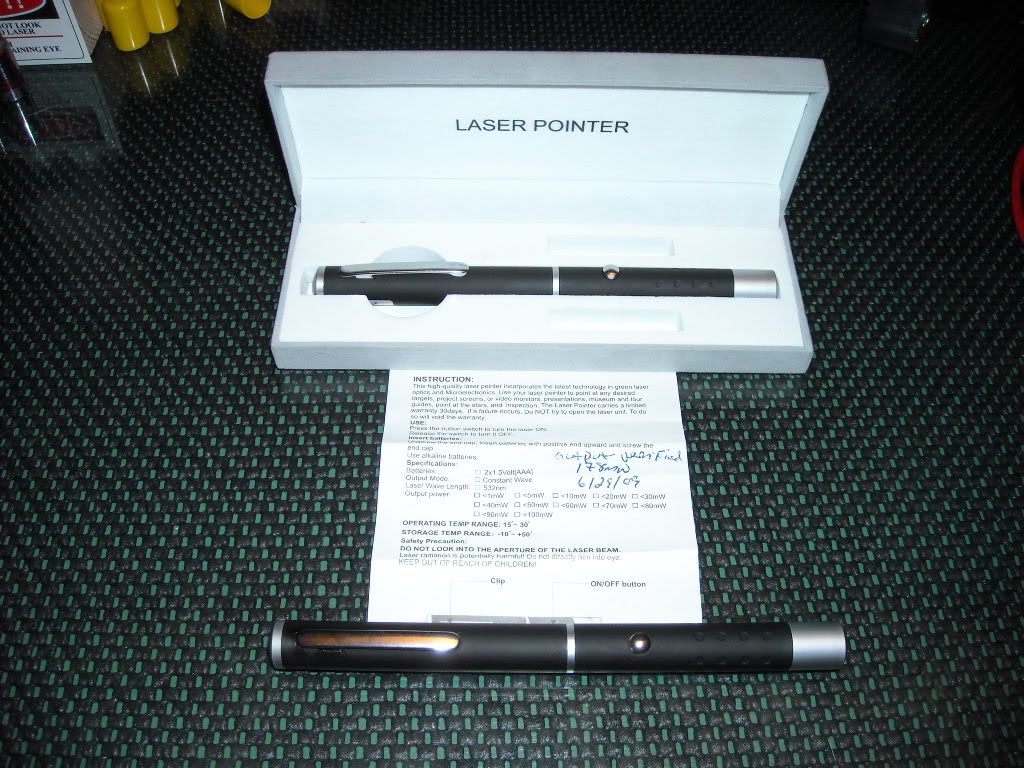 ​
O-like 120-150 at the bottom Optotronics 178mw top in case

​
I bought the O-like pen first and after about two weeks I received it. My first impressions were very disappointing. The pen would loose power and become dimmer than the 50mw I was comparing it two. After much discussion on this forum I concluded that the problem was the ambient temperature outside. We were having very warm nights with temperatures in the low 80's when I was using it outside. I contacted Susie and she said to send it back for a replacement with a different style body. But then a few days later we had a cool front change our weather patterns and our night temperatures dropped into the low 60's and upper 50's and most of the problems were solved. So I opted to keep the pen. It's hard to believe that a temperature of 15 to 20 degrees made so much difference in the performance of this pen but it did. If you buy a pen type high power laser be aware that outside temperature is critical to the duty cycle and performance of it and use it accordingly.
I said cool temperatures solved most of the problems the other problems was mode hopping. It is a problem with this pen for reasons I have yet to understand it will mode hop sometime with three or four separate beams. It only does it when it is warming up or the internal temperature has not stabilized with the outside temperature. For example if you take it from a cool environment inside to a warm environment outside it will mode hop for several minutes before it stabilizes. You can stabiles it with a quick off-on cycle sometimes but not always. If the ambient temperature of the pen is close to the outside temperature the problems quickly solves itself in about thirty seconds but if you let it cool to much mode hopping will come back and can be stopped with a quick off-on cycle. The bottom line is this O-like pen is very temperature critical and you must learn its behavior to appreciate it and use it. In cooler temperatures 60's with the pen temperature stabilized it works very well just a twenty or thirty second warm-up and you have full power without mode hopping.
Now for the Optotronics.
NONE I repeat NONE
of the problems I have with the O-like pen occur in the Optotronics. I have not pushed it in hot weather but in the 60's and low 70's It provides almost instant full power and it has never mode hopped. I cannot endorse this product from Optotronics any better than that. It is exactly what I would have expected from a quality product. Now on to the comparisons.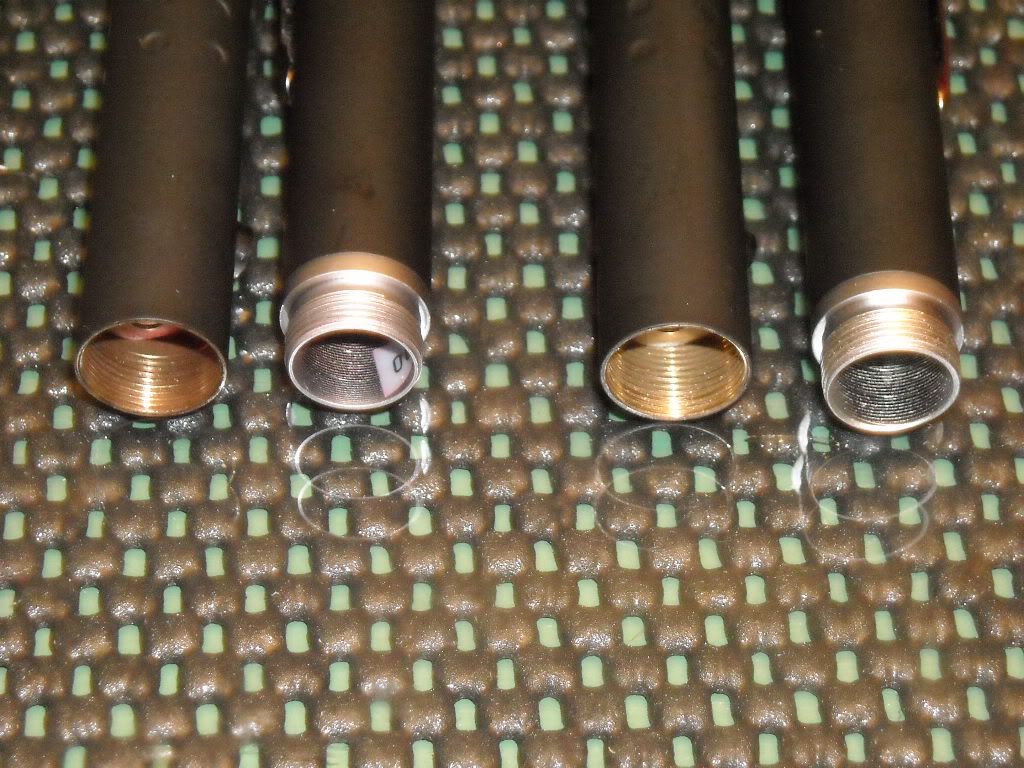 Optotronics treads (right) appear brighter indicates newer production
​
Appearance
Both pens weight and look exactly the same. The machining quality is similar and both show no defects. The Optotronics comes with a nice presentation case and most importantly has a small instruction paper with the date and power measurement from Jack of my laser hand written on it.
Performance and duty cycle
The O-like is stated to be 120 to 150 mw and my Optotronics measured at a whopping 178mw average power. Both will pop balloons, light matches, burn tape wood and skin and both are slightly visible in an unlit room on a cloudy day. Based on my perceptions I believe that the O-Like unit falls somewhere in the 130mw range. It is not as noticeable bright as the Opto. Duty cycle on both in cool weather was not a problem. 60's and 70's will provide you with a couple of minutes before the pen even gets warm to the touch. It seems though that the O-like pen gets warmer and has a slightly shorter duty cycle than the Opto. It drops down to less than 50mw while the Opto is not yet warm to the touch and still just as bright.
Batteries
There was a warning that came with my Opto that stated do not use any AAA's over 1.6 volts! That eliminates Fresh lithium Primaries so I tried two different kinks of AAA's. I tried fresh Duracell Coppertops with measured 1.575V and freshly recharged eneloops NiMh's with unloaded voltage of 1.375V. And there is very good news here. I cannot tell any visible difference in the brightness of either. Your mileage may vary with other rechargeables because eneloops are very special in that they provide higher voltage under load than regular NiMh's and loose much less charge over time. For the comparison shots and observations both pens were loaded with fresh eneloops. As far as batteries with the O-like the more voltage the more mode hopping became a problem. I settled on eneloops for it as the battery of choice too.
Beam quality
Again the Opto wins hands down. It has noticeably less divergence. The beam is slight bigger at the lens. I estimate 1.5 vs. 1 mm for the O-like but shining both out into an open field a few hundred meters one can easily see a thinner brighter beam from the Opto. Both are round and very similar except for the Opto's Brightness.
Support
I had two extended emails from Jack describing the pens requirements, duty cycle, batteries and how to baby it in hot weather. He felt bad that he was shipping me a overpowered pen >150mw and offered to replace it with a lesser powered 150mw when he got them in next week. I think I will keep the one he sent me
Susie's communication was good also and she offered to replace it. I would have liked to have seen a credit or refund offer probably If I would have ask she would have. But still several thousand miles and several weeks if not months for a replacement is a big consideration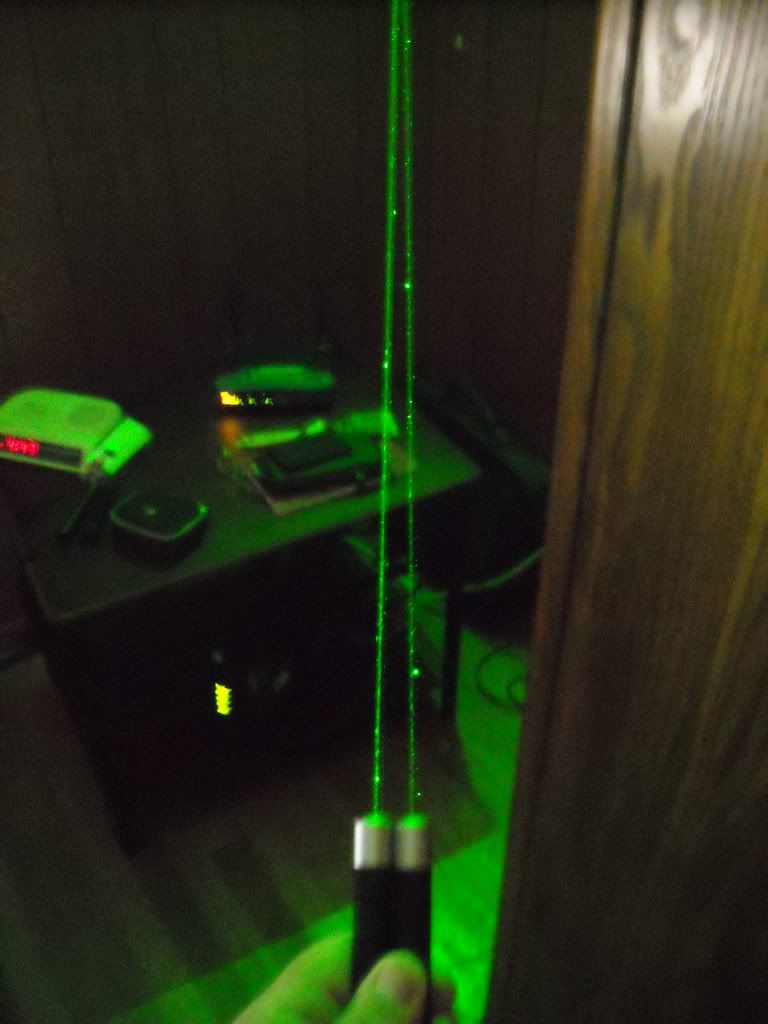 Optotronics 178mw noticeably more visible in low light
​
Conclusions
This review leaves the reader with many questions. So I will answer them with my opinion
Why didn't I return the O-like for a replacement? Because after it got cooler the pen provided acceptable performance. It was very bright. It had an acceptable duty cycle and seems to be stable. When Susie offered to return it she stated she would send me a similar powered laser in a different style. There was another person on this forum having the same problem with the same pen from O-like and he returned it. I would have waited probably six weeks for a replacement that I did not know what I was receiving and how much power it would have had. In addition I would have spent probably $15 dollars to return it. Perhaps if she had offered credit or my money back I would have returned it but I opted to keep it and caulk it up to a learning experience.
Will I order from Susie again? Yes she provides a great product for a great price in fact I have an order I'm waiting on from her right now.
If I knew then what I know now would I have ordered the O-like or paid the extra $95 for the Optotronics. There is no question I would have ordered the Optotronics it is worth the difference. Even if there was a problem with it. the communication with Jack is excellent and delivery only took two days. Any problems I could have had would be immediately been taken care of.
Do you think the O-like product was a fluke? That's hard to say I've been told that making a Greeny is very hard to do right. I read that it takes 48 hours for the cement that holds the mirrors in alignment to set. As the cement hardens it changes and the mirrors have to be realigned. This is a time consuming project and one of the reasons why good high power greenys are costly. I believe that this is a quality control problem for O-like and I'm sure they are looking into it. It seems to me though that for the $95 difference it would be difficult for O-like to be competitive with the quality of the Opto.
For me the bottom line is the Optotronics Green pen Laser is truly Premium as stated on the website. Save the extra $95 first then get a trouble free, fastly shipped, great technically supported and more powerful Greeny and you will never regret it.
O-like vs. Optotronics
Price $108US $203US

Shipping 14-20days 2days

Performance 130mw 178mw

Quality poor excellent

Support Fair Excellent​
Last edited: