Joined

Jan 27, 2010
Messages

1,097
Points

48
Well it finally got here and im as giddy as a school girl
I have been dying of anticipation waiting for its arrival and FINALLY here it is
Shipping didnt take too long (although it felt like 2 years lol) I ordered it Jan. 29th and it arrived promptly on Feb. 1st.
Here is a picture of the laser in its stock case:
Here is a picture of the spec sheet sent with the laser (I didnt draw the battery orientation at the bottom i guess Jack did):
Here is a note that came with the laser aswell warning about the perils of over-volting the laser: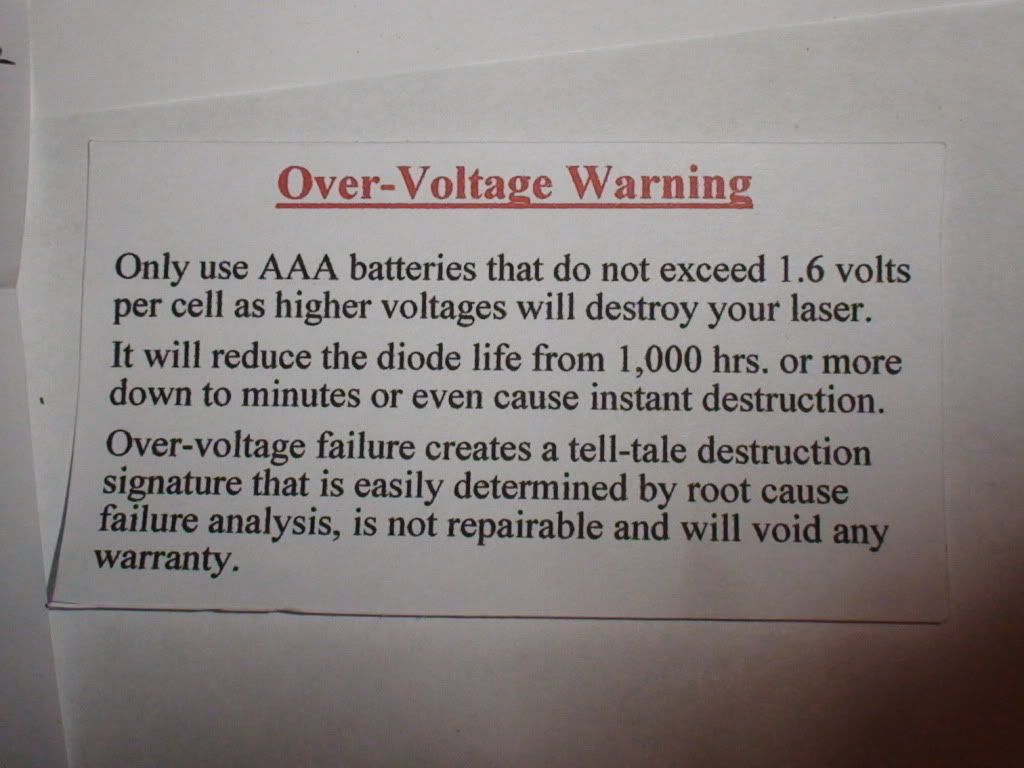 And finally a short video of the laser:
I had some video of the laser pointing to the sky but the digital camcorder I have really sucks in low-light conditions
But hopefully my friend will be able to bring his over soon and I will be able to post some night shots
All in all I've gotta say this is a great laser. It has a very bright beam so suggest anyone interested in getting this laser or any other medium to high powered laser to get some safety goggles! As you can see above the laser is overspec with an advertised rating of 150mW and the test results showing 161mW. This is another great thing about using Opto for purchasing lasers he includes test data for your laser and this to me is a very big A++ for me
.
The construction and feel of the laser is very solid and has a total weight of 93 grams with 2xAAA batteries installed. You will find no plastic is used in this host. The black rubberized exterior is also another plus for butterfingers like myself
The customer service you will recive from Jack (owner of Optotronics) is legendary and world class. I have never had my emails responded to so quickly by any company, ever!
I was originally serching for a 35mW pointer for astronomy and pointing out celestial objects in the sky but somehow after spending a few days here I ended up purchasing this one and im glad i did.
Bonus vid of Saturn through my 10" dobsonian telescope (Please keep in mind this is the same crappy camcorder mentioned above and It looks much better in person):
picture of my Scope:
I know this is a really short review, and my first BTW, so if there are any questions please feel free to ask
Thanks,
Bryan
Last edited: