Joined

Dec 9, 2008
Messages

2,213
Points

63
This is a small review of O-like's 100mW blu-ray pen. (
100mW Blue-violet laser pointer£*>405nm blue-violet laser£*>Laser&lighting products£*>www.0-like.com
) $106 shipped.
I didn't buy this for myself, but I felt like doing a small review before I forward this laser. I got this for $80, because the 80mW pen was sold out, Susie offered my this instead. Great customer service! Shipping from Hong Kong took 6 days to Norway.
This is a pretty nice laser, but I definitely recommend buying a DIY bluray from a forum member instead of buying this. The laser isn't focusable, and the beam is very wide. It can't light a match without a lens. I did get it to burn plastic and sting my skin though, so I'm pretty sure the laser is up to spec, but to do burning you will need a magnifying glass/extra lens. (With the beam focused, it lighted a brown match almost instantly, like my 200mW dilda.)
The beam looks fantastic. This is the first 405nm laser I have seen and I think I'm in love with the colour of the beam. With a little smoke in the air, it's pure eyecandy. The beam has a deep violet colour. The dot was a disappointment though, it looks bland and weak.
The divergence is not the best I have seen, but it's decent.
Some pics, as you can see the host is silver all over, unlike many green pens: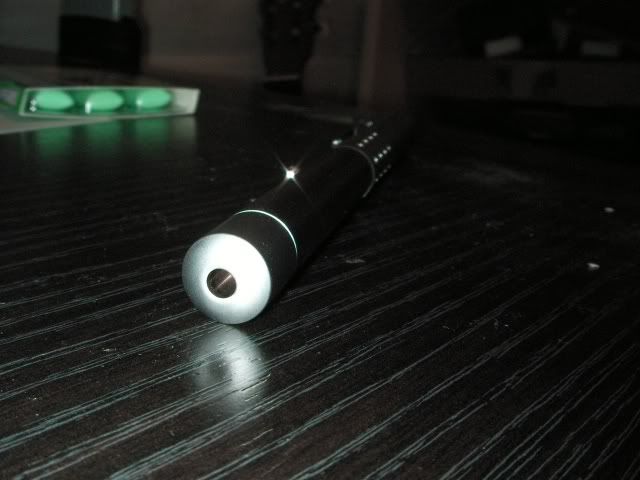 The dot on a white paper: