I JUST GOT MY FIRST LASERS!
I got the:
200mW Red Waterproof Rayfoss
50mW Green Waterproof Rayfoss
50mW Green
Okay, so first off, I decided to not notify my parents of the 200mW since they might not like it too much....so the first one I opened was the 50mW Green. It arrived in a Yellowish bag that was very well padded. I was very glad, because I did have some worry of damage in transit. I opened it up and put the instructions to the side and picked up my very first laser(first >5mW, cuz they don't count). First impression of it was that the host was a lot sturdier than I imagined....it has the look of a slim flashlight but it is very solid and honestly beautiful. I then took out the battery, and after quadruple checking the polarization, I put them in and took it into my living room. My Mom and Brother wanted to see it so I took them outside and explained to them the basics of laser safety to make sure that they understood it isn't a toy and that you cannot just go pointing it at anything. After the safety lesson I pointed her toward the night sky and turned her on. I was instantly amazed. I had NEVER seen something that awesome before. All the beamshots and videos in the world could not compare to beholding it in person. It looks like it never stops! I am VERY impressed with the brightness of the beam of this laser. So far, haven't been able to burn anything, but I wasn't expecting much from a 50mW. We'll see how balloons fare when I get them. Oh! There was however one problem I noticed when I put the batteries in. That was that the tailcap o-ring was split and would no longer function as an o-ring should. However, I contacted Faona and she is shipping them to me free of charge!
Overall rating out of 10: 8.5
For the price I paid($40 USD), I love this laser. The downside to it is the broken o-ring, but Faona is shipping that and even gave me the measurement so I can get another for the meantime. The only thing I would do different next time is get a more powerful green.
200mW Red
Here is where the craziness starts...so I finally get done messing around with the green and decide that it is high time to un-box the red that I had slipped into my room on the guise of getting a knife to open the package. Just so everyone knows I got the black host. I pulled out the instructions, and was confused when I saw that the negative went towards the tail-cap, instead of the positive(the green had positive to tail-cap), but TTerbo assured me that they were right(THANKS AGAIN!). When I turned it on for the first time the size of the dot was a little ridiculous, but after focusing it
banghead
the dot was much more acceptable. There is however a little thing where when you focus it over a distance it shows that there is a very thin line that protrudes on each side a small ways....but I am not too worried about it, the focus is great and so I decided it was time for a burning test. I had a battery charging for a little while, so I took it out of the charger and put it in so that it would have more power. I aimed it at my cobalt blue bedsheets and focused it to a point. About that time I smelled something burning and jerked the laser off of my bed quite fast. There is a minuscule singe dot on my bedsheets now but I think every laser enthusiast probably has one....or ought to lol. Excited now, I pulled out a match and focused the beam on the head....and a couple seconds later it ignited! I was very excited and if you could take a look at my *once* pristine binder, you would see that I kind of got carried away. The beam of this one is visible at night, but not nearly as solid as the green. Nothing was really wrong with the red, which I am glad of.
Overall rating out of 10: 9
For the price I paid($50 USD), this is truly a great buy. I rate it a 9 out of 10 because I think the divergence could be better. But you get what you pay for.
CUSTOMER SERVICE
Customer Service is always something to take into account, and as such I feel it is my duty to post my experience with Rayfoss and their quality of service......The company was more than a pleasure to work with. I did what many members here suggest, which is e-mailing her your order instead of working through the site. Faona made the whole interaction a very enjoyable one, and I feel she is the best business person I have EVER dealt with. I will be writing her a review for her site if she wishes and will definately look into purchasing future lasers from her. I rate this company 12 out of 10.
All in all, the cost was 115 USD, and the lasers shipped out on Sep. 1st and arrived at my house Sep. 3rd. I placed my order and paid for it around the 27th, but they couldn't ship out for a few days due to complications and it being a weekend.
Would I recommend these lasers to someone wanting to buy a laser like one of these? YES!
Only thing, if you are thinking about the green, and you have the cash to spare, I would go up to at least 100mW...or 200mW if you really want a powerful green....because while I like the 50mW, I semi-wish I had saved a little more and gone up a power bracket.
Sorry for the very long post, but I hope you enjoyed the read and it maybe helped you if you were questing to find another laser or just thinking about doing business with Rayfoss.
EDIT* Finally managed to get my hands on a camera, beamshots
here
Working on embedding them but they are at the above link for now
Box it was sent in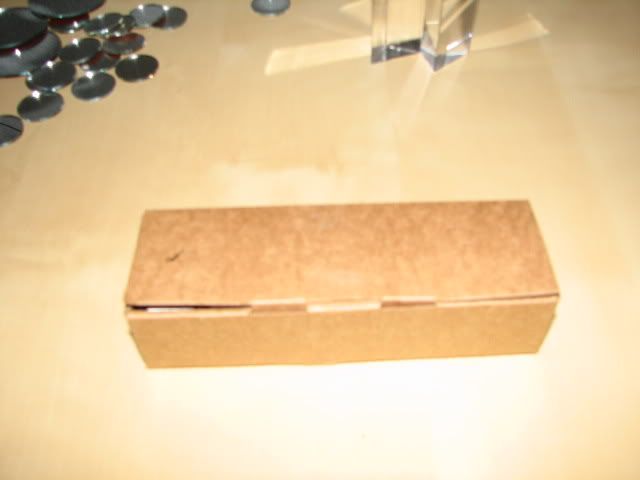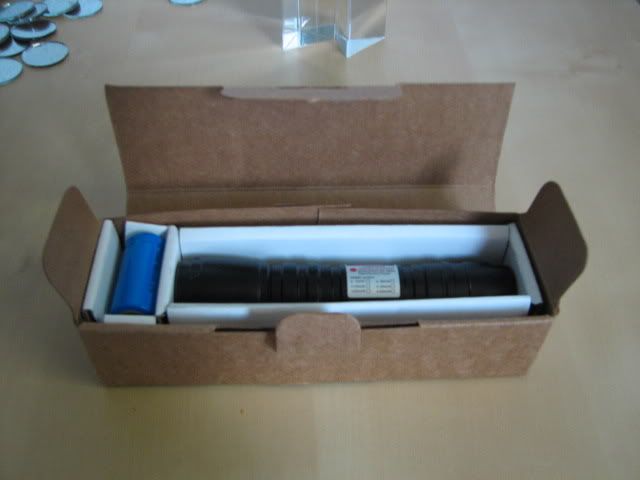 Size comparison with Battery/Cd case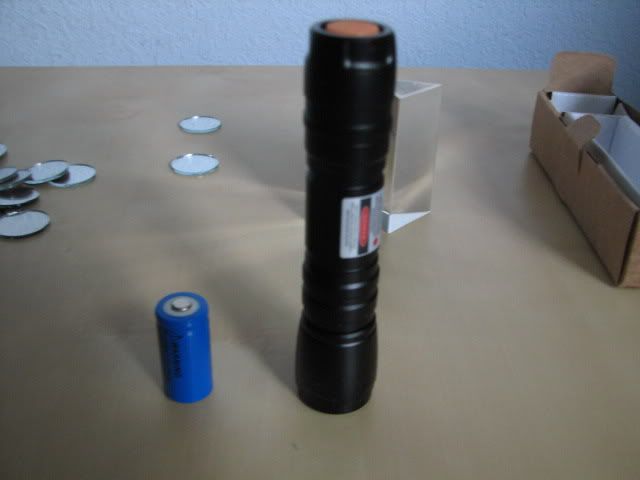 Prism Shots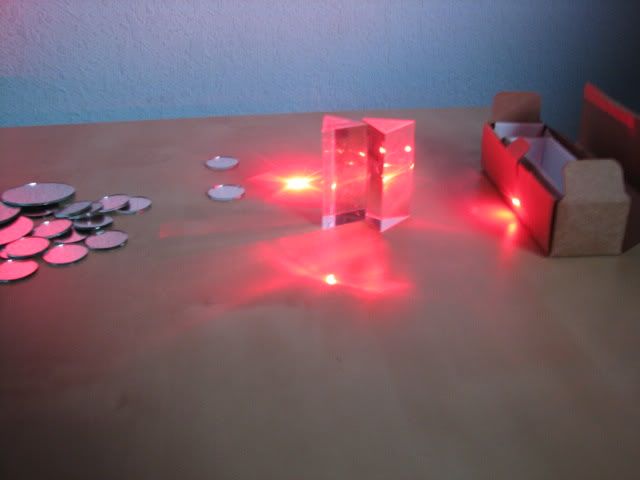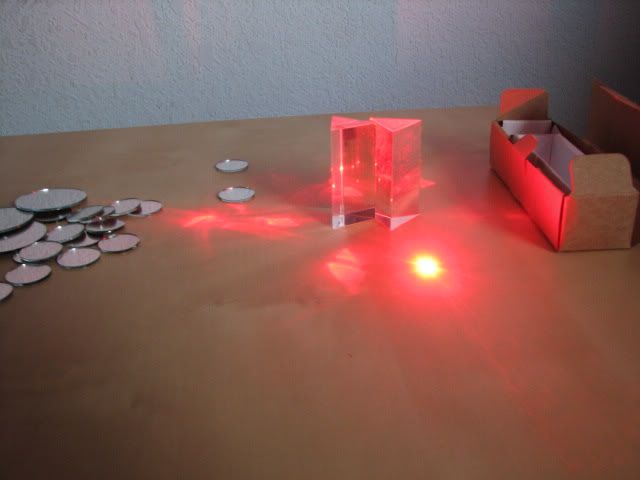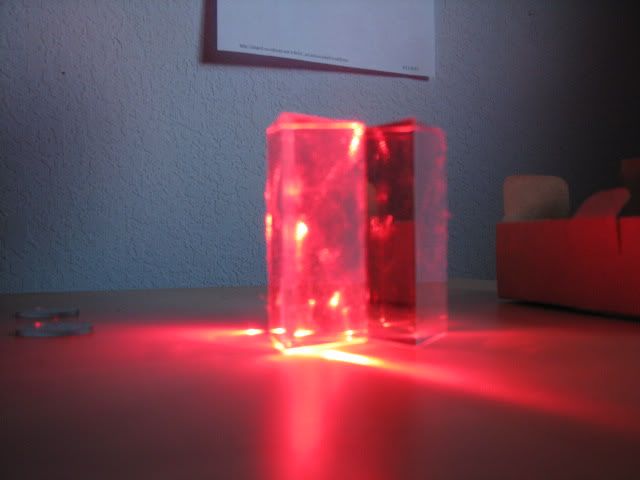 Dot Shot
Beamshots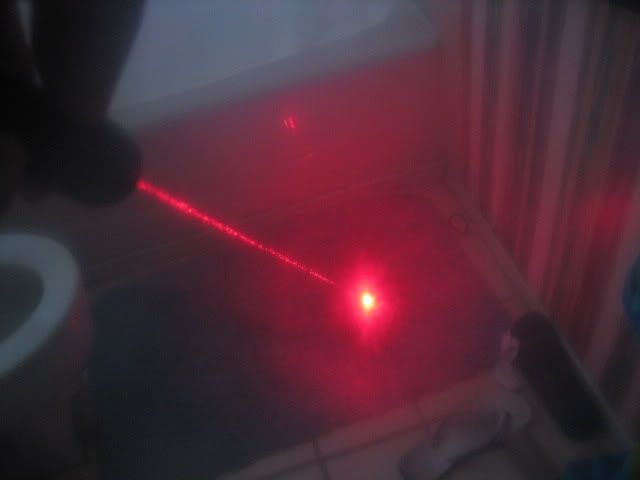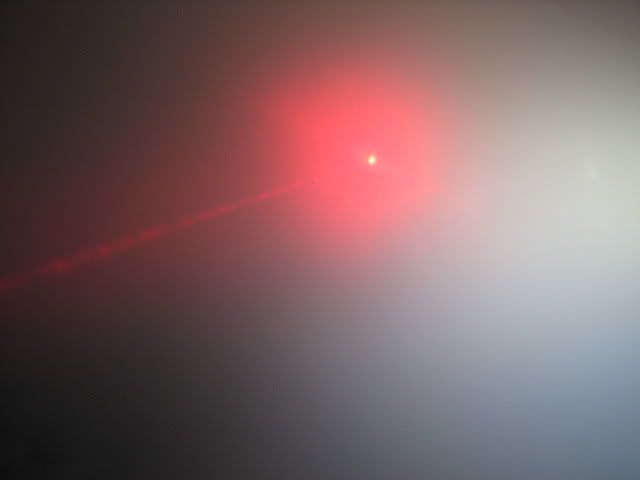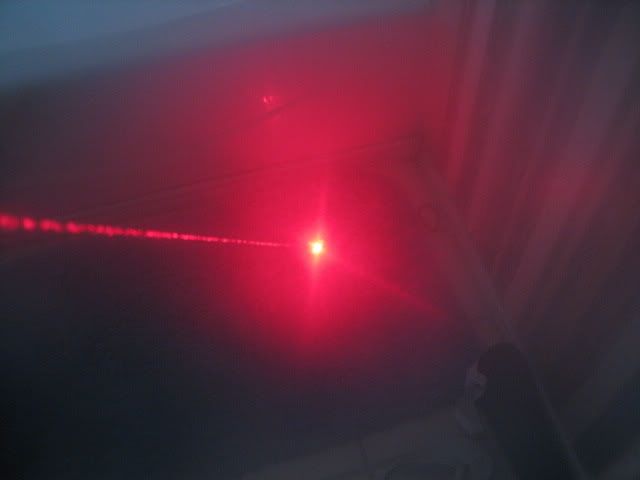 Burn Video
Last edited: