I saw the review of Rick Trent 3W 445nm by daguin and I decided to check out his laser pointers. This is the review of the one I purchased.
I went on to Rick Trent's website
Home
and checked out the difference laser pointers he had. I saw 445nm laser pointers ranging from 1W -3W+ I had a few questions so I decided to give him a call. He gave me prompt and direct answers. He recommended that I purchase the 3W 445nm Laser Pointer. I sent him an email and he promptly send me a PayPal invoice.
The payment process went very smoothly. Within a few hours I received a message stating "Your package has been shipped". 2 days later I received my coveted 3W 445nm laser pointer.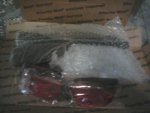 I examined the packaging and it arrived in good condition. The packaging was quite snug and there was no room for any movment. The batteries came inside the Ultrafire casing with electrical tape neatly covering both ends. The module was protected by an anti-static bag and thick bubble wrap. The host was in a bubble wrap bag to keep it safe and everything else was individually packaged in a plastic bag of sorts.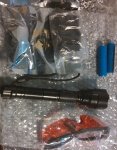 Packaging Contained:
1x Goggles
2x 18560
1x Module
1x Ultrafire C8 host (Black - Grey host is different)
1x Lens Focus (Covered with a line of electrical tape to prevent dust)
1x Directions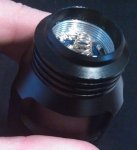 Putting it together was strait forward (As advised in the forums I put on the goggles that it came with before assembling it) and I followed the directions step by step (even though it wasn't needed). The module fit snug into the casing and there was no confusion on how hard to screw it in. The casing also felt brand new with with no visible scratches, and it was easy to take apart and put back together. All the parts were also very clean.
The Lens Focus was easy to adjust, and you are capable of taking the Lens out completely.
I fully charged the batteries and put on my goggles before I tested the strength of this beast. Nothing could have prepared me for the power this laser had. (I will have indoor beam shots and videos as soon as my Eagle Pair arrive). When focused it burned through the cardboard packaging immediately. The only problem I encountered is that the lens has ability to be pulled forward 1mm which can make it difficult to adjust when being held by hand.
The beam was very visible in the room with no dust/smoke/fog. The beam is very divergent and has a symmetrical Rectangular output that is often found with the 445nm. (A night time adjustment vid will be posted later this evening).
I would purchase from Rick again.
Any questions please let me know. This is also my first review... please critique the heck out of me (but be gentle )
Here are a few Beam shots new One with Lights on, Lights off, Outside Infinite, and Outside Focusing
http://imgur.com/gallery/Oe6e4/
-Zakkusus
Last edited by a moderator: