Joined

Nov 27, 2008
Messages

863
Points

18
I wish I had a dollar for every different host I've worked with in this hobby - I'd take the $$ and buy a ton of these incredible, reasonably-priced quality hosts from Ehgemus, right here on the "Buy-Sell-Trade" thread!
Forget "flashlight" hosts, adapters, complicated assembly, etc - These beautiful, well-engineered hosts are a one-step solution to building your own unique green handheld laser! For $35 shipped (the basic host as shown in this review) or a little more (depending on style and options) you will be literally lasing in under 3 minutes! Let's take a look at the host, shall we?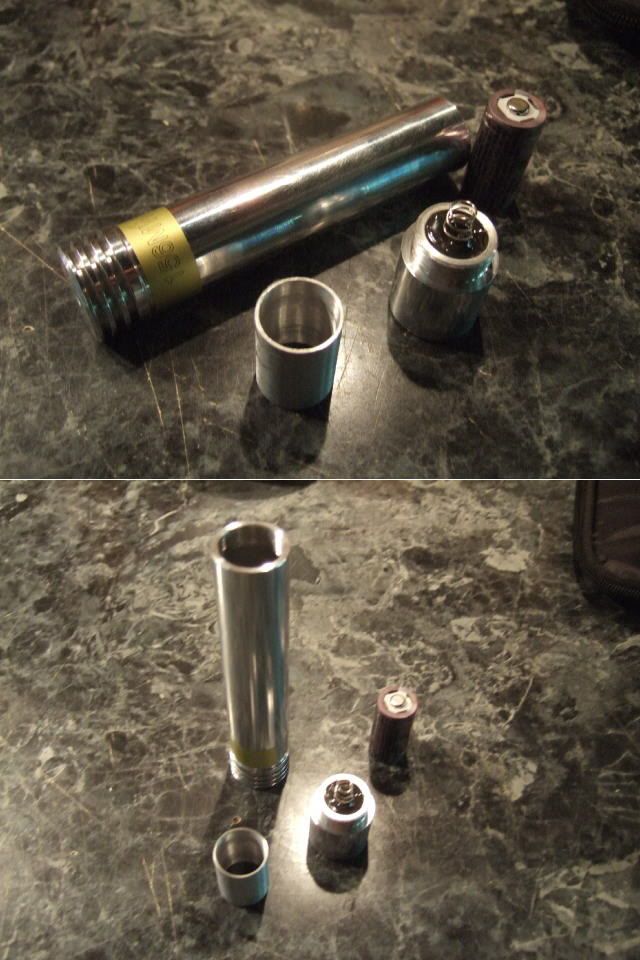 As you can see, the style is faintly reminiscent of the Kryton (but slightly more compact) and the hosts are machined out of solid aluminum. Tail switches are potted for security and safety, and all the threads, etc are finished wonderfully. The hosts will fit an 18650 with an Aixiz build, but also come with a spacer for use with a single RCR123 and any standard green module from O-like, SXD, Rayfoss, etc. Assembly is simple and straightforward, loosen the set screw on the host using an allen wrench (2mm), slide the module in from the rear (best to use a tool of some sort to aid in alignment with the heatsink, I personally went the "high tech" route and used a chopstick), adjust the module depth (will be determined by the length of your module/spring) and tighten the set screw. Done. Period. Put the battery and spacer in and LASE AWAY. It's that easy! Here's a dark picture of the host (assembled with a 173mW peak/156mW avg SXD module) next to a Dilda and Kryton for size comparison:
I really want to go into more detail on these hosts, but there really is nothing more to say, they look great, are very well-engineered and constructed, and are incredibly simple to put together. Shipping from Ehgemus was fast and well-packed, 3 days to my door (and I sent the payment relatively late in the afternoon) and given the great price and great looks, I can't see a current better option for your next green build (or heck, even take your old build apart and give it new life, what the hell?).
Oops - almost forgot - the first night I built my first green using this host (the one in the pic above at 173/156mW) I was snapping some beamshots when this chick with reaaly, REALLY big, um, "eyes" came up and started chatting with me as I was putting the lasers back in my case. 3 songs later, I smelled the dreaded "Oh shit I left something on in the case" burning smell and found my new SXD monster had been burning through the protective foam at an alarming rate for over 10 minutes. I turned it off, and realized the host wasn't even warm to the touch - a true testament to the heatsinking ability of these hosts, as well as the quality of SXD modules!
Lastly - here is a pic of the lasers I cleaned out of the van yesterday (in my various cases, briefcase, glovebox, etc) that will show 2 of these hosts in relation to a Herc, Kryton, New-wish pointer, KD50, etc to give some perspective on size. Bottom line, RUN, don't walk to the BST thread and pick up one or several of these hosts!
Last edited: