Joined

Nov 2, 2012
Messages

617
Likes

104
Points

0
I've had less luck with my 405nm lasers than the others. (Other than my Skylaser HL405, which has always worked well.) One LED'd, one got stolen, one got broken, one more (my last surviving 405nm) has a poor lens setup that won't hold its focus.
I finally got a couple more 405's from ebay, 16 dollars apiece, including shipping. They're practically identical to the Lazerer LZCS units, internally and externally, and overall the quality is better than some other Laser 301 variants. The tailcap threads and internal focusing threads were greased. They came with star-pattern diffraction caps, too.
The units are case-negative, as are Lazerer LZCS. This is different than my other 405nm lasers. I guess they must use the PHR-805 or similar.
The lenses appear to be 3-element, they are not the single element types found on other Laser 301 units. They appear to use the standard metric 9x0.5 lens threads that are commonly available. (Max from Lazerer confirmed in an email that LZCS hosts do, in fact, use 9x0.5 threads.) That is a very good thing. These lenses also seem to be less prone to scratching when cleaned, although they are still acrylic.
As expected, both lasers were out of focus, one grossly so. The focusing heads were surprisingly easy to remove. The threads were lightly glued. The lens itself seemed to be glued tight so I didn't try too hard to adjust it. Normally I adjust focus on LZCS lasers by adjusting the position of the diode heatsink rather than the lens as it is easier and works well enough, but the heatsinks on these lasers were also glued tight. They wouldn't budge with any amount of force I was willing to apply.
I determined that I needed to get the lenses closer to the diodes to focus it up, which was fortunate. I ended up using the finest sandpaper I had on hand (220 grit) and slowly and evenly sanded the bottom edge of the focusing head so that it would screw farther onto the host. I didn't have to sand very much - a thousandth of an inch, maybe? I can't tell. But, it worked. Some particles did get onto the lens but a little compressed air took them right away. I cleaned the particles out of the threads as well. I don't think they are focused quite right even now, slightly more sanding on the focusing head would probably do it, but there isn't a great deal more to be gained. The divergence is good enough for now.
Pictures:
Laser hosts: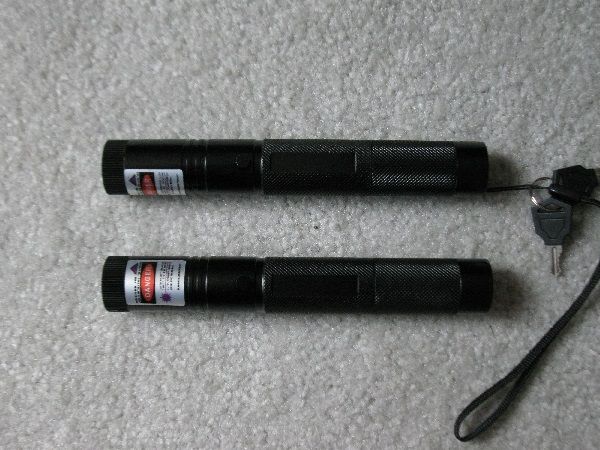 Laser dot at 25 feet or so. The picture looks worse than it did in person, and the dot was somewhat smaller (1/2 inch or so). There were a lot of interference fringes around the dot and the messy halo is due to reflections inside the camera.