Joined

Feb 5, 2008
Messages

6,310
Likes

447
Points

83
Hiya folks, I had a very productive weekend and I just wanted to show off with meh new toys.
Here is a group photo, all 6 lasers accounted for.
From left to right - 95 mW bluray, 100 (80-90) mW green, 230mW red, 81 mW bluray, 30 (45) mW green and finally 180mW red.
I will now show you the details of each laser. Also I would like to give Bill a big thanks, because without him, none of these lasers would be here.
First stop, 95 mW bluray.
Seen in thread with 230 mW red, this one sports my own boost converter, 1x 18650 battery, PHR diode at 100mA and total of 0.14 current draw.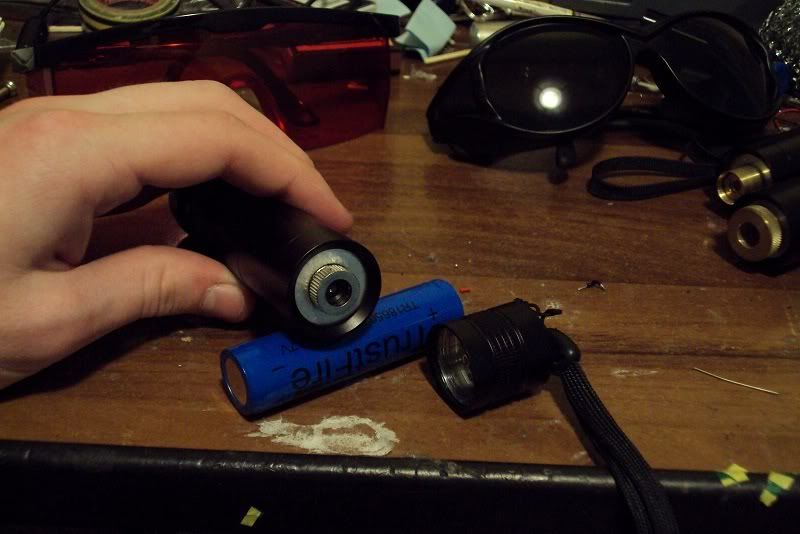 Beamshot attempt here, beam more visible in real life actually. My camera just suckz big time.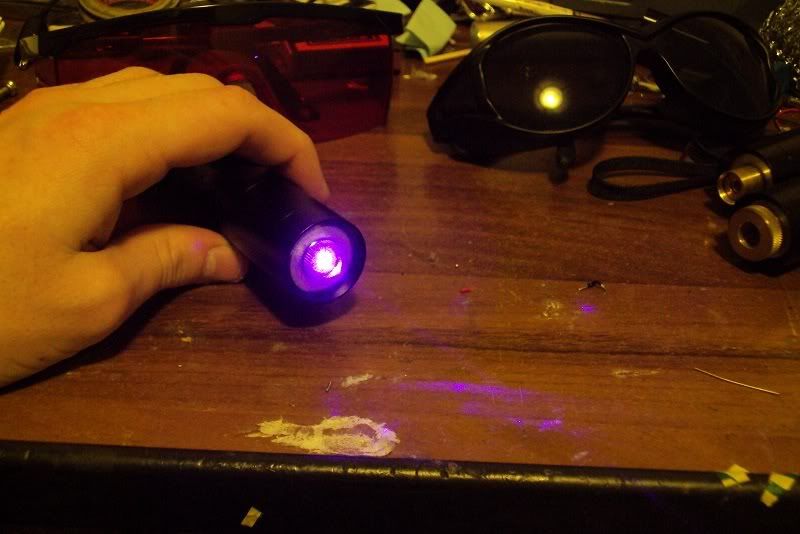 Next, 100mW green.
Ahhh this one is the pride of my work this weekend, a lot of effort and time was put into this little guy and I am happy to call it my favourite out of these 6 lasers. See details of construction here:
http://laserpointerforums.com/f45/cree-c6-o-like-100mw-build-50396.html
Power output fluctating around 85 mW. Can light matches if you are lucky. I succeded a few times.
Notice how shiny and reflective the heatsink is. Bill sure has skill machining heatinks.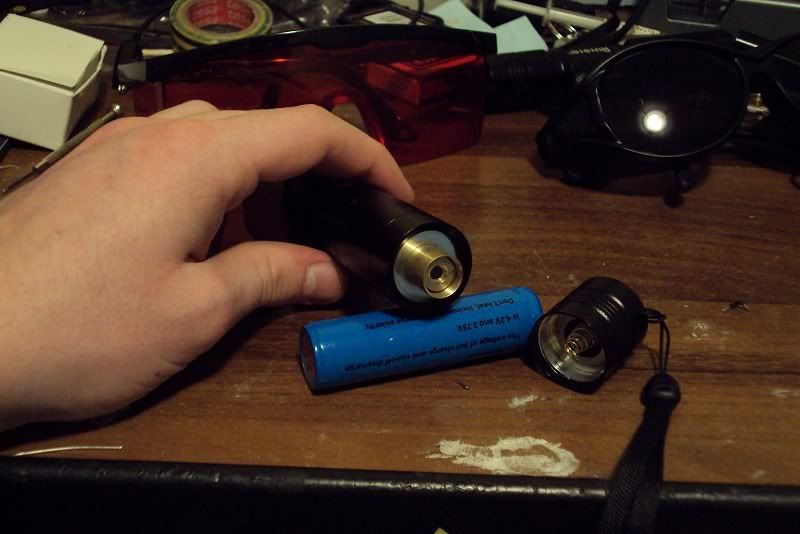 Beamshot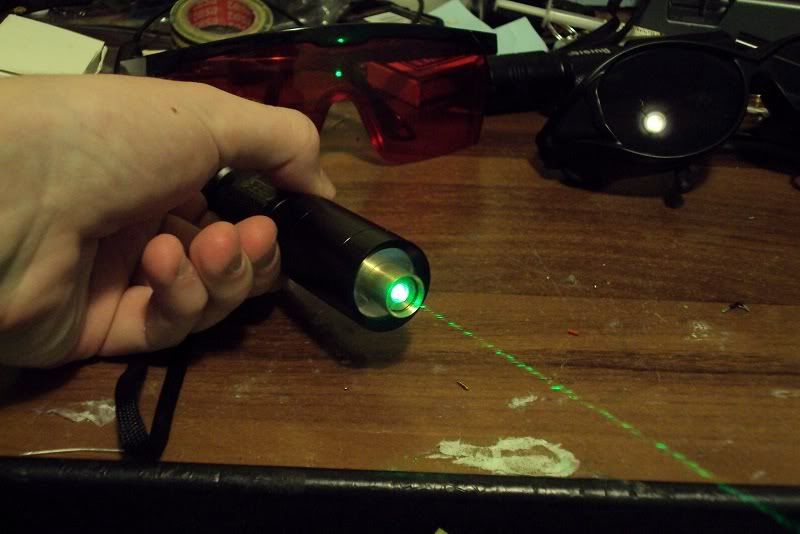 Now, this one is the most powerful laser of these 6. Built entirely by Bill, it has machined diode pocket in heatsink and LM1117 driver with 400mA current draw and glass lens. Custom lens assembly and focus ring. Bill is the man.
Laser uses 2x 16340 (CR123 size li-ion) batteries.
Beamshot attempt. My cam just does not do it justice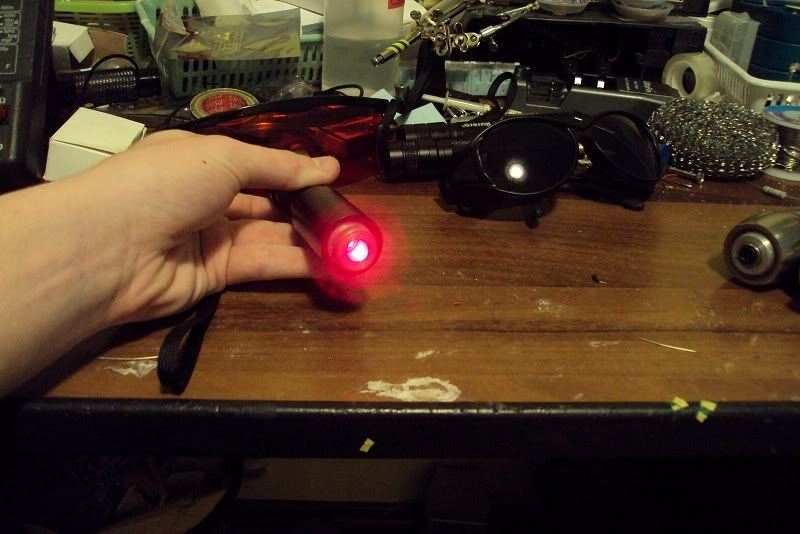 Now, here is a "small miniset". Every color less powerfull, but lasers smaller and more compact.
81 mW is oldest of the 6, and was featured in my first youtube video. My own boost converter, power supply either 3x AAA or 1x 14500 with plastic sleve.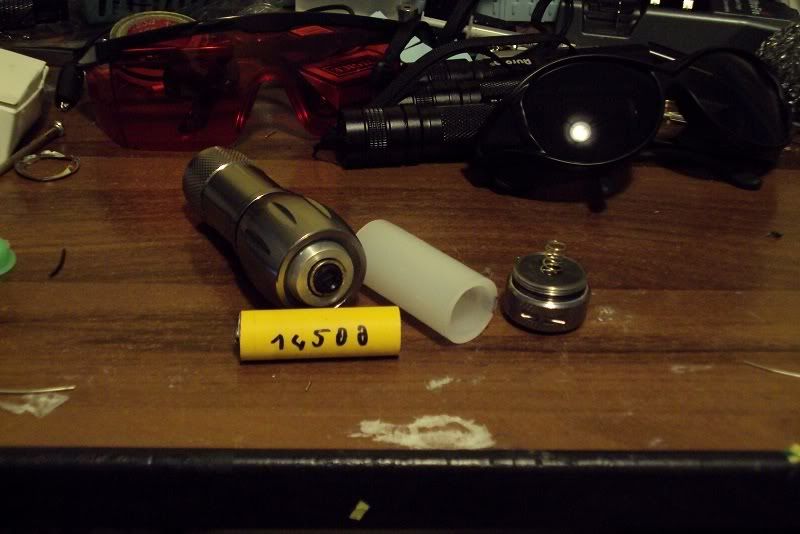 Beamshot.
Next!
Now this little fella was build today in like 15 minutes, just to complete the set. That is why is so messy. Some drawbacks noticeable here. First of all, it uses 1x 16340, but since I only have two in my possesion, 230mW red and this laser cannot operate simultaniously. Damn it. Anyhow, O-like 30 mW module made nice 45 mW readout and has nice beam. Switch replaced by rectifier diode to drop some voltage.
Notice that it is the only case positive build in entire set of 6.
My compliments to Bill for enormusly enormus brass heatsink. I used that one because one side of it wasa bit extruded and was covering up the module sticking out part.
Beamshot:
Notice how the lens is recessed like, 1 whole cm into the module.
Anybody has a nice method of removing excess brass, without making it messy and destroying a lens? I appreciate it!
And last, made this little fella in 30 minutes, because I wanted a red in such a nice host. Current set to 320 mA to conserve the batteries, and to make it 'smaller brother' of the 230mW red. Still awsome burner.
Uses 3xAAA battery holder with one slot jumped and 2x 10440 batteries installed.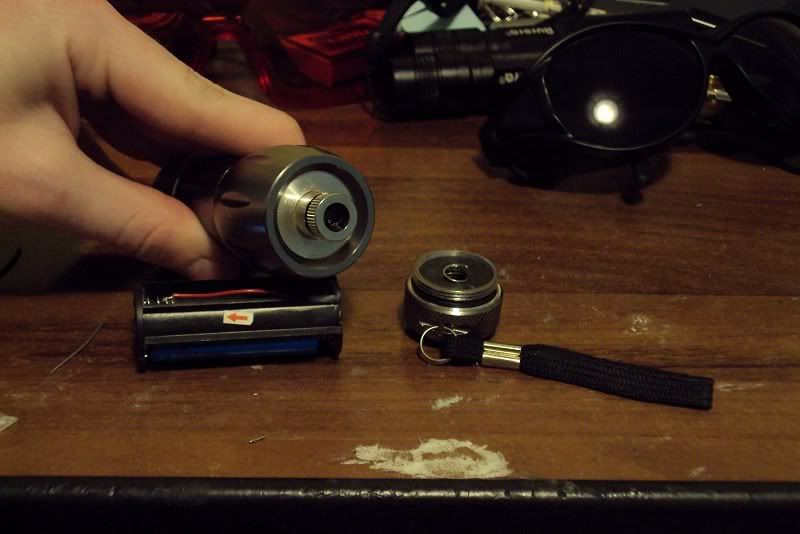 Also beamshot attempt without much luck.
Well folks, this would be it.
Big thanks to Bill once again, all the small set hosts and two C6 hosts are his. All heatsinks made by him and some components for the drivers supplied by him.
Also, almost all the batteries are his. And the chargers to charge those batteries
I hope somebody was given some ideas , or just got addicted to the hobby.
See you around folks!
Last edited: