Hey all, this is a little project I built this weekend. It's a 1W 445 18650 kit built into the body of a pistol. The laser can be removed from the pistol and used as a typical handheld with no alterations required. I was able to do this by completely rebuilding the gun's trigger mechanism to click the laser on and off via the standard tailcap.
A Nerf Nitefinder was used for the body and the 18650 kit fits PERFECTLY within the already existing air chamber.
Since the Nitefinder already has a secondary mechanism that lights an LED via the trigger, it's very simple to wire in an aiming laser too! Here's how it works:
When you pull the trigger, the aiming laser lights up. When you release the trigger, the blue beast laser fires and the aiming laser automatically shuts off. A second pull on the trigger shuts of the laser entirely.
This is still a work in progress and I haven't wired in the aiming laser yet, but that's a simple job and shouldn't take long. The primary laser fires beautifully and locks into the pistol safely and securely. It takes a split second to release the laser from the pistol, giving you back your handheld laser, ready to use.
I'm at work right now but I plan to keep you all posted. Here's a pic.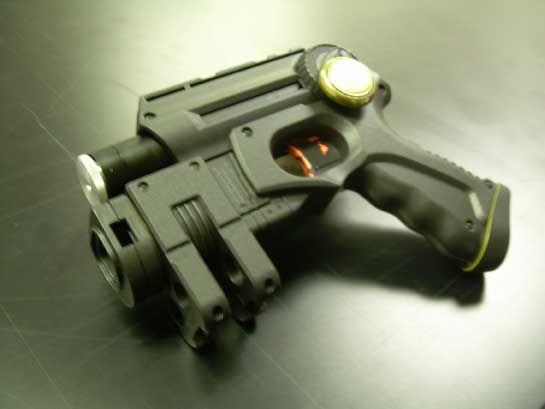 More pics and video hopefully coming soon.