I snatched up one of Mohrenberg's TR-801 kits. It shipped and arrived promptly.
The machine work for the heat-sink is great. The 'sink fits nicely into the light and features a set-screw. An Aixiz module fits nicely into the heat-sink and there is not much of an "air-gap."
I didn't have a need to use any thermal adhesive here.
The surface of the heat-sink is "semi-polished" and it looks nice.
The host is not bulky or gaudy and looks great, IMO. This host is the same one I used for a 2.5W 808nm about a year ago, so it's nice that Mohrenberg decided to use it for one of his kits. I like it, especially since it is designed for 18650.
The assembly was simple. I set this diode to produce less than 500mW with an Aixiz 405nm lens. With a 405-G-1 lens, the peak power is about 575mW. I didn't want this one to be too high in Class IV since a friend is buying this one.
The driver is a Micro Flex V5 and is 'sinked to the pill in the flashlight.
At a (relatively) low current setting, this light does not warm up much with long usage.
The kit is functional and attractive.
Mohrenberg offers a great service and I recommend him for his good work - not to mention his great deals.
Thanks!
Enjoy a few pictures and pick one up if he offers them again.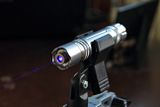 Last edited: