Joined

Jul 18, 2012
Messages

78
Points

0
Hi, though I'm very new to lasers here is a shot of a review. Be kind.
I've looked everywhere and could not find a review for this laser. I even used Google. So here's a try. Keep in mind I just got into lasers 2 months ago.
I only have a cell phone camera so I could not take night beam shots, but did manage day beam shots. When set on infiniti, I notice the dot is a bit larger then the dot of my 1.1W Rifle. Since that is the only other blue laser I have to compare it to, I believe this may be due to the Tank being over 200 mW's more powerful.
TANK 445nm- The Laser is smaller then expected. I think the dimensions were incorrect on the website. This is my second Blue laser and it is awesome!
The laser is very heavy, and has a lot of grip. It's also very wide at the tip. Wider then the Rifle. In fact the material is exactly that of the Rifle. The laser is actually just a bit heavier then the Rifle if you can believe that.
This is an excellent host. It does look a bit awkard in photos, I think. It's not exactly pretty, and that may be why I seem to be the only person to have bought one. I can say it does look quite awesome in real life, and is very comfortable. I especially like that it is not very long.
The Tank requires 2 x 16340. I do feel the batteries move around a bit inside the host. Not much, but it would be nice if the Host held the batteries with a tighter grip.
First off is the stats. Coming from Lazerer it is of course over Spec. About 1.3W on the dot.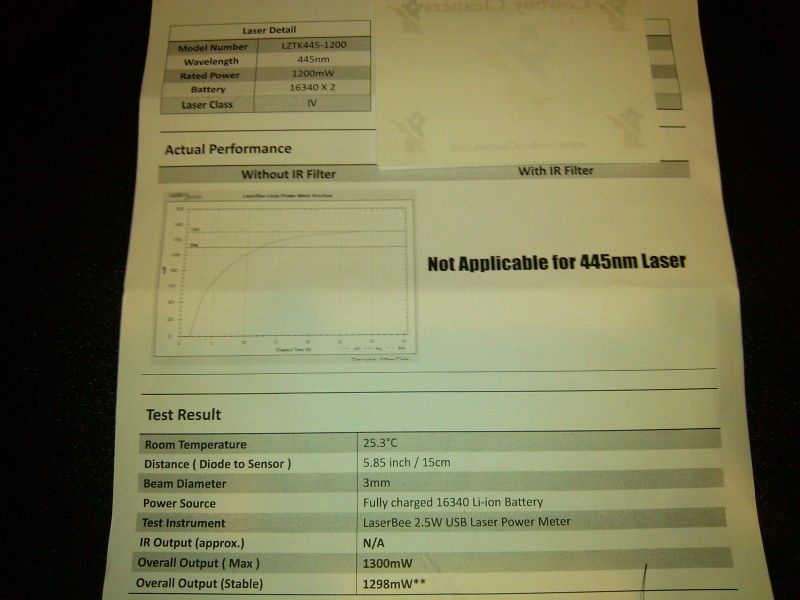 The Laser has an interesting shape which may not be to everyone's liking, but I dig it.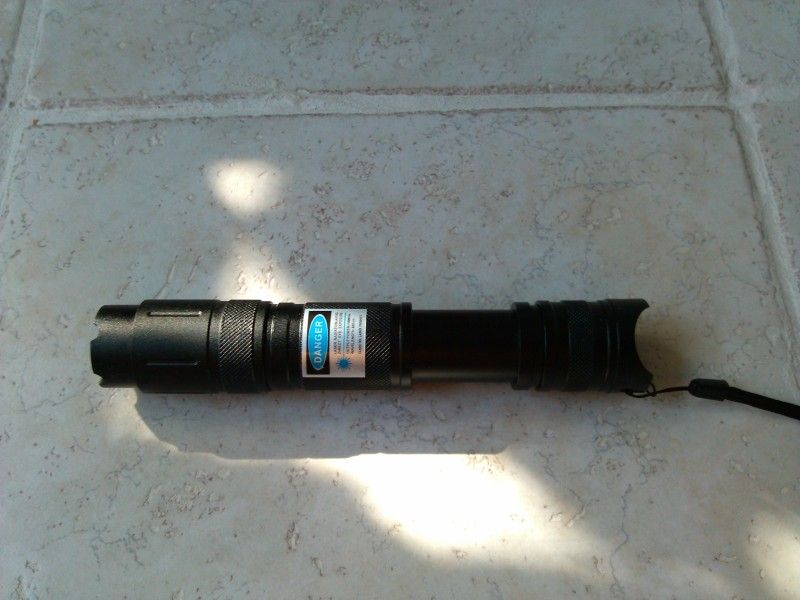 Notice how wide the front tip is.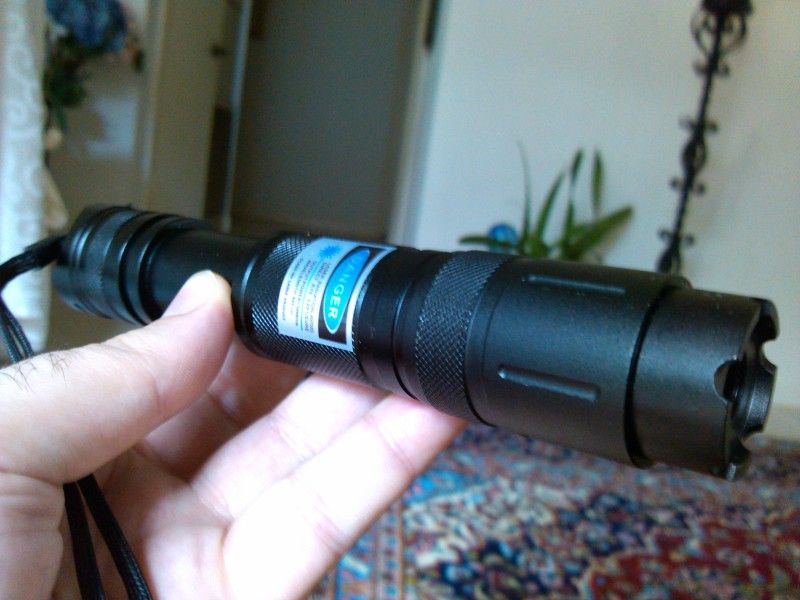 It is fully focusable. Here I have it fully extended. It stops at this point, and will not disconnect from the laser. Works great!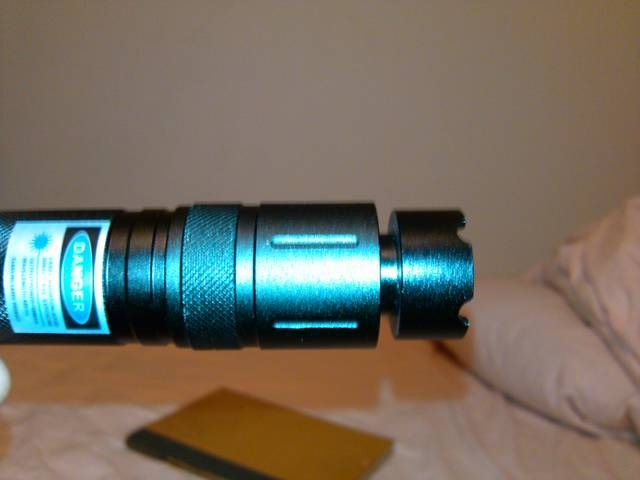 Compared size to the Rifle. The Tank is a bit heavier then the Rifle which is heavy on it's own.
Compared to the Rifle and Stick. The Stick, though very light weight, I find to be slippery at times. The Tank is not only much heavier and of better feeling build quality, but also has perfect amount of grip.
As I said my camera is not good for beam shots but here are 2 daytime photos. There is no fog or anything.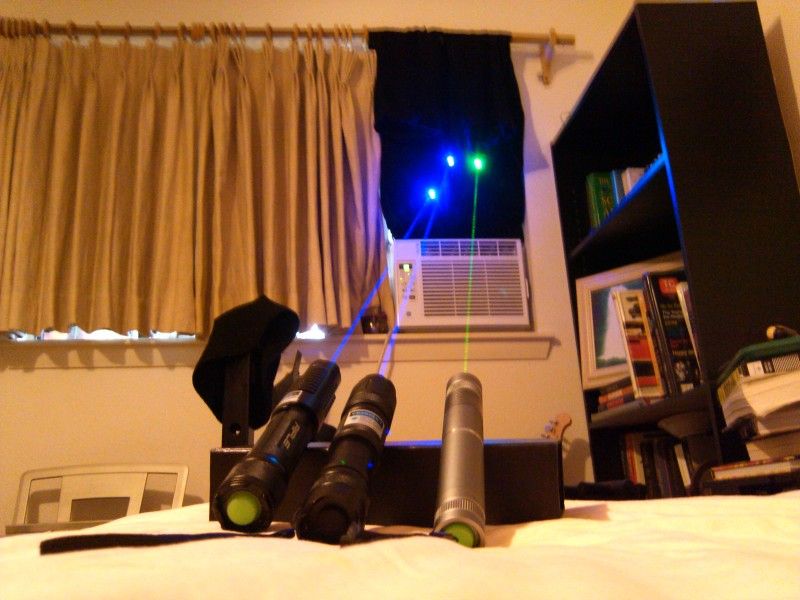 Now I just got interested in lasers 2 months ago. These are all the Lasers I have bought in 2 months. Little overboard? LOL. I plan to stop for awhile cause this is nuts.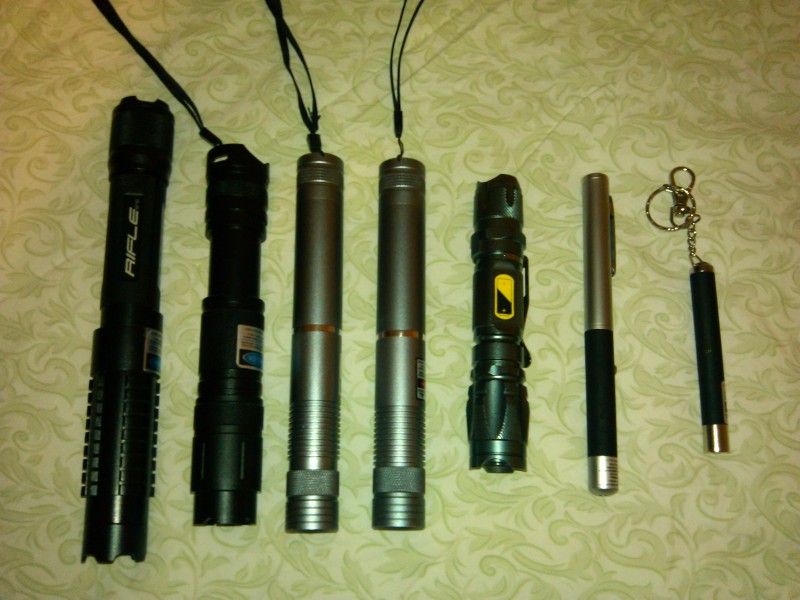 Like I said I'm new, hope the review is acceptable. I just love this laser and use it more then the rifle, just because it is pocket size. It's easier to handle since it's smaller and shorter.
Last edited: