Joined

Aug 26, 2008
Messages

387
Points

18
Hi All,
Within the last month I acquired a LaserGlow Hercules 300mW+ Portable Laser
 This model has the new 2.5W IR Diode however it does not have the engraving on the body.  I believe this was an early model before the etched engraving was introduced.  This will be a shorter review, however I will add to it as time permits (I'm leaving for Florida in the morning
).  The in depth details of the unit can be found here
http://www.laserglow.com/index.php?hercules
First Impression:
Wow!  [smiley=2vrolijk_08.gif] This laser is awesome.  It takes 3 D Size batteries so you can imagine the size and weight that comes with it.  It feels extremely powerful just holding it in your hand.  It also has an AC plug adapter, so I can power it this way all day long if needed.  It is very well made, solid and the black anodized coating is perfect.  The heat sink is also very substantial.  It is 366mm long X 55 mm's in width.  
Capabilities:
Well...it does it all!  It can pop about 12 balloons lined up in a row from 20 feet away.  It lights matches like there is no tomorrow.  In fact, I have to be careful where it is pointed because anything dark colored will begin smoking immediately.  It easily lights the fuse to fireworks.  
Beam Width:
The beam is <1.5mm at the aperture and its divergence is extremely tight.  I have shot it at trees over a mile away and the diameter of the beam is still less than 12 inches wide.  It is also very visible during daytime in a room.  It scares everyone that sees it [smiley=lolk.gif]  In fact, I told my son that it can cut a human in half and cause no bleeding ;D  Easily lop off fingers like a fine surgeon ;D ;D ;D
Measured Power:
With the LaserBee I...  I measure a sustained 468mW's over at least a 5 minute period.  It will eventually settle down to the 350+mW area.  But I have only tested this after using it outside for 15 minutes then came back in and tested it again.  This is also on battery power so I suspect the D cells are losing a small amount of their juice.  The laser is rated for continuous power.  Not only does it have a huge heat sink but it has a built in fan!  The best part is the fan is nearly silent.  There are small holes around the heat sink so you can feel the air blowing out.  
I forgot to mention, it also has an power adjustment screw
It is set from the factory for optimal power vs longevity of the diode (I guess).  So I could turn it up to a higher power setting.  I have tweaked it a small amount and it does increase the power significantly!
Beam Expander X10DR:
This is a quality piece of optics.  It is custom fitted to the end of the laser using nylon tipped set screws.  It takes about 2 minutes to put it on, the fit is perfect.
Here is the link for more information
http://www.laserglow.com/index.php?x10dr
 It is adjusted by rotating the focusing ring at the end.  Outside at night it is amazing how you can extend the beams width and length for miles.  I was able to hit a water tower from about 5 miles away with a dot width of around 2 feet.  Of course it is hard to measure but it looked that small to me
 In one of the photos, you can actually see where the beam crosses itself.  More to come, because I am going to try and pop some balloons from 150 feet soon.
Total package:
The Hercules arrived in a foamed filled aluminum case.  The case has a nicely designed placard that reads exactly what is in the case.  The case has room for the Laser, Beam Expander, Keys, Grounding Plug, plus tons more...  By the way, I had the Hercules on my Tripod so I apologize for the camera shake in some of the pictures.  I'll add more details soon, its getting late and I need to pack
Picture of the Mighty Hercules w/X10DR Attached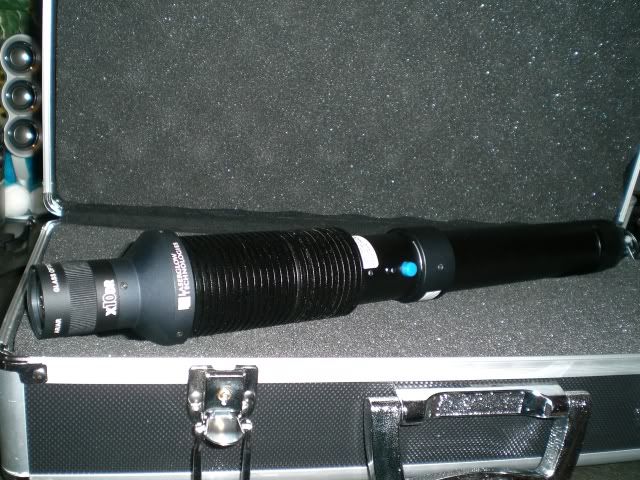 Close up of X10DR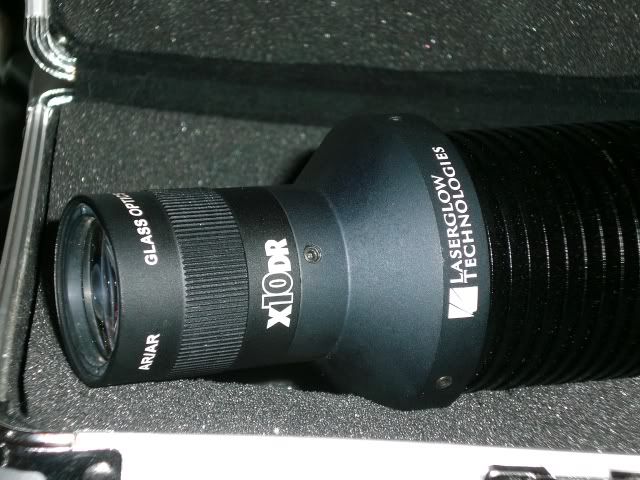 Beamshot during night with a Full Moon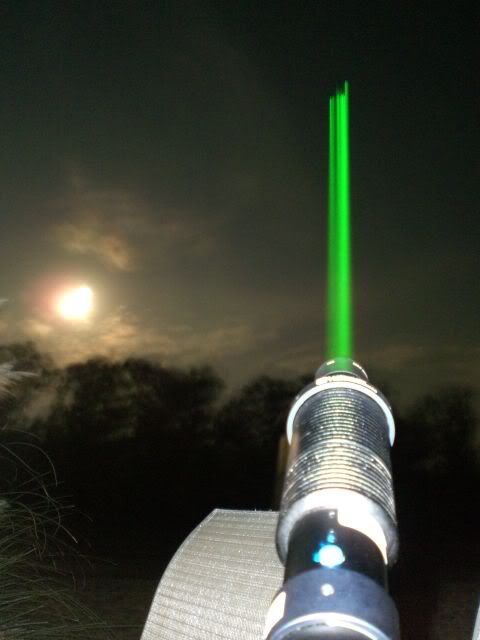 Another shot across the Moon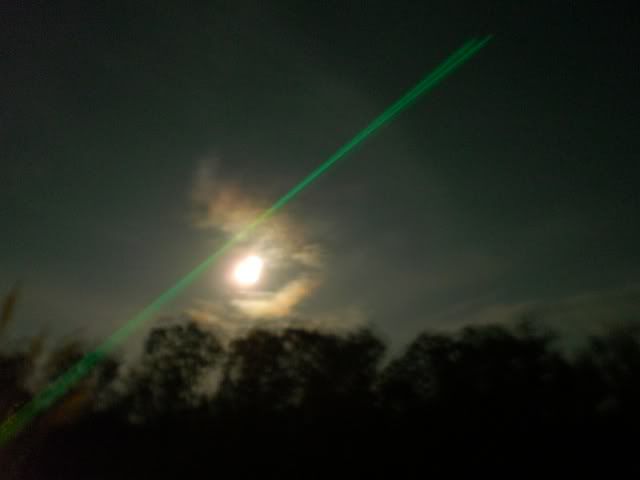 Moon Beam
Beam Shots without the Beam Expander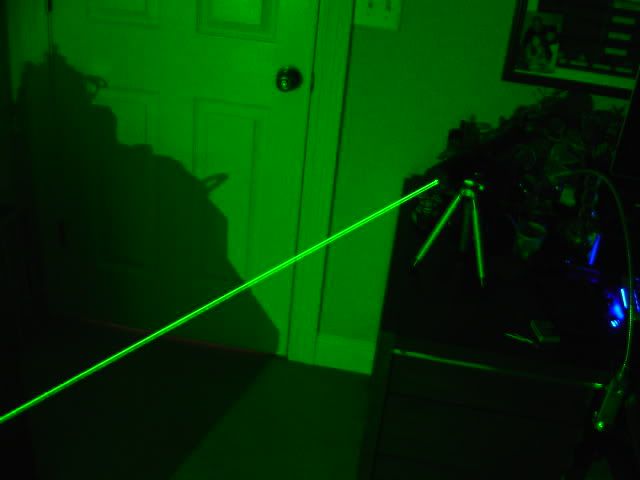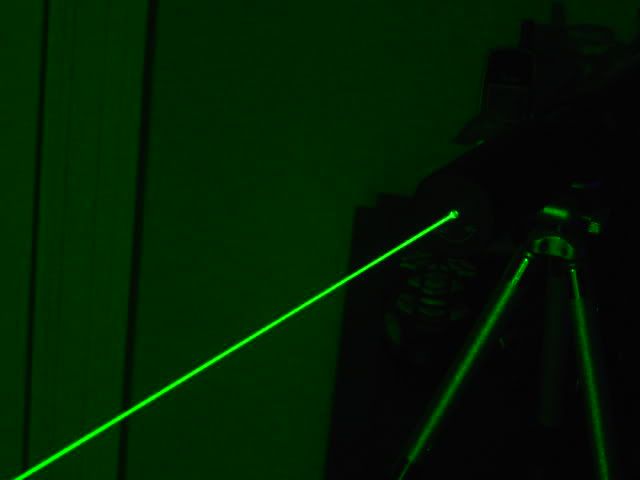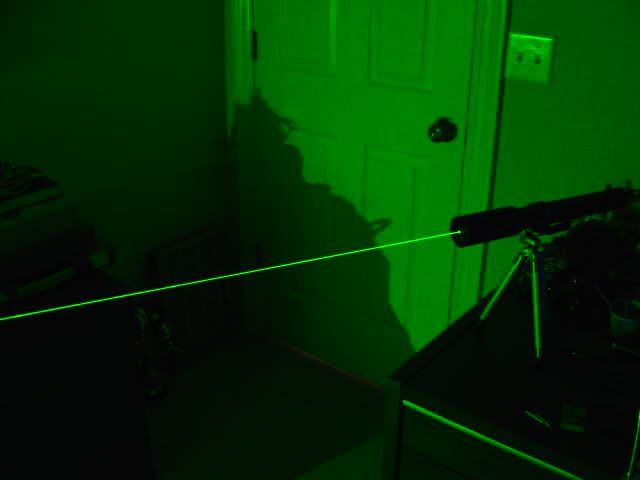 Closeup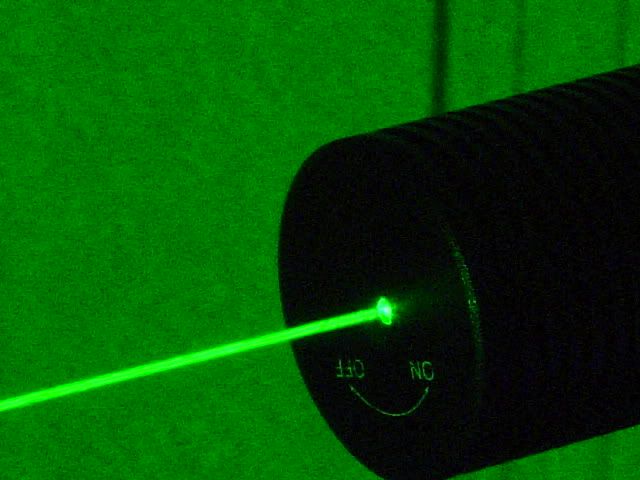 Short video burning matches at less than 12 inches then at about 20 feet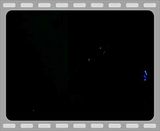 Video lighting a match underwater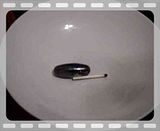 Burning a hole through 20lb stock printer paper (sharpied)