Joined

Sep 12, 2007
Messages

9,595
Points

113
Another brief one since it's a simple device. It is also glued together so disassembly isn't going to happen. I want it to work afterwards.
Product link
Package arrived in three weeks. Note: the list price does not include shipping. I want to say it was something like $15 but I don't remember for sure. It wasn't cheap. The price went down since I bought mine, and they've also added a 15mW pointer for a couple dollars more I see... oh well.
They put my username on it? It's also got stickers for FDA, CE, and RoHS compliance, model number, and warnings. There is a checkbox for various wavelengths, but none of them are checked because 515nm is not an option. There is a red LED ON-indicator next to the button.
Measurements:
Temperature rise: negligible. It can be left on until the batteries die.
Focus: fixed. The lens is set in a threaded insert, but the insert is glued in place.
Beam diameter: ~2mm x 4.5mm
Beam divergence: 1.8mRad (measured at 12m). This is because they have it focused at ~2m which is arguably a good thing for close-range pointing. It might be different from unit to unit. Spot size is about 1mm at this focal point.
Power: 6mW
Beam profile: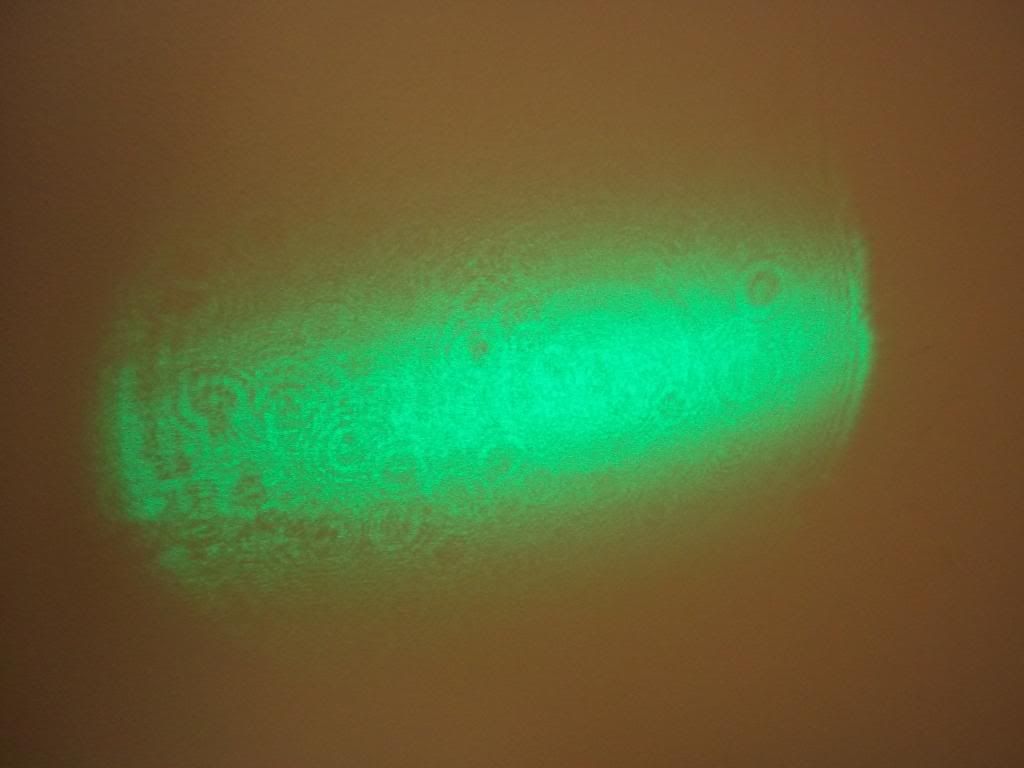 Driver is a boost driver. It will stay in regulation down to 2.2V which means NiMH rechargeables will work best. I also ramped the supply up to 4.2V and saw no problems.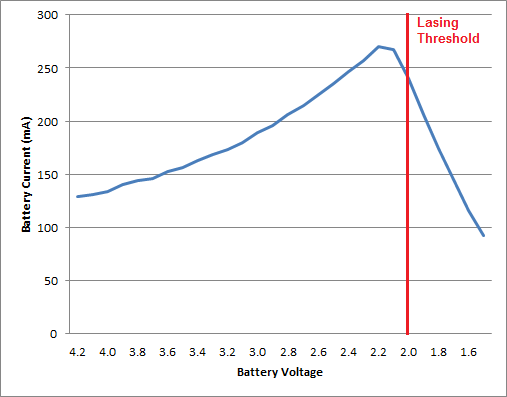 Some pictures are worth a thousand words. This is only worth one: 511nm. Some people like seeing these anyway, so here ya go.
And while I have the spectrometer booted, here's the on-indicator. Why not.
It's got a key interlock on the tail-cap. All three dots are selectable but there is absolutely no difference between green and yellow. Even the resistance is identical, so... not sure what that's about.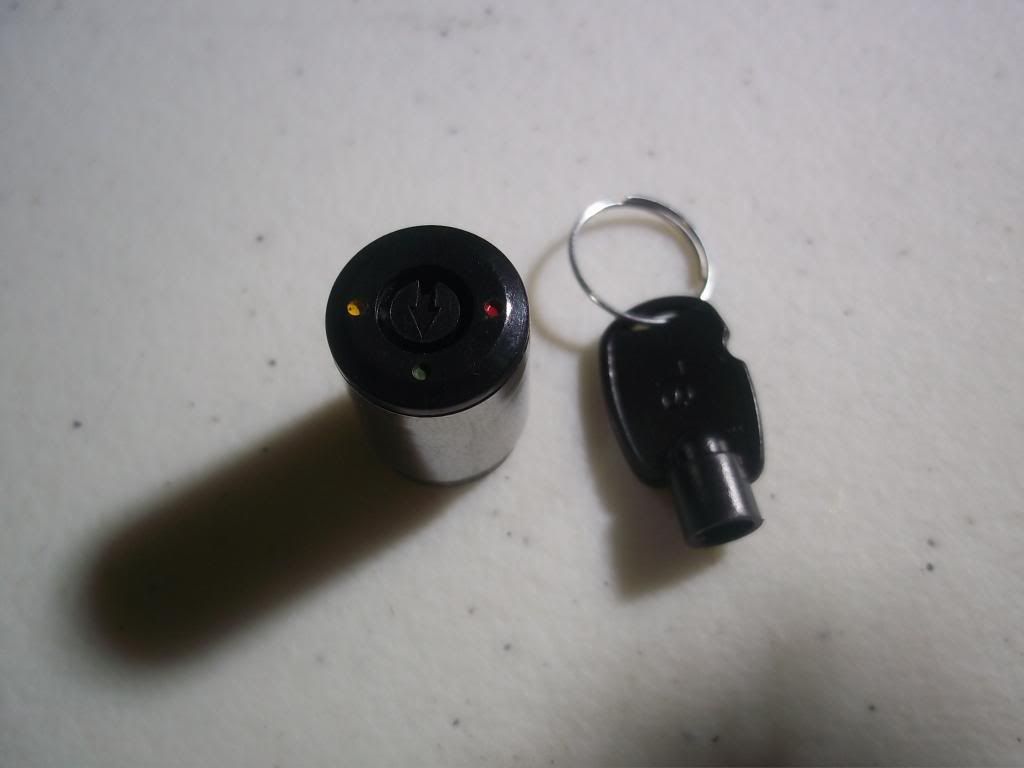 Again I have to stress, 511nm looks green to me. The camera does not pick it up properly - it just looks less limey than DPSS. Here is a comparison to the wickedlasers core (4mW) and AliExpress pointer which is the same 511nm but at 23mW.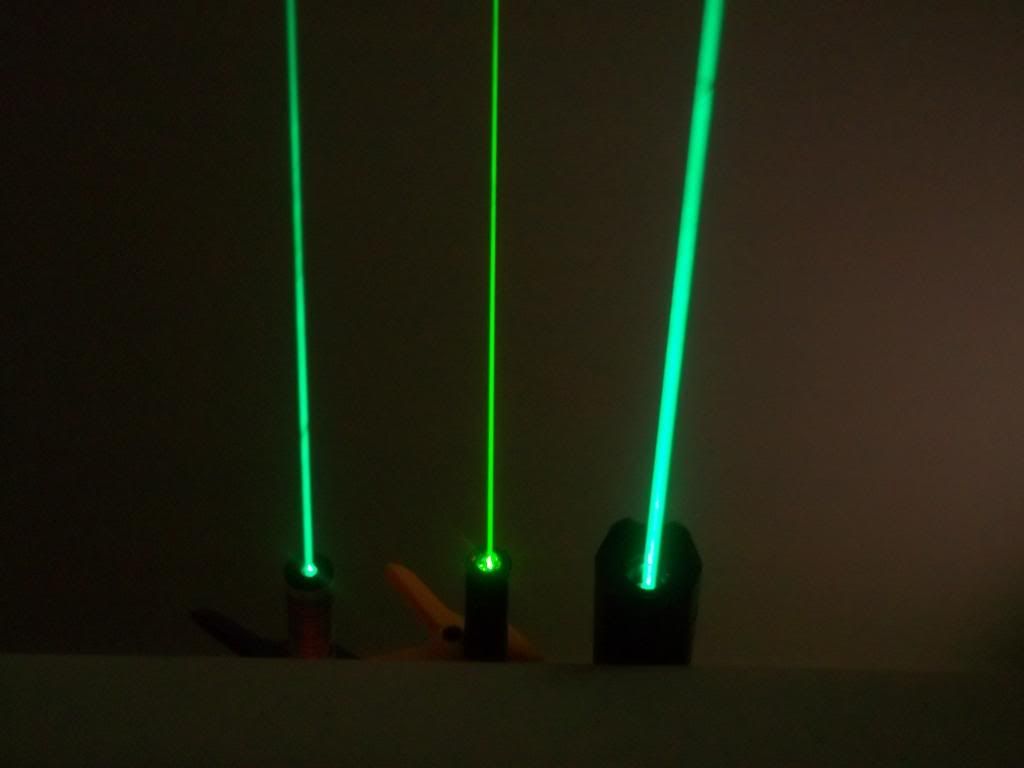 equipment used:
Science-Surplus spectrometer
Tenma 72-6908 bench power supply
Fluke 8810A digital multimeter
Gentech TPM-310 laser power meter