Hello I have three of these 26650 sized laser hosts. They have great heatsinking properties and are easy to work with. Build your next high power laser with one of these today! Only a limited of 3 available. The heatsinks are made by our own Mr Lifetime (Rich).
They come with a lens knurled focus knob and a blank board for use with any driver.
$75 free shipping each
Battery shown for size comparison.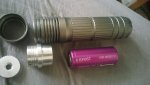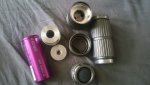 Last edited: