Joined

Jul 15, 2011
Messages

501
Points

0
Hi,
i bought an Kvant Clubmax 3000 RGB-Laser Projector and thought i could make a review to show what this projector can do and how it looks from the inside.
Here is the Website:
KVANT ClubMax 3000 | new full colour club laser |*Kvant Laser Systems
And here the promo-video from Kvant:
I'm very happy with the performance of the new Galvos (Pangolin Scannermax 506) and the color modulation! Very sharp!!
For the price it is a very package! :bowdown:
At the LaserFreak-Meeting where the videos were recorded, we measured the beamspecs and the power:
Spotsize at a distance of 12m:
Green 0,8cm x 1,8cm
Blue 0,5cm x 1,4cm
Red 0,9cm x 1,8cm
Laserpower measured with a Ophir Nova and a Ophir L30C-A-10mm Head:
Fulloutput (Blueish White) = 3400mW
Green = 960mW
Blue = 1770mW
Red = 650mW
Here are some pics of the guts: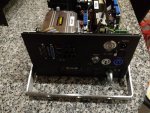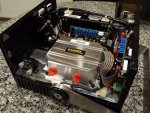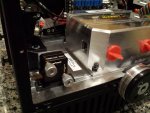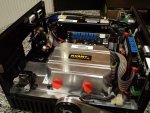 The left one is the Kvant and right of it is a 4W homebrewn projector: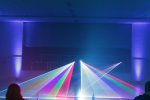 Here are the videos of it in Action:
If you have question please don't hesitate to ask
Best Regards,
regalis
Last edited: