Okay, this is a review of the Jetlasers Product Titanium 150mW Lite A, that I purchased in a recent group buy that Hakzaw1 put on (Here is a giant thank you to both Len and Gray, who made this Group Buy very easy, and made it possible for me to get my first high quality laser! :beer
.
From what I have read, this is one of about a dozen of these models ever made, and Jetlasers were dissatisfied with some aspects of these lasers. It is also the last one they had, so I was REALLY happy to get this! :evil: It is made completely out of Titanium, features a Sapphire Lens ( don't know what it does but it sounds Bad A$$!), is rated to be Waterproof to 50 meters ( won't be tryin that out! :crackup: ), able to survive a drop from a 16 level building
(if I ever come close to dropping a laser off of a 16 level building, someone take my lasers away please....kthx
), and is one of the sleekest hosts I have seen.
Jetlasers was VERY fast in shipping out the purchases in the Group Buy, and it went very fast! In addition, each laser purchased in the Group Buy was NOT ONLY discounted, but Gray was kind enough to throw in some extra goodies like Diffraction Gratings and Goggles. Now, when Hakzaw1 received the units from the Group Buy in the mail, he metered them for us, a huge help for those of us with no LPM as of yet. Here are HIS pictures of my unit and the LPM reading: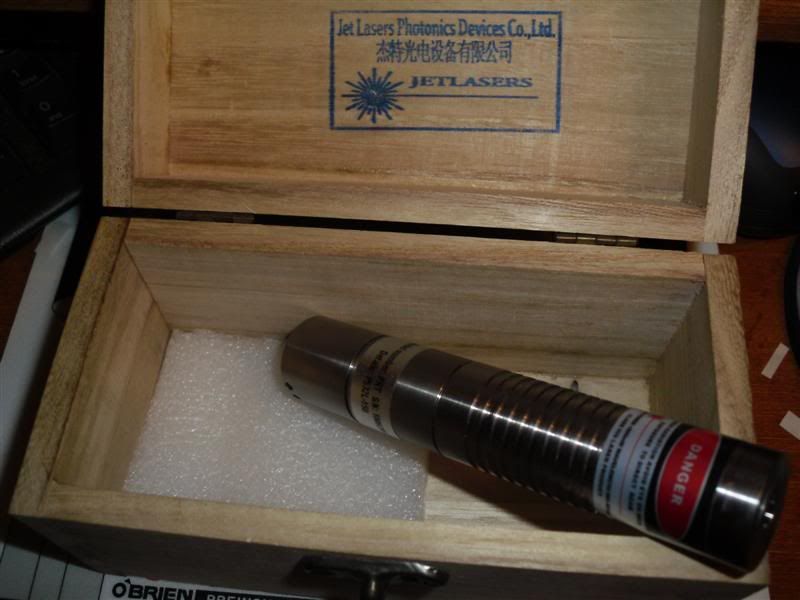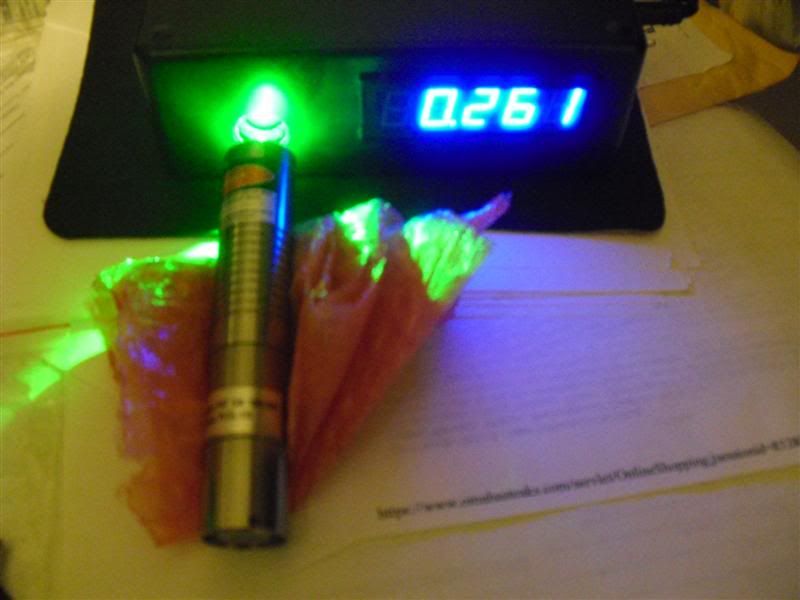 As you can see, this 150mW rated laser outputs over 100mW overspec of puree, IR filtered 532! I just about had a nerdgasm from the LPM reading when he posted it! From the day Hak received the units to the day I received my package in the mail, counted a total of 3 days....yet again, I have to thank Hak for his putting this together and his expedient reshipping.
Cue Monday morning. I wake up at 9AM, and go downstairs to wait for the Mailman who will make me the happiest man in the world (no homo :na: ), and as the people on Laserchat that day can tell you, I was a bit impatient and wound up from the anticipation....but then again, I am a laserist, so thats how I roll....lol, from 9AM to 4PM I stayed by the door constantly, pausing only to take a very conservative shower, during which time a Note was taped to my door that would hopefully allow him to leave it. At 4PM I hear the mailman drive up and I FREAK! I run downstairs from my desk I setup at the window and hurl myself out of the door, dash across the lawn as dignified as a 6yr old on Christmas (you can tell he is trying, but the attempt is futile), and sign for MY package :yh:. The hallelujah chorus immediately began playing but I ran out of the concert, because frankly, I had better things to do.
Here is the Laser, in all of its Titanium glory!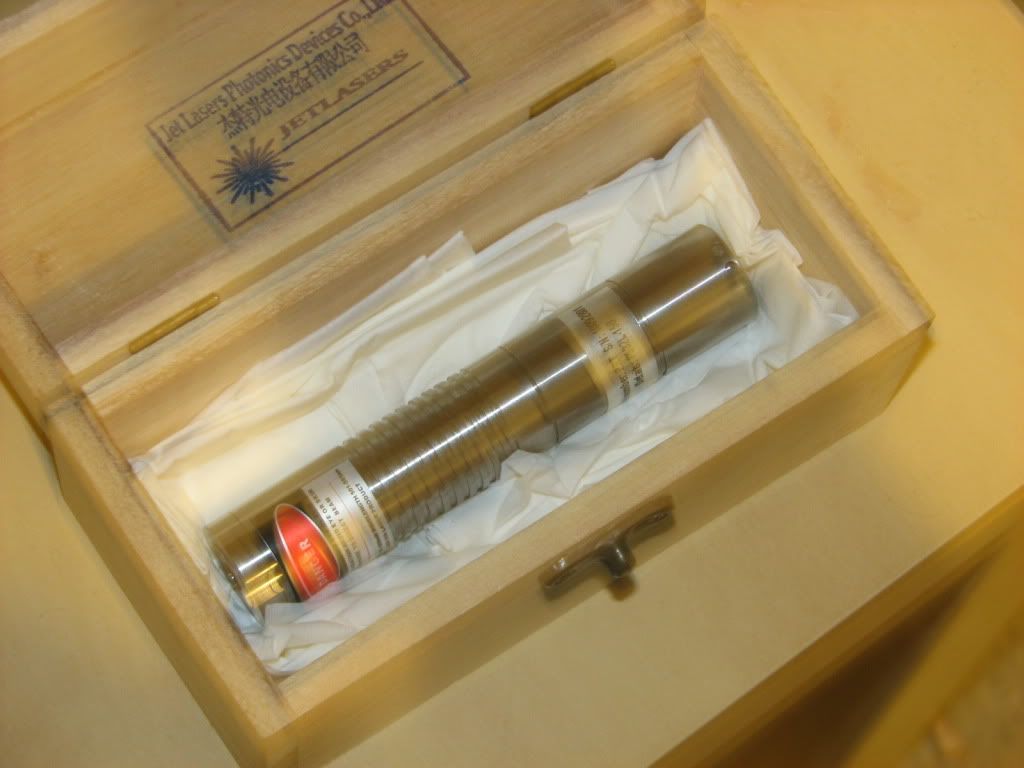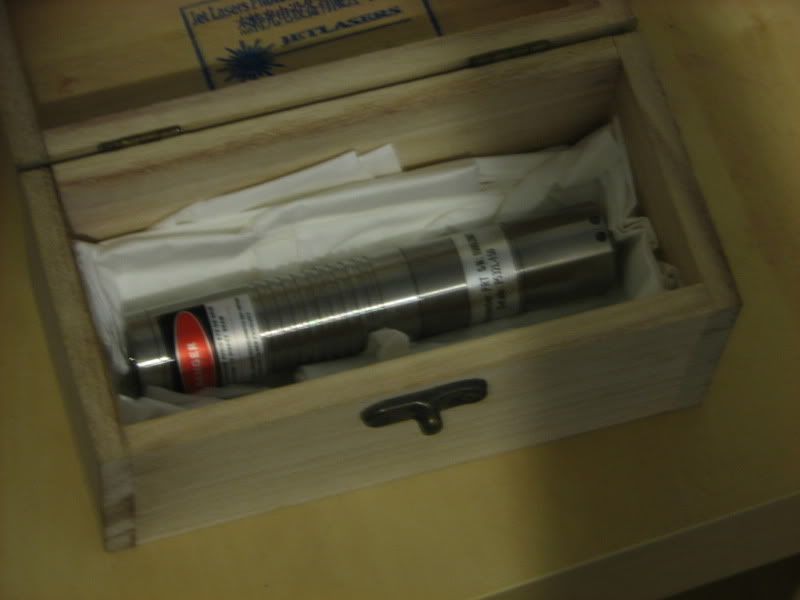 And a size comparison to my other lasers:
Hint- Rayfoss Waterproof 50mW Green, Titanium, Ehgemus 5 Groove Host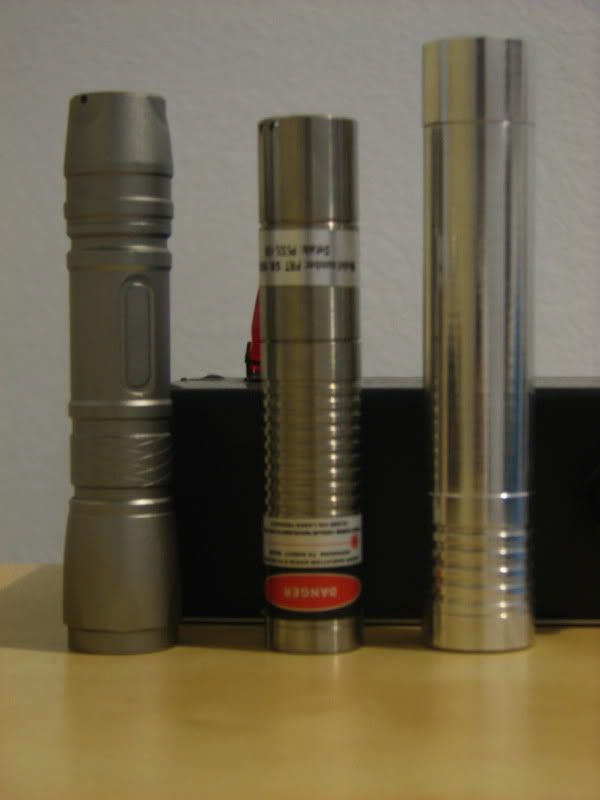 Here is "the Precious" :eg: Standing on its head(oh look! A gymnast!):
....on its side....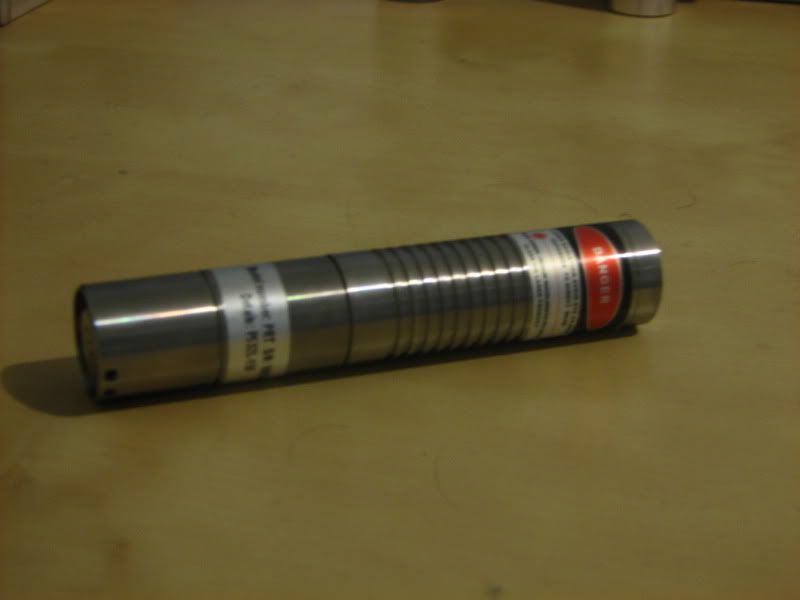 The Tail Button is an interesting feature of this laser, you twist the Tailcap to Turn it "constant on", but there is also a button on the end that can be pressed to initiate a "momentary on". I thought that the turning might be a bit bothersome, however I have to say it is a much better feature than I gave it credit for
on top of that, the button has a cool "On Sign" on it that just looks slick....here, have some JPEG:
The focusing mechanism of this laser is very tight, and at first I thought it was difficult but it loosened up after focusing it twice(or something there 'bouts). It looks really cool with the focus out(kinda like a lightsaber? (Lukes one from the 5th movie?):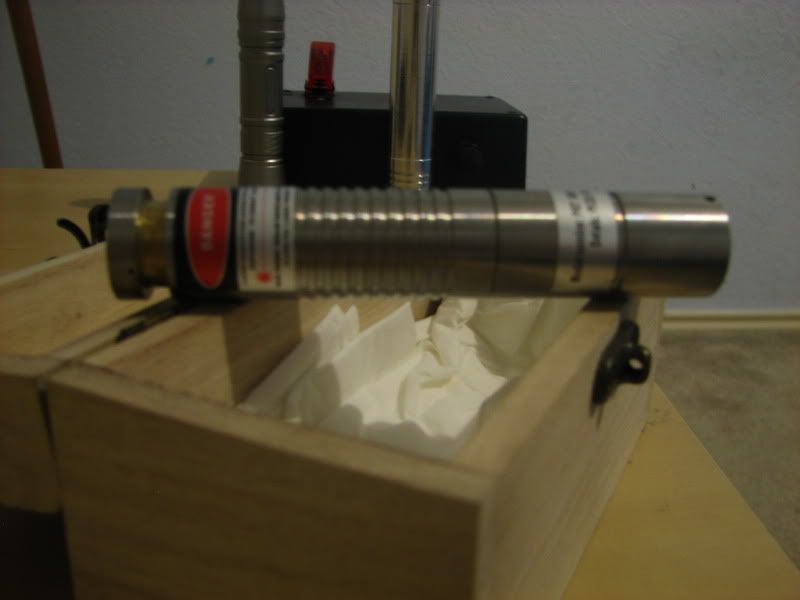 NOW FOR THE BEAMSHOTS!!!!!
Ladies and Gentlemen, Boys and Girls, Laserists of ALL ages, grab your safety glasses and check out this beam! .....oh, nevermind, teh pictchas cannot harm your remaining eye :crackup:
No smoke in this picture at all, just laser, atmosphere, and the ever-useful Raleigh Scattering :eg:
....and the lights were on!!!
Now, for some shots with a little fog from my Fog machine I bought at Walmart! (NECESSITY for viewing photons IMHO :beer
Not only was my laser made in China, but so was the visualizer! :na: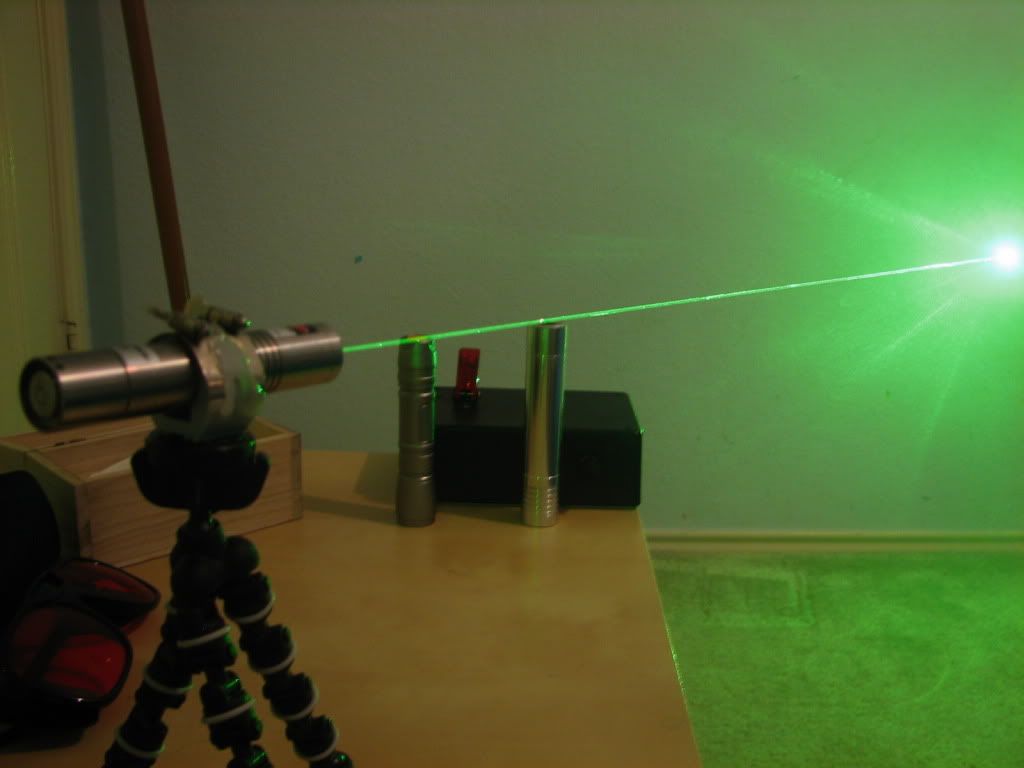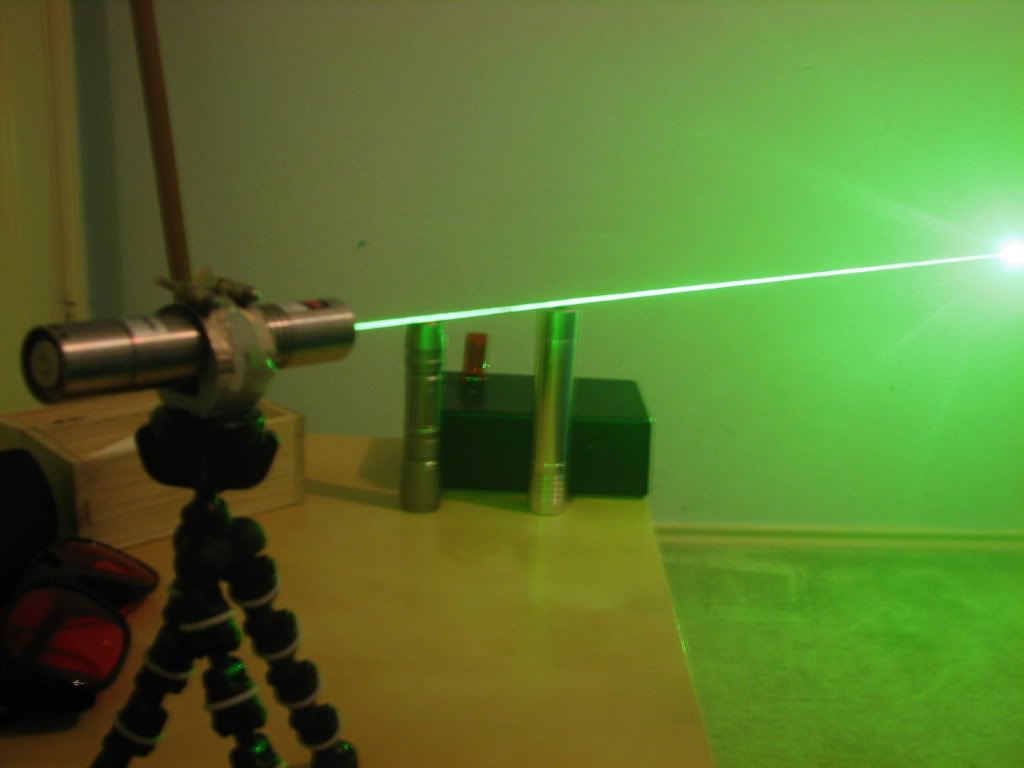 As I said earlier, Gray also sent us some SCHWEET Diffraction Gratings....these things are THE REAL DEAL
They are made of glass, cuz plastic is sooooo last decade, and they work AMAZINGLY! Incidentally, I was falling asleep in Algebra class the other day and noticed my classroom has strange lights, so I whipped out my diffraction grating (note-I sit in the front row.....2 feet from the professor) and start checking out the colors ROFL! Now here are some 'splodey shots for your entertainment!
Getting set up (note the glasses; can't lase like :lasergun: without lookin like
) :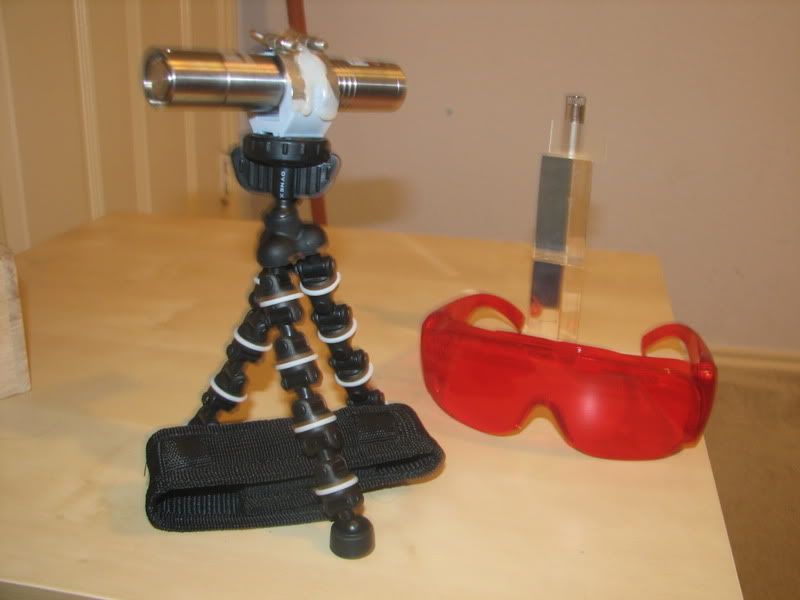 Now the beamz!!!!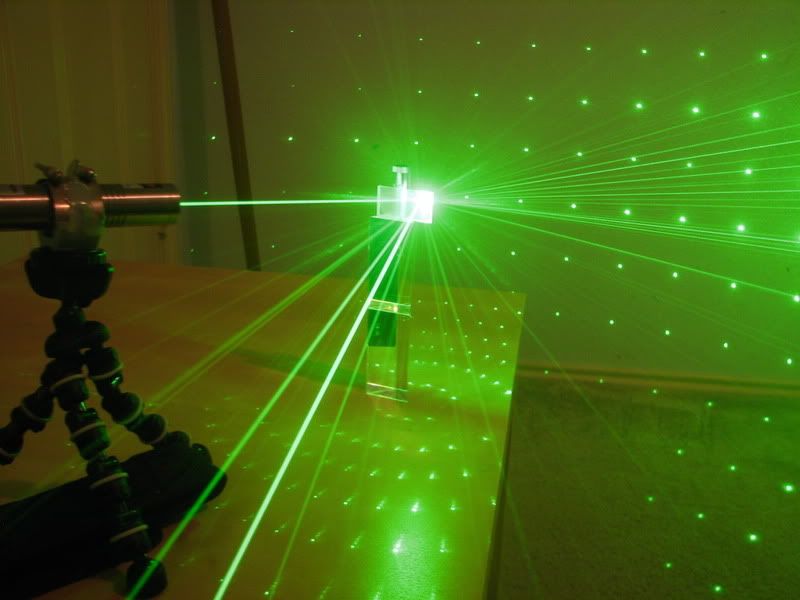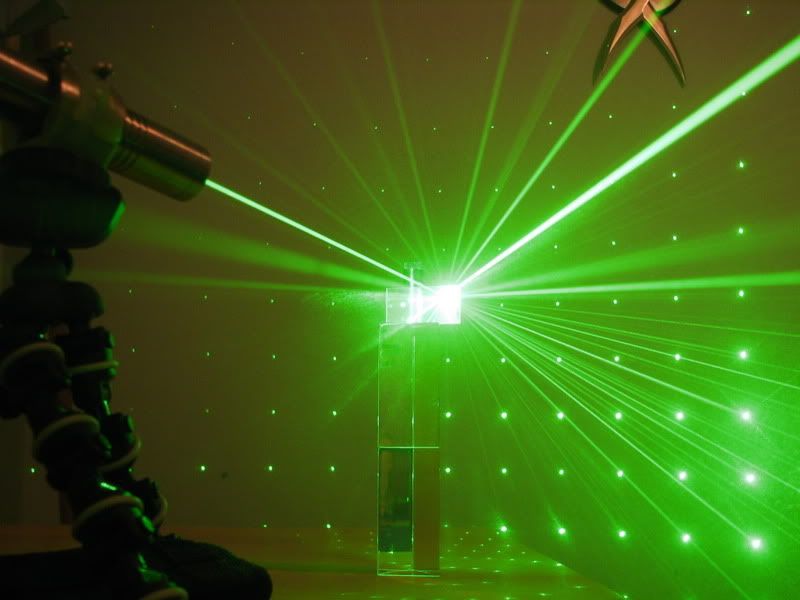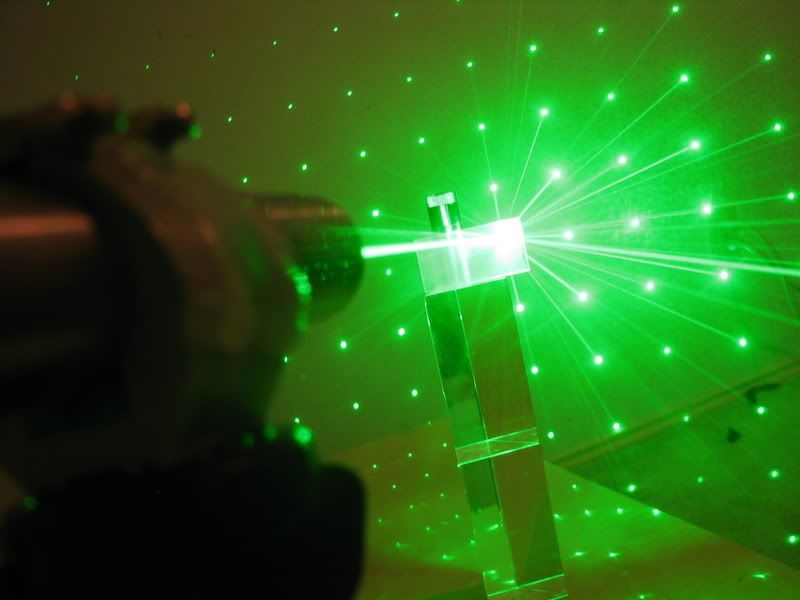 Now a pic of playtime with Prisms: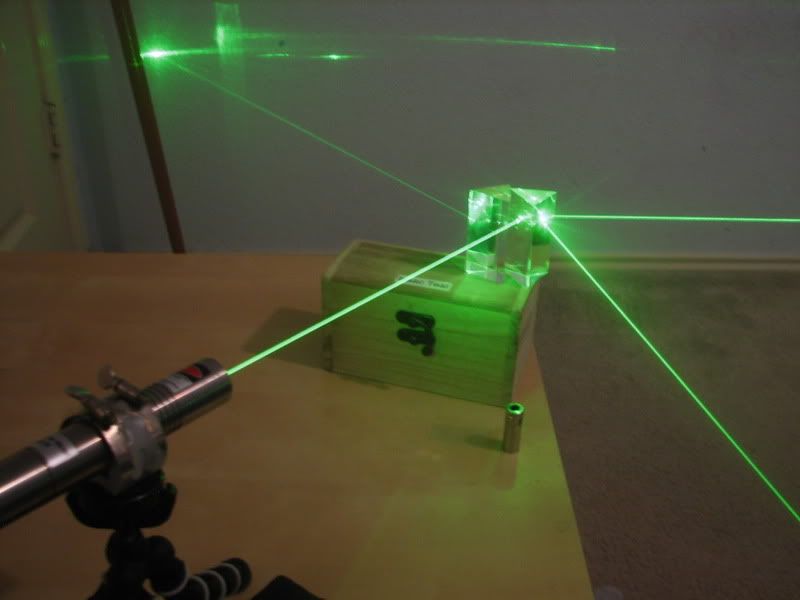 Now an action shot or two with the Tripod I sort of made (bought the tripod, built the adapter out of a ring from a piece of furniture that my store had to throw away and a broken ligature from when I played the Clarinet(And sucked at it :crackup
)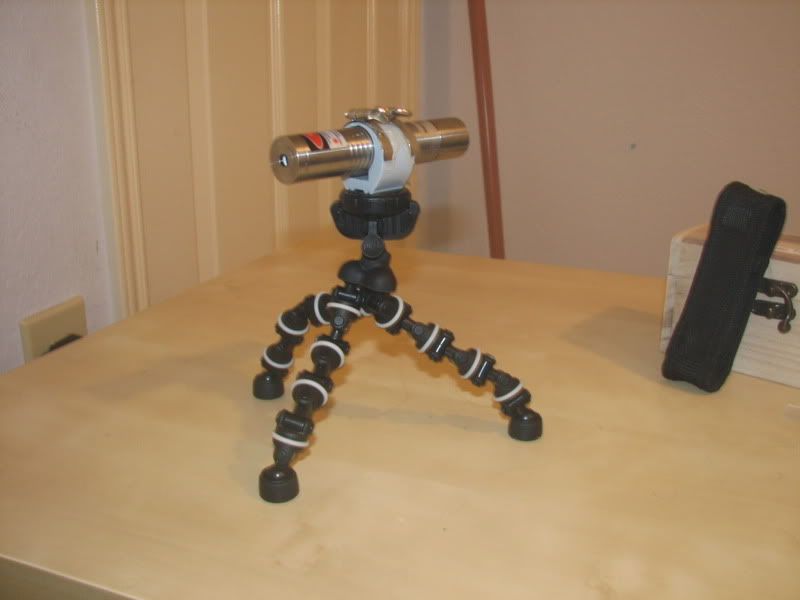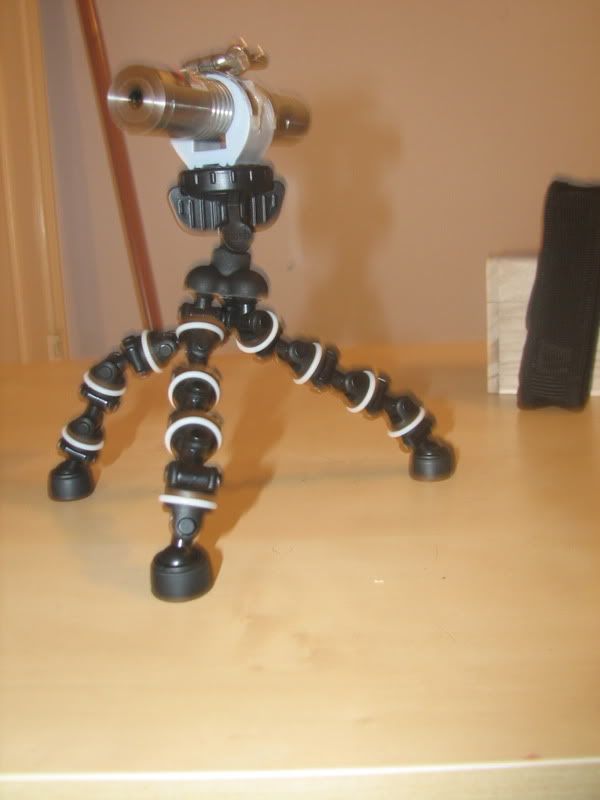 And a couple of nighttime shots with no fog, no special exposure times, just laser and point'n shoot style camera: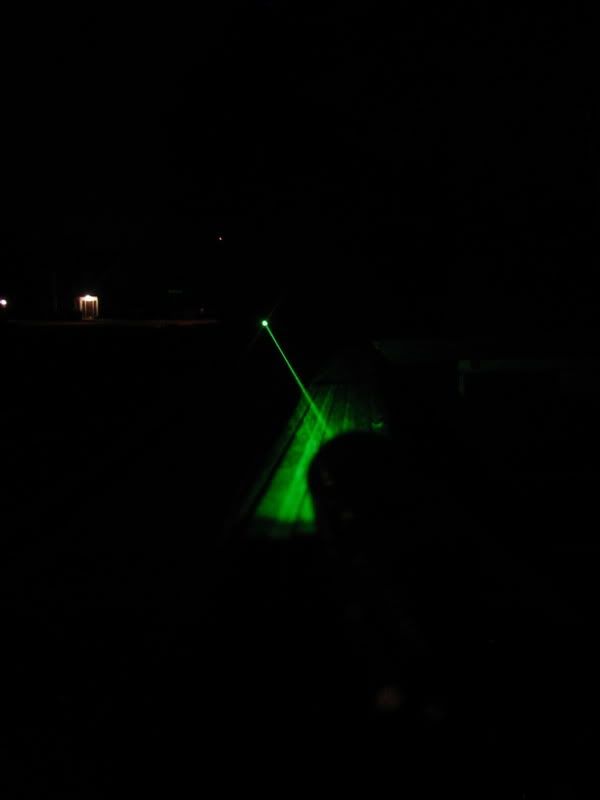 Well, I know that was a lot to read, I hoped you enjoyed it, but I am not quite done....soon, my friends, soon.....but first, I must rate this product.....
Rating 1-10(1 low/suck, 10 high/awshome!):
Jetlasers, Gray, and their Customer Service
:
10/10
-There is no way that this company could have impressed me more.
The Price
:
9.5/10
-It is an expensive laser, no doubt. At one point I would have scoffed at the funds it ate. For those interested, I paid 220 for the laser plus 33 dollars shipping. For a laser peaking at 261mW, I would say that is more than worth the money!
The Shipping time:
10/10
-From China, to Dallas, to Me, it took about a week...maybe a day or two more. Not much to improve on there!
The Host:
10/10
-This is THE centerpiece of my collection. I don't see how anything will top this.....I mean it is Titanium!!!! With a Sapphire Lens!
The Laser all in all:
Chuck Norris/10
-The Epicness of this laser is too far beyond the scope of numbers to rate. This is bada$$ery incarnate....It is like if you took Chuck Noriss and Steve Irwin, implanted their sperm into the same woman(Aphrodite herself....if you don't know her look her up....if you are under 18 don't look her up under google images :na
, and somehow that sperm was contained in ONE egg, and then you added the voice of Morgan Freeman....You MIGHT have this laser.....if the woman/egg didn't explode first to try to keep this entity subdued.
I hope you all enjoyed my Review of this work of Art, and I look forward to reading any and all replies. I will get a balloon pop vid/burning vid up if you like, but I am making this while the rest of my family is asleep and a balloon popping would kinda freak my sister and parents out....so none til tomorrow. Thanks for reading!
Peace,
Isaac
PS - a burning vid
Last edited: