Joined

Aug 25, 2010
Messages

5,947
Points

83
Introduction!
Well it has been far too long since I have done a review on a Jetlasers product, and I am really happy to be back in that saddle. Not too long ago, Hakzaw1 PM'd me asking if I was buying a Jetlasers PL-E Pro 473. He caught me by surprise, as I hadn't seen the 473's in the GB...must have missed them. After some lolly-gaggin', I sent Len a Money Order for 320....which is, by the way, a fantastic price for a 473nm Laser that is Handheld and which outputs so much. Side note: if you want to get one of these, PM Hak. He can save you about 20 bucks on shipping.
Well, as it turned out, I got to the front of the line pretty quick on account of how quickly I sent him the money. A day or so later he informed me that there were two of them being shipped to him from Jetlasers. A couple days after that they were in his hands, and then a couple days later one was delivered to my house.
Communication with Len was fluid and he was very clear and timely in his responses. I always love dealing with him, because if I have an issue I will come knock on his door :eg: He always takes care of his customers, though, so my battering ram gets to take a breather!
The Review:
The Host:
The host on this laser is MASSIVE! And I LOVE it! This laser features a beam shutter, LED indicator lights, a momentary button, an on/off button, a clicky switch, and a Safety Pin for the tailcap! That is a lot of features! Let me run through them each:
1. Beam Shutter:
The beam shutter on these lasers is pretty nice and it does its job, but it is difficult to put on and remove. Due to the sharpness of the crenelated bezel, putting the beam shutter on or removing it can be painful. Especially if you have larger than average hands.
Points: 6/10
| It is a great feature, but a simple twist on/off shutter(a la CNI) would have been a better design option, even if it meant doing away with the crenelated bezel.
2. LED Indicator Lights:
LOVE LOVE LOVE! I have long wanted a laser with these, and now I have one. They are useful, stylish, and professional all at once! Good job Jetlasers!!!!
Points: 10/10
| Right on the money Jetlasers, THIS is what makes products just THAT much better than the opposition.
3. Momentary Button:
This is a very nice feature to have. Most lasers have one or the other, but not both. I like having this option on the table, even if I don't use it much.
Points: 10/10
| Giving your customers choices is always a great option, and I love thinking outside the box. Good job!
4. On/Off Button:
This is your standard on/off clicky switch but with one exception. The clicky is on the side, and it is well machined out of metal. This is not a cheapy switch. This thing clicks with a feeling of quality!
Points: 10/10
| Having your On/Off Switch machined was a great idea. Just more proof that Jetlasers will go above and beyond to make a great product!
5. Tail-Clicky Switch:
this is how you "arm" the laser. I like the fact that just putting batteries in the laser doesn't cut it with this. It is big, it is bad, and it wants some respect.
Points: 9/10
| While this is a great feature, the tail-clicky is somewhat mushy of a button. While not being as tactile as I would like, it certainly still provides its function.
6. Safety Pin:
On high quality lasers which strive to meet FDA requirements, companies must add a safety pin which when removed will keep the laser from turning on. This unit has the port for the safety pin, but the safety pin has no effect. As such Hak didn't send it with the laser.
Points: 0/10
| While I don't necessarily MIND having no safety pin, it certainly cannot do anything if it is defective.
7. Material:
This host feels extremely sturdy. It is all the heft I love in a laser combined with the fine detail I cannot get enough of.
Points: 10/10
| Don't change this. this host feels like business in the hand and I absolutely LOVE the material.
8. Finish:
The laser has a matter black finish on it that when combined with the fins near the front and the LED indicator lights midway, just makes it look so aggressive and sleek.
Points: 10/10
| The anodizing is great and I can see no chips or scratches in the anodizing. Great color choice!
Overall Design: What can I say? Jetlasers keeps making lasers that are an inspiration to behold.

Points: 8.125/10
| The crenelated bezel is a little sharp, and as mentioned previously the beam shutter could have been done better. Otherwise, great job on a magnificent laser host!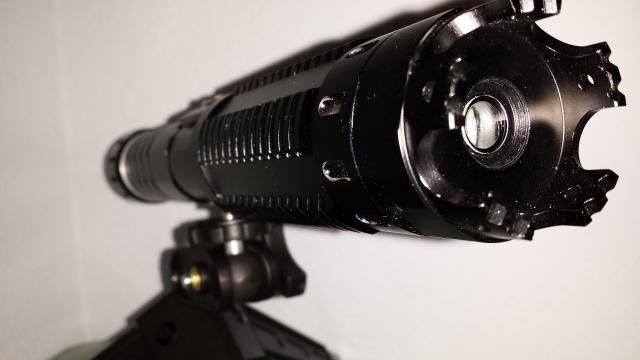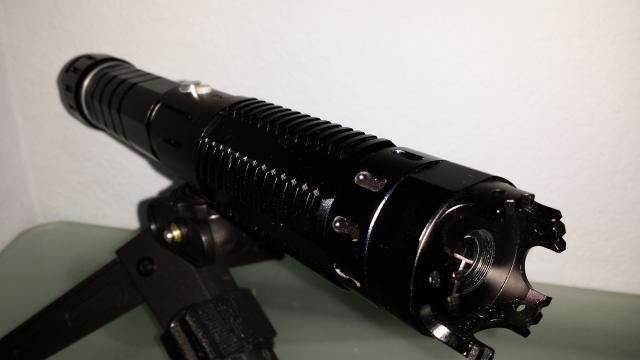 The Laser:
Okay, so now I will discuss the actual performance of this laser. The wavelength is beautiful, and the laser will eventually get up to 90mW...but it takes ~10 minutes to do so starting at room temperature. Which is highly disappointing. The laser starts out at 1mW...maybe even less. First time I started her up at room temperature I got a brief blue dot and then all I had was IR output. It takes almost 10 minutes to get to full power. Which is, in my opinion, a ridiculous warm up time. Here are some specs:
Output:
0-90mW(?)
Mode:
TEM00 and TEM01(not often though)
Divergence:
Not measured yet....waiting on the damn warm-up time
IR Filtered:
No
Overall:
Overall I am going to give this laser a
4/10
on performance. Once I get it up and running it is a great laser! But it takes 10 minutes of twiddling thumbs to get it there.
Beamshots:
Now, I did manage to get a lot of beamshots for you all! I took many more than these. The difficulty was in finding a camera that would accurately picture the color. In the end, I put my PowerShot SX130IS to the side and stuck with my Galaxy S4...as it turns out, it is a great Beamshot takin' camera!!! But don't take MY word for it! YOU be the judge!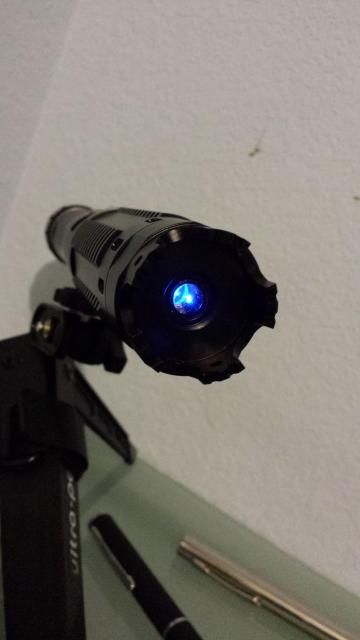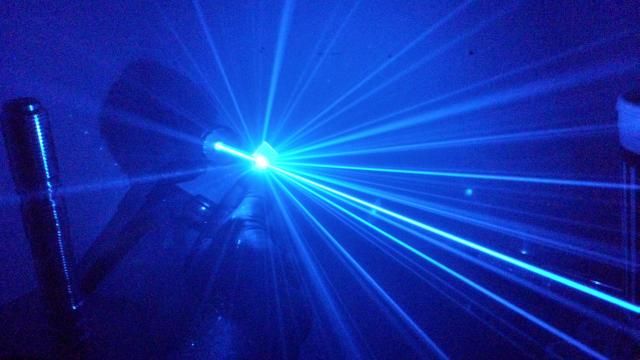 Well, that is all of the beamshots for now! Here is a video review of this laser, please watch it as I spent waaaay to much time making 4 or 5 different reviews til I got one I liked. Thanks
Thank you everyone for reading! Hopefully I can get that issue with the warm up time figured out. This is a lovely laser, just a bit slow on the uptake. Hope you all enjoyed my review of the Pro PL-E 473 from Jetlasers.
Thanks,
Isaac
EDIT:
Just did a timed run on LPM.
1 second: Cannot see 473, registers as 15mW on LPM.
3 Minutes: I can sort of see the 473 dot, but I have to look for it. Measures 15mW on LPM still.
5 Minutes: 473 dot visible, looks like 2mW or so(about as visible as my 1mW CNI GLP 594 I had). 20mW measured on LPM.
8 Minutes: 473 looking to be at or around 10mW now. Still not very powerful. Measures 25mW on LPM.
9 Minutes: 473 dot looking still brighter, although not by a lot. Measured 30mW on LPM.
10 Minutes: No change from 9 Minutes.
11 Minutes: 473 dot same brightness but hit 40mW.
12 Minutes: 473 dot same brightness. Now back down below 40.
13 Minutes: 45mW. Looking brighter.
15 Minutes: 58mW. Getting nice and pretty now.
17 Minutes: After a lot of erratic behavior it is up to 70mW....and then down to 60.
18 Minutes: Hit 80mW, then down to 65, then up to 73. Ahh DPSS....you bastard.
19 Minutes: 70mW is about what it is, disregarding jumps.
20 Minutes: 71mW
All it does is stagnates after that. I was told my unit LPM'd at 90-100mW. I cannot even see the dot without straining my eyes for the first 4 minutes. Only after 5 minutes does it start to resemble a 1 or 2mW unit, and it takes a good 15-20 minutes for it to get up to 75% of what I was told it could do....I am not sure that is normal behavior for a 473nm Handheld. There is a certain amount of warmup necessary, to be sure, but 20 minutes?!!!
Last edited: