Joined

Sep 4, 2010
Messages

66
Likes

3
Points

0
So I have had this laser for a month and it is probably a good
time to review it. I bought this straight from Hakzaw.
Thanks Hak for this and the other goodies that came along with it.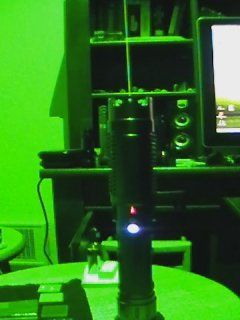 This has the button code and a button for pulse mode.
This is a very cool feature, but I notice sometimes the buttons
do not respond if the laser has just been started up or if it gets
too hot as it seems to stick. This doesn't happen that often and
not a big deal as all you need to do is click the back button to reset.
It is about 10.5 inches (27cm) long and weighs about 2 pounds (0.9Kg)
with a battery in it. It is very sturdy and can easily be used as a club for
a weapon if your battery runs out.
Of course the design is very
sleek and the internal focusing is pretty cool and smooth.
Using my camera I've been able to focus it to a fairly small point on the
side of a house 900 ft away so the divergence has a lot of options.
This is easily able to burn through stuff and
once focused will smoke something instantly. It can run off
of a single 18650 or 26650 battery as well as off of a wall outlet.
When using the 18650 battery, the laser is usually steady around least at 700mW.
Using AC power, the laser gets hot a lot quicker.
At times it will begin flickering when reaching about 800mW and power will
decrease a bit. The wall transformer is feeding 8V for some reason. I got the right
transformer sent to me right Hak?
The 26650 battery has gotten it to peaks of 930mW.
Using the battery it starts to get hot at about 5 min.
Here is the output on AC power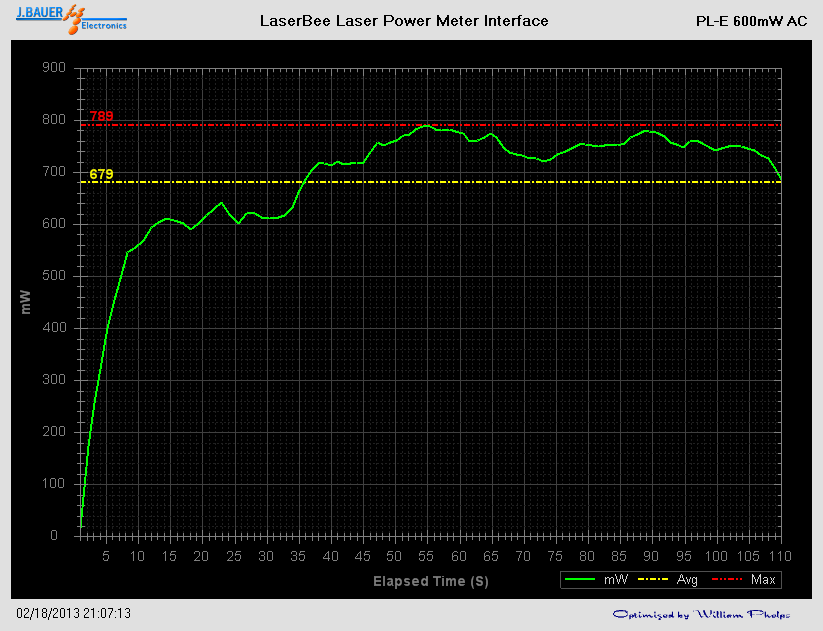 This is using the battery and it doesn't always jump around this much,
but this is the best I've been able to get out of the battery with the chargers I've had.
Here are a bunch of various beam shots that show just how bright
this laser can be and there are some
high-res shots available as links below that.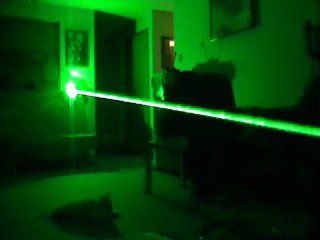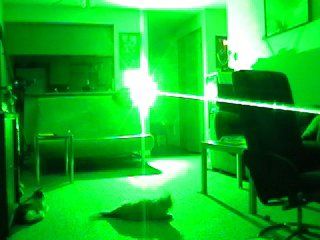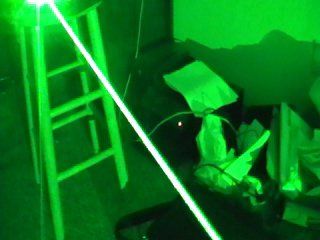 http://i1232.photobucket.com/albums/ff372/Eric_Stephanson/3D_R0014_zps6da14432.jpg
http://i1232.photobucket.com/albums/ff372/Eric_Stephanson/3D_R0013_zps9b1ca134.jpg
http://i1232.photobucket.com/albums/ff372/Eric_Stephanson/3D_L0008_zps10ce0e02.jpg
http://i1232.photobucket.com/albums/ff372/Eric_Stephanson/3D_L0005_zps067e9633.jpg
http://i1232.photobucket.com/albums/ff372/Eric_Stephanson/3D_L0003_zps03ee8e50.jpg