Joined

Oct 13, 2010
Messages

340
Likes

25
Points

0
I'm terrible at reviews, so bear with me. Plus, my crappy Nikon Coolpix S6300 likes to take blurry shots when there's no flash. I would've taken some beam shots, but I found out that my camera doesn't have a manual or program mode, so double damnit.
Shipping and Customer Service
​
I placed my order on October 25th, and my laser arrived on October 31st, just 6 days. I was honestly expecting the whole thing to take 2 weeks, so I was pleasantly surprised. Gray is a great guy who'll keep in touch with you regarding any news about your order, and will answer your questions fairly quickly.
The Packaging​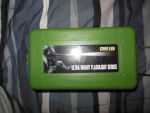 ​
The laser came in a decent sized box along with the 2W 445nm PL-E Pro that I summarily returned. Everything was nicely bubble wrapped, including the contents inside the Cree flashlight box. Inside this box was the laser in two pieces, the instructions, a diffraction grating, a battery tube, a cleaning cloth, and an lpm graph.
The Goods​
​
The laser itself has a nice weight, length, and feels really sturdy. And I like the host design as well. I'm honestly not a huge fan of flashlight hosts, and even less so for the "generic" high powered laser hosts like Rayfoss makes, so this is nice.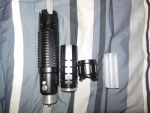 ​
The laser can be separated into 3 parts: The head, the grip, and the tailcap. The grip can house an adapter tube that supports an 18650.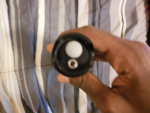 ​
The tailcap houses the main power button and a port for a safety key. The lens has something red over it, which I believe is the IR filter.
​
I like how it has a momentary on/off button in addition to a constant on/off button. It also has three red lights that light up to let you know that the unit is powered on and ready for use.
​
The opposite side of the laser has a port for an ac adapter if you're stationary and want to forego batteries.
Performance​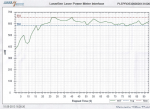 ​
Here's the power graph that was included. Like my Arctic, i've been using this laser with a 5min on/5min off duty cycle, and it has yet to get warm. This was outside when the temperature was decent. It's gotten a lot colder in the past day or two, so I probably haven't seen the laser's peak performance yet. The beam is thin and bright, and can be focused with the external ring below the lens. My only gripe with this laser is that if you focus or de-focus it, you'll have to use your eyes to determine if it's focused to infinity. I just wish there was some kind of click while focusing to let you know when it's focused to infinity, because my OCD won't let me stop until the beam is as thin as possible.
This is probably the best laser i've owned so far. It has that weight and thickness that makes you think that it could take a bit of shock, and even though the description on Jetlasers' site says that the front can be used for poking an assailant and breaking glass, i'd never take the risk of willingly ramming any handheld laser against anything. for $600, this laser is definitely worth it. So much so that I bought a second one 2 days ago.