Joined

Jun 6, 2014
Messages

424
Points

43
I recently got back into this hobby and was super excited to get some cool lasers and i did. but for some reason i just get board with them. i think the main reason is becasue i live in a very populated area only two miles from the wilmington De airport i have to be so causous shinning my lasers outside. so mush so it ruins the fun. i live in a big appartment complex and i also worry about disturbing people. i am just very limited as to what i can do with them safely. so they just dont get used. once i get a house and move into a more rural area this hobby will probobly will probobly reignite for me.
USA only sale and i will cover all shipping via FedEx express. (i get massive discounts due to where i work)
ALL images are below the decriptions and prices
1)Lifetime17 1.4W 520nm mag build. this one is a thing of beauty. color matching body. internals are from DTR laser shop and assembled by Lifetime 17. heatsink and body custamized by lifetime 17 aswell. Lpm is over 1.4W with G2 lens. Price $360. Price drop $300(SOLD)
2)Lifetime17 camo ultrafire host 5.5-6w 445nm build. Price (SOLD)
3) Jet Lasers Ple Pro 465nm 3.5W. actual LPM measurements are over 4.5W. . the beamexpander doesent work that well with this laser becase the beam is very thick coming out of the laser and a lot of it gets clipped by the narrow beam expander imput lens. also it works best with a 1-4 turn lose from tight. might need some adjusting. Price (SOLD) .
4) Jet lasers Equality searies laser Dazzler. This has a electronic adjustable focus and fiber couped beam to produce a perfectly round spot at distance. at its most narrow setting the dot is about 2 inches at 30 feet. its widest is about 3 foot circle at 30 feet. it has strobe low and high mode. low and high are about the same. low is about 680mw and high is 745 mw. its a very unique laser device. at long range it acts more like a very very focused green aspheric flashlight. for shits and giggles i measured the throw if it in candela as if i was measuring the thow for a flashlight and i got 8 million cd. measured at 10m and calculated back to 1m. out thorws all my lep flashlights. Price is $450. $390. Final price drop to $250
5)Sanwu lasers Gardian 1600mw 405nm. Price is $180 . Price drop to $140(sold)
6) Sanwu pocket 445nm 800mw. Price is (SOLD)
7)Samwu beamexpander Price is $50
If your interested pm me for PP info
I am not able to attach all the photos i have of each item because i cant do more then 10 for some reason. very odd but if you want to see more photos just pm me and ill send them over




Lifetime 17 1.4w 520nm mag build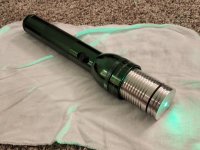 Liftime 17 camo 5.5-6w ultrafire 445nm build
Jet lasers Ple Pro 465nm 4.5W.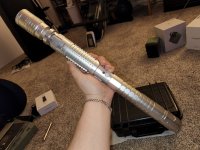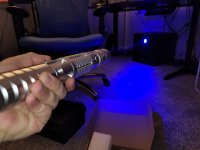 Jet lasers laser Dazzler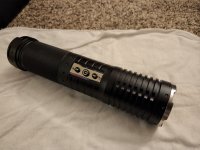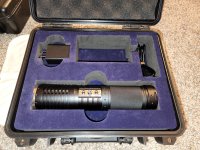 Sanwu lasers gardian 405nm 1.6W.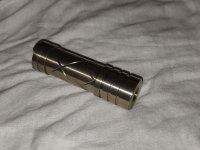 Sanwu pocket 445nm 800mw
Sanwu beamexpander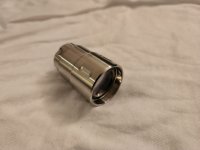 Last edited: