First review. First Build.
I knew I was going to lay down some serious cash, so I decided I would go all the way and ordered a phaser hot kit from Jayrob that would accommodate a diode capable of reaching 3+ Watts.
After extensive back and forth conversations with JR, I ordered a kit with the following:
Playmates brand Phaser model
Custom copper heat sink
X-drive buck set at 2.1A with copper sinking
2 X 3 volt regulators for sound board and arming indicator light
405-G-1 glass lens
2 X AW 14500 protected Li-Ion cells (won't cause damage from low power)
I also ordered a diode from DTR on JR's advice:
Nichia NDB7875 445nm 9mm with built in ESD protection
Jayrob was a pleasure to deal with. He took the time to answer all of my questions and ensured I had both an excellent product and experience. I would certainly do business with him again and highly recommend him to any buyer. He informed me it would take 3 weeks for him to prepare my kit as he wanted to ensure quality, and that's exactly what I got. I'll be sending some reputation his way ASAP.
Now for the pics:
The phaser came well packed
The unit was bubble wrapped and included the 2 protected cells as well as the spare, original phaser parts.
In the shop and ready to build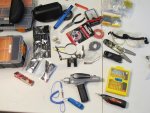 First the nozzle cap and EzFocus adaptor were removed as well as all screws. The housing then easily came apart exposing the internal electronics and copper sink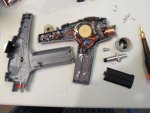 I removed the AixiZ housing that came with the kit (used by JR to align the focus adapter) from the sink by loosening the tightening screw and it slid right out. However, after removing the barrel from DTR's diode module, I couldn't get the front piece to fit in the sink. It was a few microns too big. No problem. I used a file to shave a thin layer off and it went in nice and slick.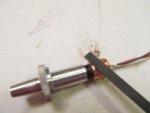 I then soldered the leads from the installed X-Drive to the leads from DTR's diode, reassembled the housing and donned my Args from OEM Laser Systems. These are OD7+ and are a must at this power level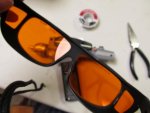 Success!! I'm elated!
My nightshots were awful so I'm not posting those. Additionally, I'm under an international flyway and because its a cloudy night, I didn't dare fire into the sky as I couldn't tell if there were any aircraft in the vicinity. Too dangerous and not worth risking lives, a jail sentence, or increasing the chances of jeopardizing our hobby. I did capture this one shot of me firing at my deck. The moment the beam hit it began to smoke and char and the strong smell of burning wood immediately filled the air. This is one potent little puppy. I'd hate to be the Klingon staring down this barrel from the other direction
The link to Jay's build page can be found here:
http://laserpointerforums.com/f64/fs-star-trek-phaser-hot-option-individual-parts-46946.html
Check it out.
I'm thinking I may like to order a 532nm parts kit and assemble the whole thing myself. We'll see. Perhaps when I've got a few more builds under my belt.
Jayrob's phaser hot kit gets an A+ from this first-time builder. It was easy and a lot of fun and I'm thrilled with the final product. I'd highly recommend this to anyone who wants a high-end product with a powerhouse diode. Trekkers would especially go nuts over this (where is my Starfleet command uniform?)
Well, that's it. I hope you enjoyed the review. Cheers and happy building!
Zircarg