Joined

May 22, 2007
Messages

351
Points

0
Recently I purchased one of the more recent developments from the Jayrob Laboratories - the 18650 host kit. I actually purchased it for my wife - with the apparent demise of the Kryton GB, I needed suitable replacement for the project.
So I present - the 18650 Jayrob laser, wifey's style!
http://laserpointerforums.com/f64/fs-18650-build-kit-easy-assembly-blu-ray-red-43857.html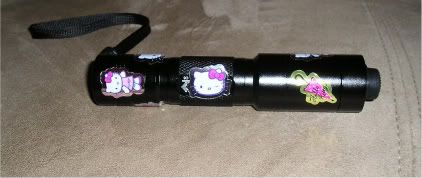 Yes, that's Hello Kitty on the laser. But don't be fooled, it's a real LPF-style unit!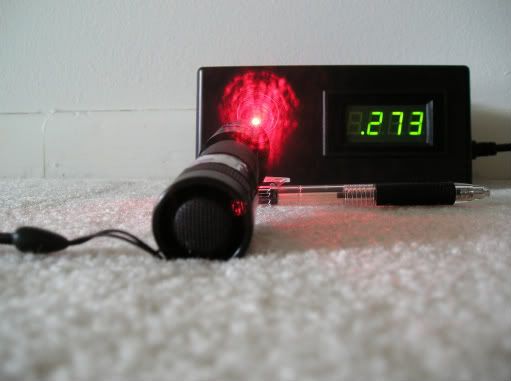 I used a LCC diode with the FlexDrive set to 350mA plus a Meredith Red lens, for long life and superior burning capabilities.
When I got the host, I almost wanted to keep it for myself. For a 18650 host it's slim and small. The best feature was the massive heatsink included in the package. The laser as set does not even get warm after several minutes of constant operation. The rear reverse clicky is smooth and "girl friendly", it does not take much pressure to turn it on, but not so little that it would accidentally power up in a pocket or purse as the case may be. Of course, the 18650 battery means superior run times between charges.
Since I purchased the "Hot" option, assembly was super easy. That's good, I'm still a bit of a clod with a soldering iron.
Pardon my lack of photography skills, red beams seem to elude me...
In a dark room the red beam is a fairly visible, rich red color. The Meredith Red lens, with its tight beam capabilities makes excellent use of the laser's power.
The laser does anything a ~270mW laser can do, light matches, etc.
I even found the perfect carrying case for her laser! And the pink/red batteries are en route from DX:
DealExtreme: $8.38 UltraFire Protected 18650 3.7V "2600mAh" Lithium Batteries - Red (2-Battery Pack)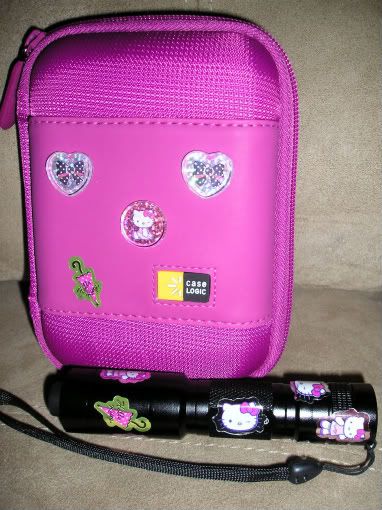 To summarize:
Pros
Good fit and finish
Matching heatsink, large and fits perfectly
Smooth clicky switch, easy operation
Large capacity 18650 battery
"Hot" option for quick and easy build
Jayrob is awesome to deal with and ships fast
Wifey loved the laser
Cons
Had to give laser to my wife
Bottom line - Get this kit, you will not regret it. I could have set current higher since I underestimated the size of the heatsink. Awesome build quality when completed. Rating: Epic.
Last edited: