Joined

Jul 3, 2015
Messages

549
Points

43
Hi Guys, I have not been around for a while...getting old lol.
Is DTR AKA Jordan alright? I see he has not been here for a while either.
Last April a documentary about my grandfather, Hugo Gernsback has come out of post-production but
COVID has prevented its release and distribution. If it was up to me, I would just give it away but while I was involved with it, others produced and directed it.
The main reason I became involved here was so I could learn how to build lasers to use one in the documentary. I had a Gernsback Mk I Ray Gun created into which I put a 12 mm module with an NDB7875.
I used it to shoot at some black magician's flash paper into which I put some two-component flash powder.
It is my hope when the documentary is released that a sci-fi fan will purchase the gun and I will be able to use the proceeds for the Gernsback Legacy Projects.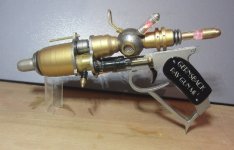 Here is the link to the video:
https://drive.google.com/file/d/1W5mzIgYf4Okb-YiUjOFXXseR6na7I_UN/view?usp=sharing