CNI PGL-III-C 532nm - 800mW!!!!!​
Introduction
It has been a long time since I have been the owner of a very powerful 532nm Laser, and after seeing the extremely good prices in Bloompyle's GB I could feel the itch and knew I just HAD to have a sweet 532! Originally I was going to go with the 500mW, but I tightened my britches, put my shoulder to the figurative plow(I ain't Amish now am I?), and ordered up an 800mW unit.
Impressions
The Group Buy Process:
This was my first CNI group buy, and I have to say it went really well! Bloompyle did an excellent job hosting it and got answers to questions quickly and was available with PM's and such. It was a really easy process and did I mention the prices were insanely good?! Due to how many people got in on the group buy it was longer than I thought it would be, but that we got the 10pcs discount was the important part.
Experience:
10/10
Production Time & Shipping:
Order Placed with CNI: 6/30/13
Bloom was notified shipment would be out by the next week(6/30/13)
Bloom was told all were done excpet 671nm Lasers(7/17/13)
Order Shipped to Bloompyle: 7/28/13
Order Received by Bloompyle: 8/05/13
Time taken to test each one, resolve issues, and attend to living.
Order Shipped to CONUS members: 8/14/13
Order Received by Me: 8/16/13
So, production time accounted for approximately one month of the time between the order being made and the order being received by CONUS buyers. Shipping from CNI was only 8 days, which is pretty good for coming via long boat ride and having to clear customs.
CNI
Production Time:
5/10
Shipping Time:
10/10
Bloompyle
Shipping Time:
10/10
Packaging:
10/10
The Laser:
The Laser is very high quality, as anyone who owns a CNI Laser can attest to. However, there are some observations I would like to make.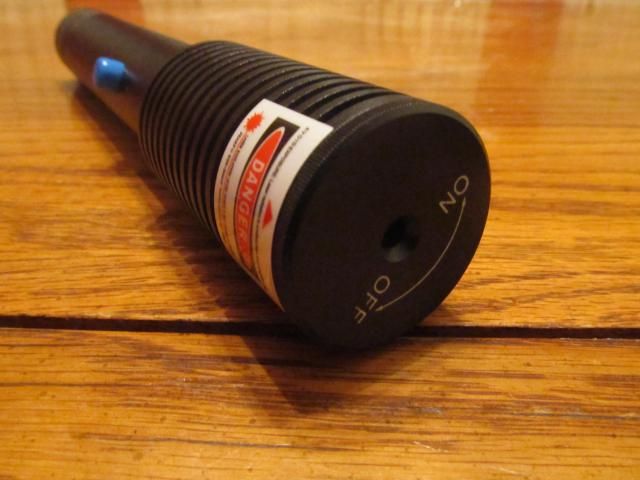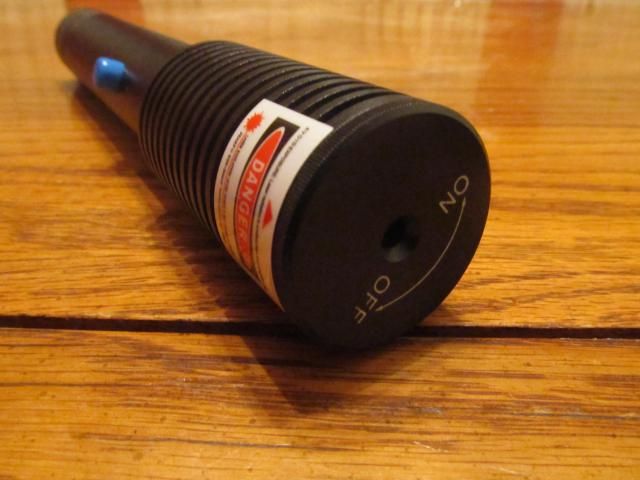 The Shutter is Excellent. I love it! Works like a charm, looks Professional!
The LED Indicator is decent, however I would like for it to come on when the key is turned. This would show that the button is live when pressed. Currently, LED only turns on when button is depressed.
The Button is annoying. The host looks great, however the button sticks up really far and the blue plastic stands out against the black finished aluminum.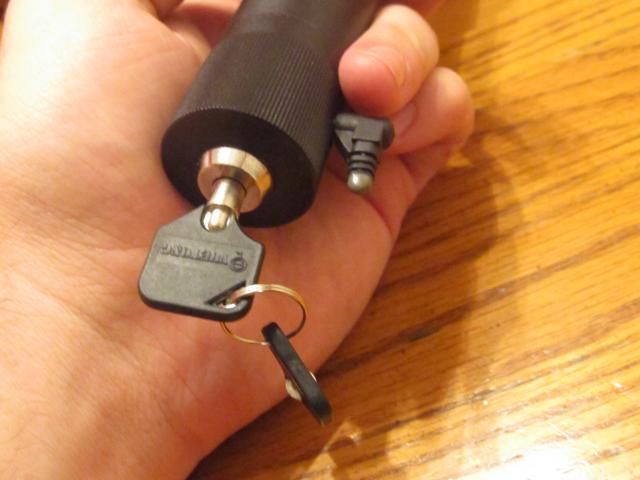 The Safety Dongle works as intended and is great for keeping the Laser from rolling!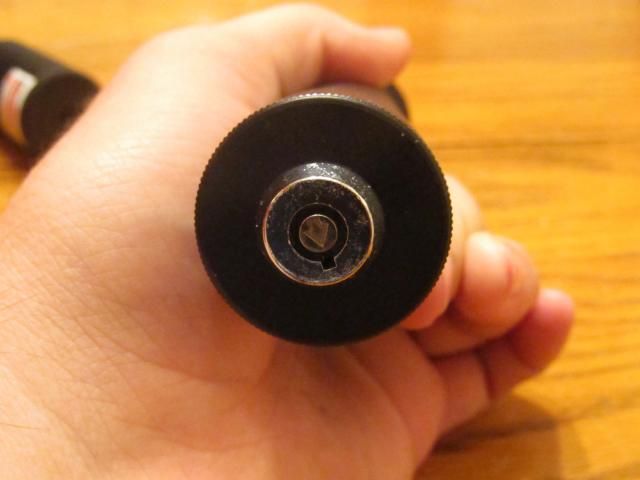 The Key Switch works as intended. The key hangs somewhat loosely however, and I wish I could remove the key when armed.
The Laser itself(the internals) however is amazing. This thing is insanely bright, and not only that, but it burns my skin immediately upon contact. Which is AWESOME!!!! Been a long time since I felt the sting of the green!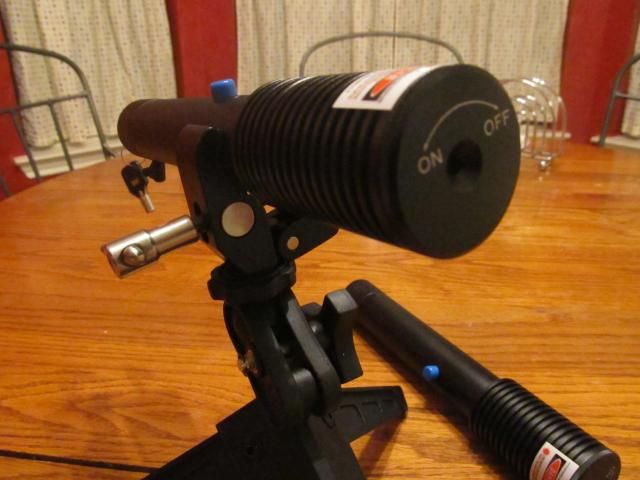 Overall:
Build Quality:
6/10
Statistical Analysis
Here are the stats on the Laser:
Product Name:

PGL-III-C 532nm

Output:

850mW

Beam Diameter at Aperture:

3.5mm

Beam Diameter at 83 meters(275ft):

155mm

Beam Divergence:

1.825mRad

Transverse Mode:

TEM00 with brief vacations in TEM01

Duty Cycle:

>2min on / 1min off

Weight:

--

Length:

220mm

Width at Head:

38mm

Width at Tailcap:

30mm

Current Draw at Tailcap:

--
-- = Untested
Pictures/Beamshots!!!!
No fog/smoke was used in any of these pictures. This Laser is THAT bright. the ones taken inside were right beneath a bright light. The brighter ones outside were taken under the glow of a flashlight. No long exposure times were used. Most I think was 1.2 seconds to allow more ambient light in such that the laser was rendered visible in the darkest photos. Safety precautions were taken and the sky was clear of planes/helicopters during the entire duration of the outdoor photoshoot. When I heard cars approaching I turned off the laser and waited until I could no longer hear them to continue.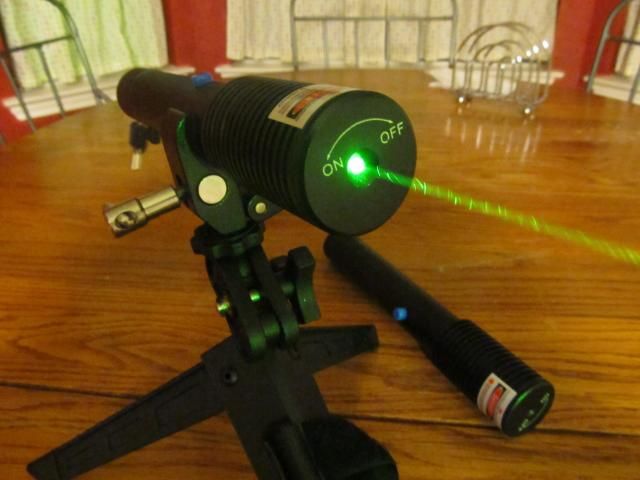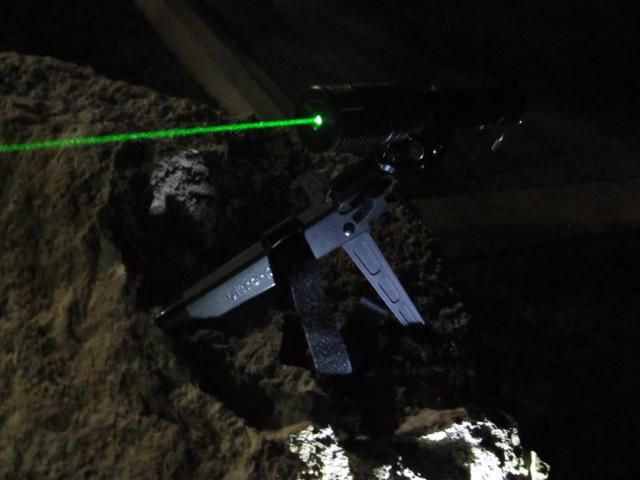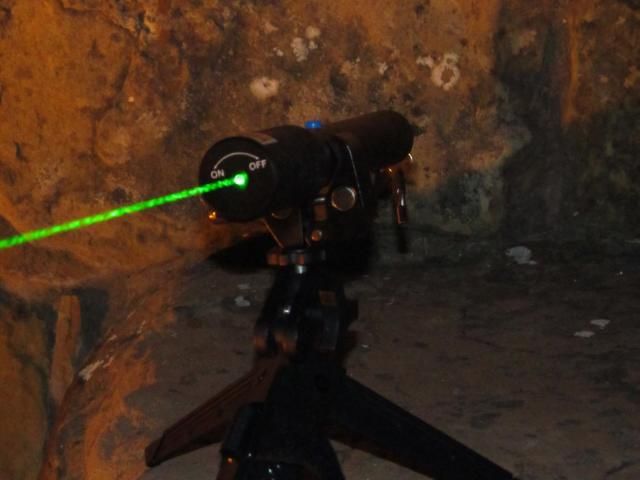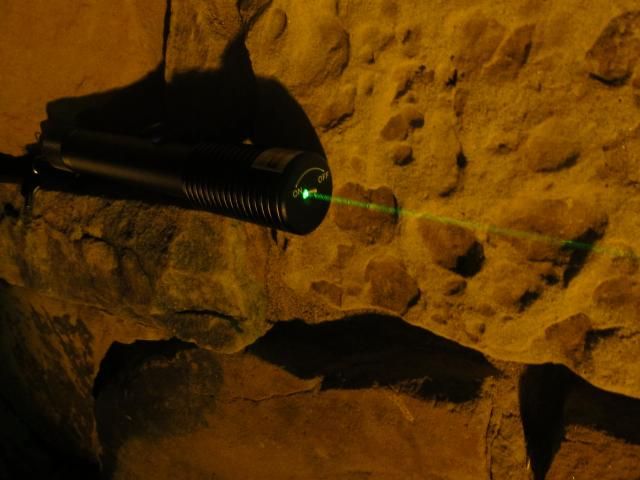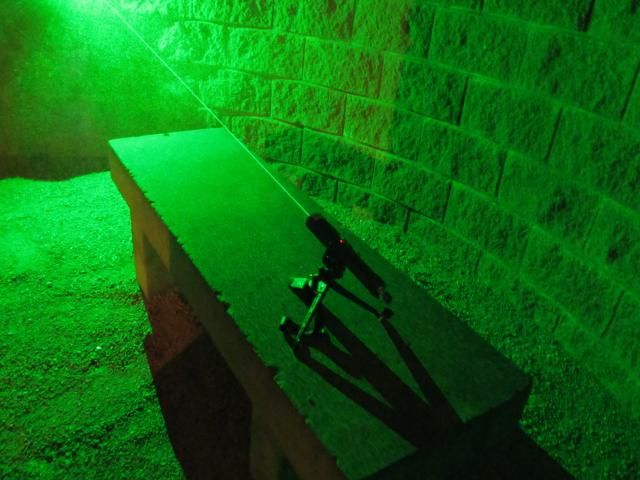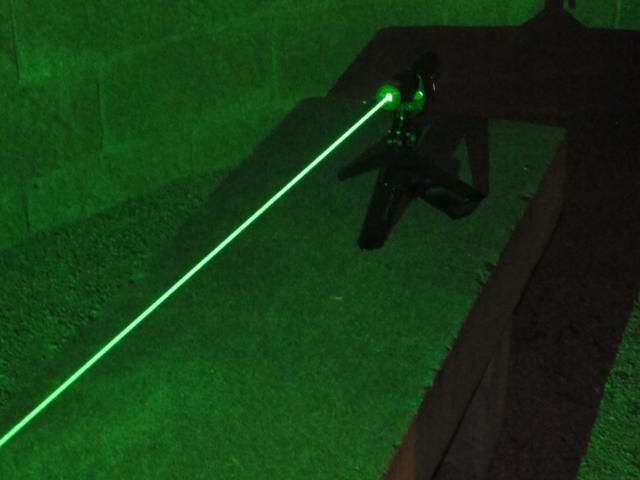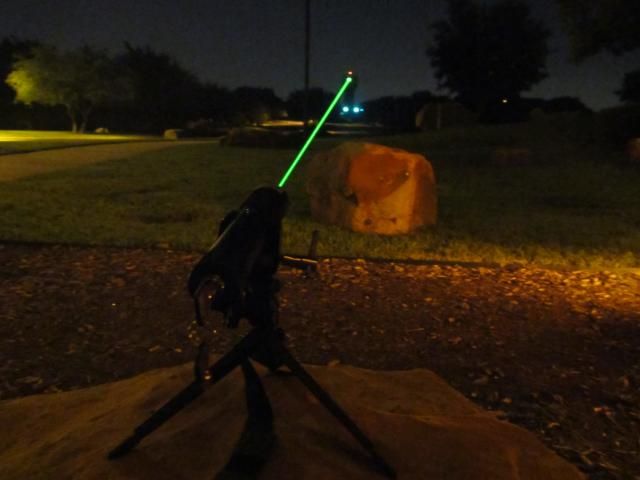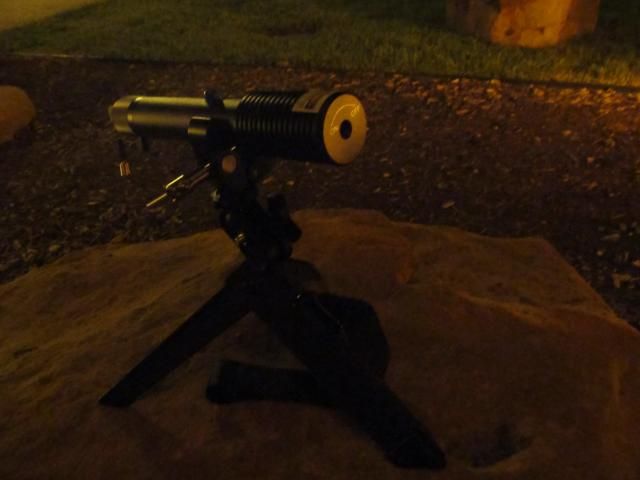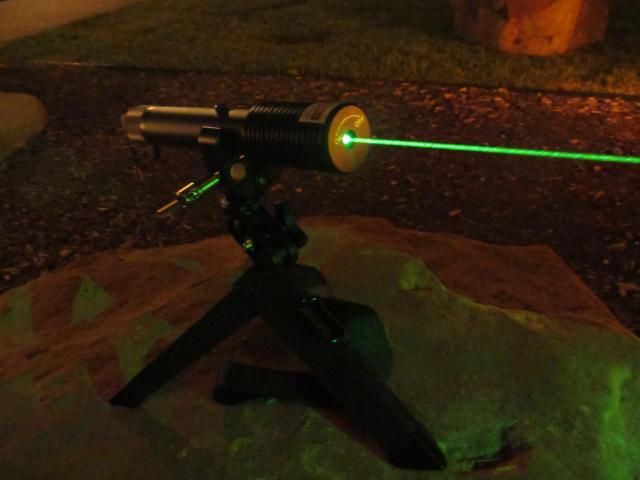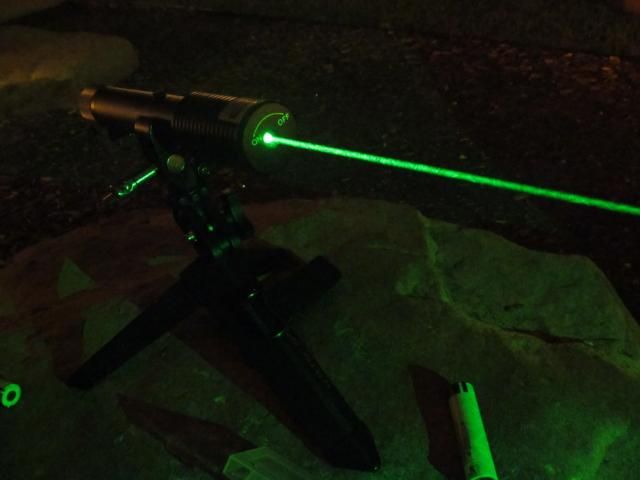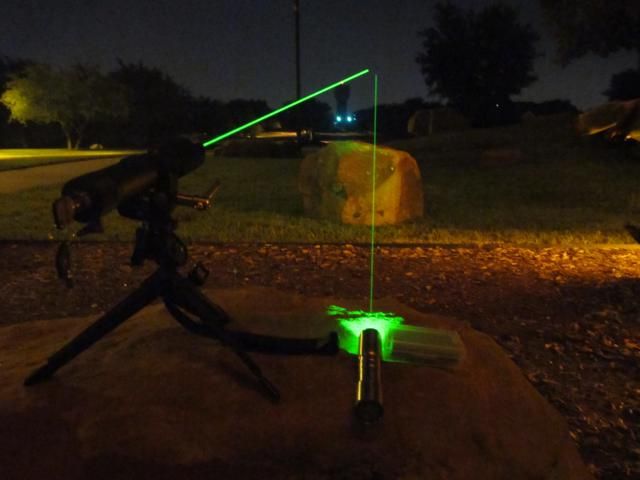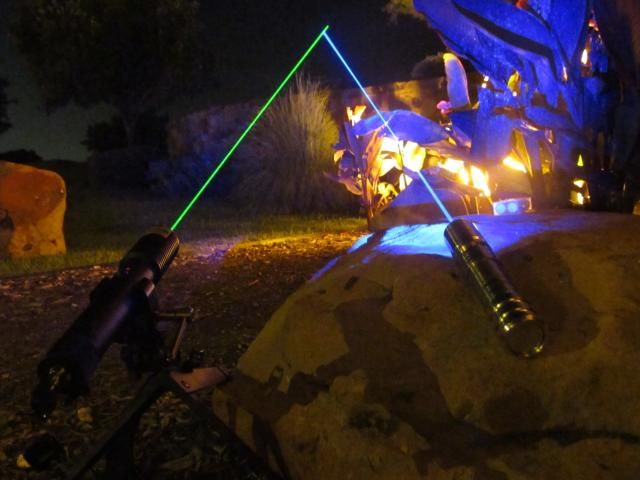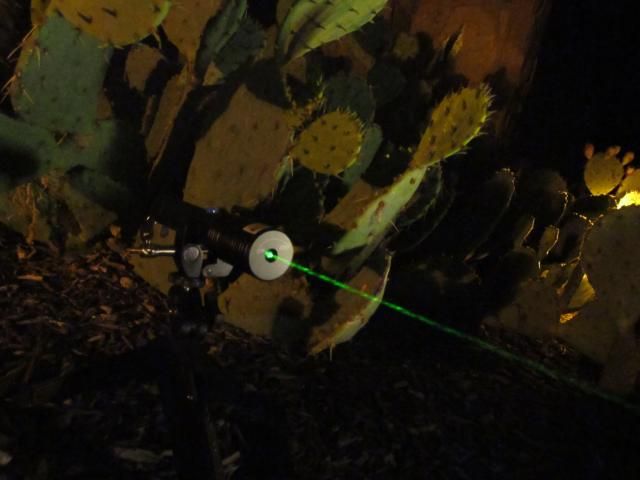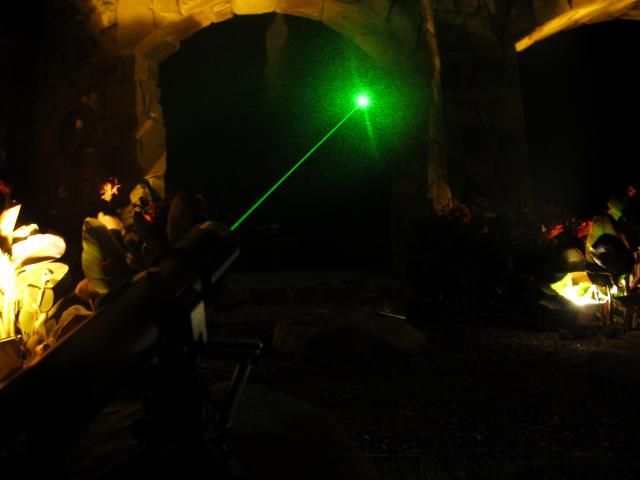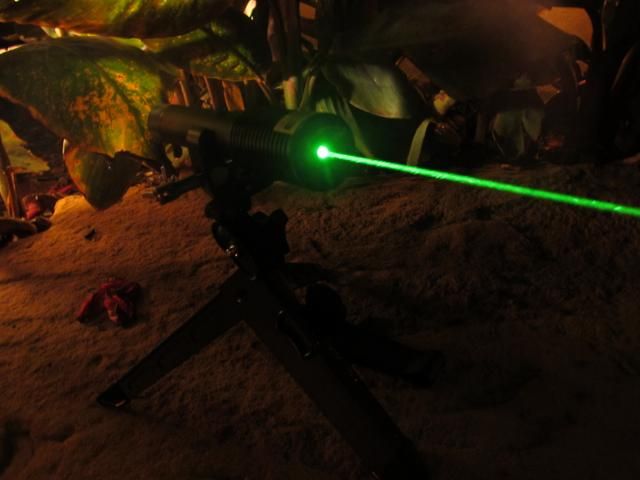 Videos!!!
-Coming Soon
Conclusion
This is an amazing Laser, and for the price(~450 after shipping), it is very hard to beat! I already love this laser, although if you accidentally have your leg in front of the beam while taking pics, prepare for less leg hair!!! It's burn feels like a 405nm laser! If you all have any questions let me know, I will be happy to answer them. For those who are curious:
Comparison shot of two 532's: My CNI 800mW and my Aurora 115mW Fasttech build.
Comparison shot of 532 and 445: My CNI 800mW and my MSSSW 2.5W 9mm build.
Thanks for looking guys, I spent about 3 hours doing the photography so I am going to hit the hay before I fall over haha. Enjoy!
:beer:
-Isaac